Top Chef Canada: All-stars Turns Up The Heat
February 23, 2017
TOP CHEF CANADA: ALL-STARS TURNS UP THE HEAT


Canada's Illustrious Culinary Competition Returns
With New Host and Expert Panel of Resident Judges
Television Personality Eden Grinshpan Hosts Alongside Head Judge Chef
Mark McEwan and Esteemed Panel of Resident Judges: Renowned Food
Critic Chris Nuttall-Smith Food Blogger Mijune Pak,
and Powerhouse Restaurateur Janet Zuccarini
Top Chef Canada: All-Stars Premieres
Sunday, April 2 at 10 p.m. ET/PT on Food Network Canada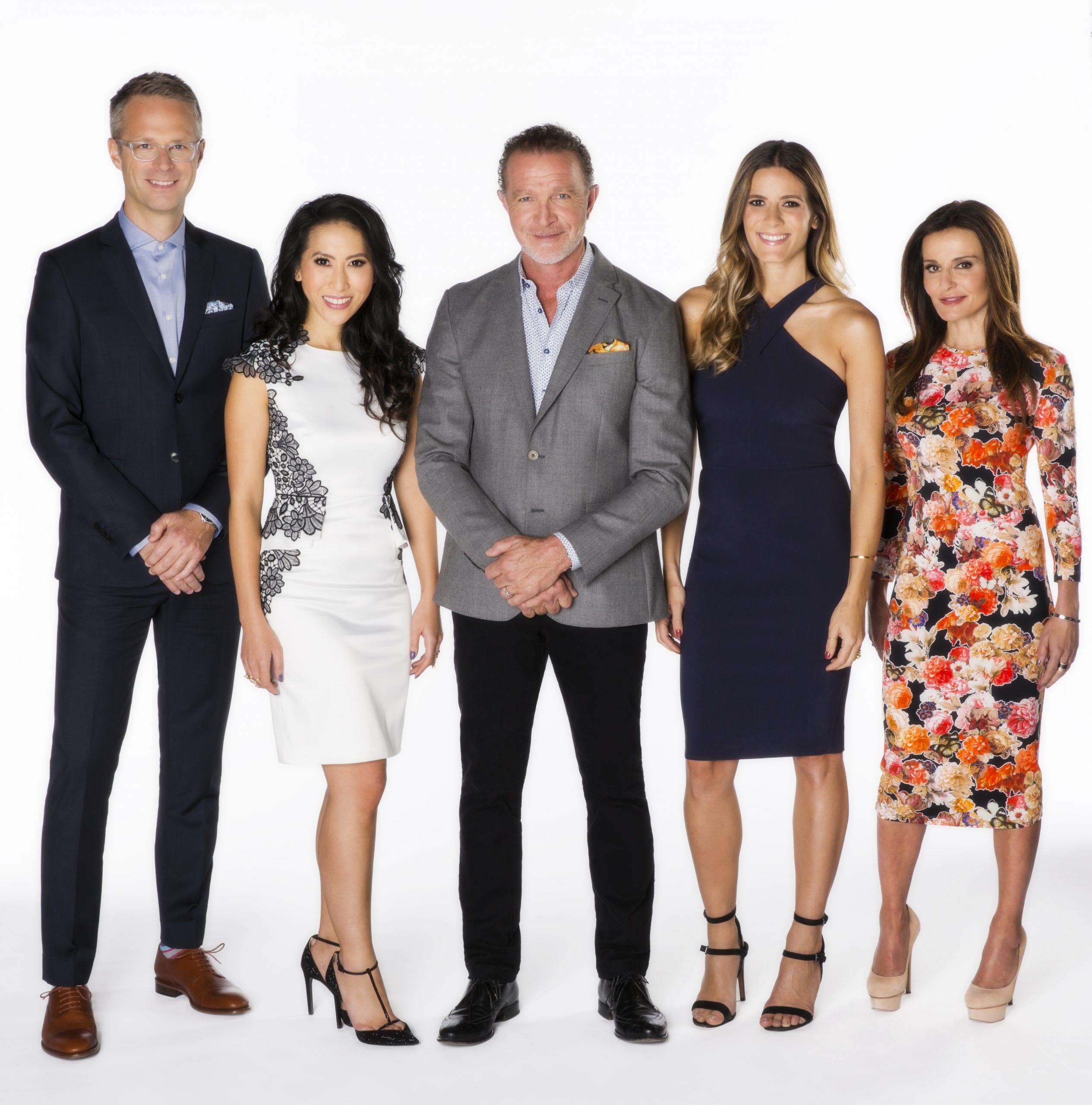 From left to right: Chris Nuttall-Smith, Mijune Pak, Mark McEwan, Eden Grinshpan, Janet Zuccarini.
Photo credit: Food Network Canada
For immediate release
TORONTO, February 23, 2017 – Top Chef Canada is back for its fiercest season yet! Turning up the heat for a brand-new season of Canada's most prestigious and high stakes culinary competition, Top Chef Canada: All-Stars kicks off its return by introducing an all-star roster of talent to the judges' table. Le Cordon Bleu-trained chef and television personality Eden Grinshpan (Chopped Canada) joins as host alongside Head Judge Chef Mark McEwan. Esteemed Resident Judges rounding out the panel include acclaimed restaurant critic and writer Chris Nuttall-Smith; Mijune Pak, food writer and creator of Follow Me Foodie; and powerhouse restaurateur Janet Zuccarini. For the first time in Top Chef Canada history, chefs from past seasons return to face cutthroat challenges and bold critiques from Canada's most refined palates as they battle for the title that has eluded them all. Top Chef Canada: All-Stars premieres Sunday, April 2 at 10 p.m. ET/PT on Food Network Canada.
"It's a thrill to release a new, heart-stopping season of Top Chef Canada. As the country's premiere culinary competition it's one of the network's long-standing fan-favourite series," said John MacDonald, Senior Vice President, Women and Lifestyle Content, Corus Entertainment. "We're excited to have Mark McEwan back as head judge, and welcome new host Eden and resident judges Mijune, Chris and Janet – all top talent in Canada's elite culinary field, each with their own unique area of expertise."
"We are so excited that Top Chef Canada is back and this time we are bringing the All-Stars!," said John Brunton, Executive Producer for Insight Productions. "Top Chef Canada was a life changing experience for these chefs the first time around and now we can't wait to see what they cook up for Chef Mark McEwan and our new panel of experts. Viewers won't want to miss a single dish."
Meet the Top Chef Canada: All-Stars host and judges' panel:
This season, returning all-star chefs unpack their knives and come back to fight for a chance to win a $100,000 grand prize courtesy of Interac Flash and a Monogram kitchen valued at over $25,000. Stay tuned for more information on which all-star chefs are slated to compete in this must-see event.
To learn more about the series, catch up on past seasons and watch episodes online after they premiere, visit www.foodnetwork.ca.
Top Chef Canada is the homegrown version of the hit Emmy Award-winning NBCUniversal Series Top Chef and is produced by Insight Production Company Ltd. in association with Food Network Canada.
Executive Producers are John Brunton, Barbara Bowlby, Mark Lysakowski, and Supervising Producer is Eric Abboud.
– 30 –
SOCIAL MEDIA LINKS:
Follow Corus PR on Twitter @CorusPR
Follow Food Network Canada on Twitter @FoodNetworkCA Facebook Food Network Canada and Instagram @FoodNetworkCa
Follow Top Chef Canada on Twitter @TopChefCanada and Facebook @TopChefCanada and discuss using #TopChefCanada
Watch full episodes and see exclusive content at foodnetwork.ca/shows/top-chef-canada/
Food Network Canada is a Corus Entertainment Network.
About Corus Entertainment Inc.
Corus Entertainment Inc. (TSX: CJR.B) is a leading media and content company that creates and delivers high quality brands and content across platforms for audiences around the world. The company's portfolio of multimedia offerings encompasses 45 specialty television services, 39 radio stations, 15 conventional television stations, a global content business, digital assets, live events, children's book publishing, animation software, technology and media services. Corus' roster of premium brands includes Global Television, W Network, OWN: Oprah Winfrey Network Canada, HGTV Canada, Food Network Canada, HISTORY®, Showcase, National Geographic Channel, Q107, CKNW, Fresh Radio, Disney Channel Canada, YTV and Nickelodeon Canada. Visit Corus at www.corusent.com.
About Insight Production Company, Ltd.
Insight Productions, known for its award-winning ratings juggernauts, is Canada's most established content producer. Headed by John Brunton & Barbara Bowlby, Insight is an industry leader in the development, financing, and production of hit programming, both scripted and unscripted. Big Brother Canada, The Amazing Race Canada, The Tragically Hip: A National Celebration; The JUNO Awards 2016, Canada's Walk of Fame 2015, and How To Change The World were collectively nominated for 29 Canadian Screen Awards in 2017, more than any other production company. Past productions include Intervention Canada, Project Runway Canada, Battle of the Blades, Ready Or Not, Falcon Beach, The Truth About Alex, and Canadian Idol. Insight Productions was founded in 1979 and has since created thousands of hours of groundbreaking content. In 2015, Insight received the Academy of Canadian Cinema and Television's inaugural Icon Award in recognition of its 35th anniversary.
For media inquiries, please contact:
Catrina Jaricot
Food Network Canada
Corus Entertainment
416.479.6397
Catrina.jaricot@corusent.com
Ginger Bertrand
Top Chef Canada Publicist
Gab Communications
647.993.4464
ginger@gabcommunications.ca