Food Network Canada Announces Lineup Of Canada's Culinary Elite Vying To Earn Top Spot In Top Chef Canada: All-stars
March 15, 2017
FOOD NETWORK CANADA ANNOUNCES LINEUP OF
CANADA'S CULINARY ELITE VYING TO EARN TOP SPOT IN
TOP CHEF CANADA: ALL-STARS
Twelve Chefs from Past Seasons of Top Chef Canada Return to
the Nation's Most Notable Culinary Competition
Top Chef Canada: All-Stars Premieres Sunday, April 2 at
10 p.m. ET/PT on Food Network Canada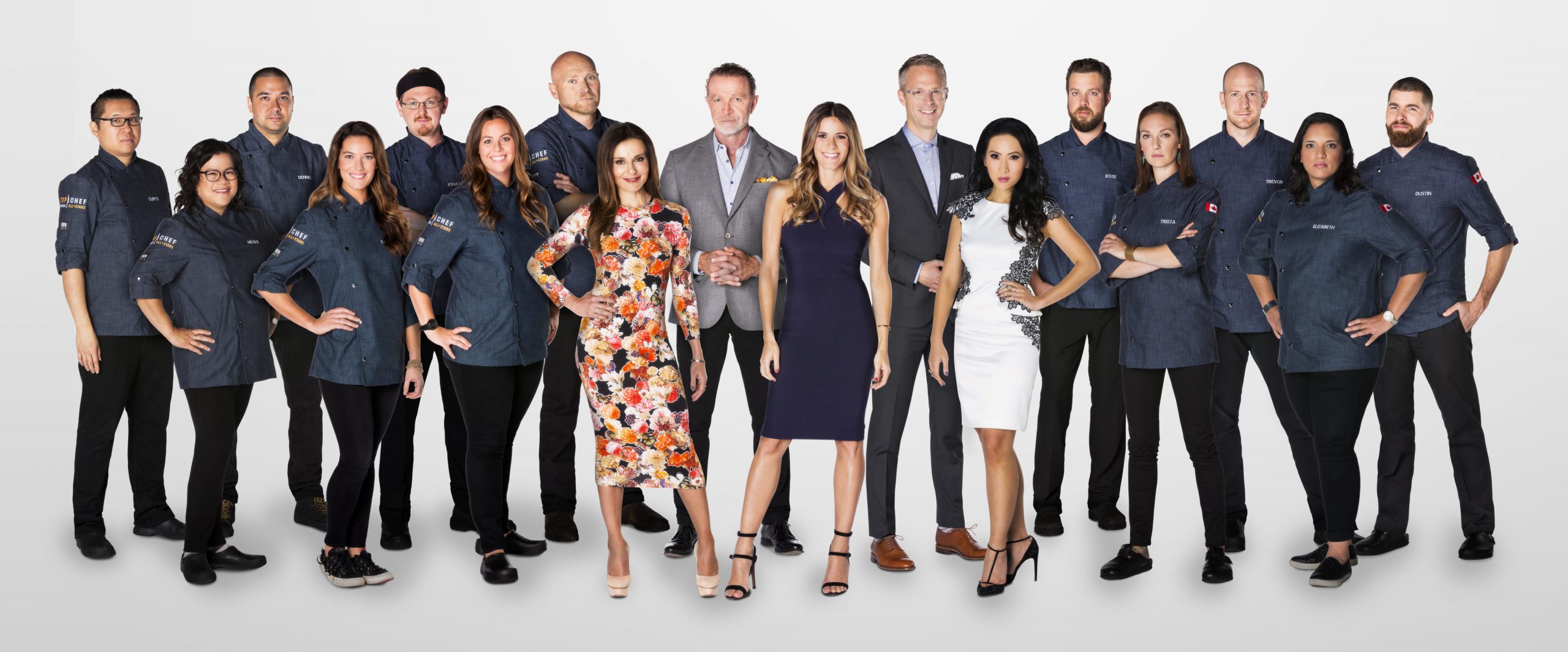 From left to right: Curtis Luk, Nicole Gomes, Dennis Tay, Connie DeSousa, Jonathan Korecki, Andrea Nicholson,
Todd Perrin, Janet Zuccarini, Mark McEwan, Eden Grinshpan, Chris Nuttall-Smith, Mijune Pak, Jesse Vergen,
Trista Sheen, Trevor Bird, Elizabeth Rivasplata, Dustin Gallagher. Photo courtesy of Food Network Canada.
Watch here to meet the chefs.
For images visit the Corus Media Centre
To share this release socially use: bit.ly/2mpcLUK
For Immediate Release
TORONTO, March 15, 2017 – Canada's most prestigious and high-stakes culinary competition is back with Top Chef Canada: All-Stars. For the first time in Canadian franchise history, Top Chef Canada brings some of the country's most accomplished chefs from past seasons to battle it out for a chance to earn what has eluded them all: the title of Canada's Top Chef. Twelve all-star chefs compete in cutthroat challenges and receive bold critiques from the judging panel which includes recently announced host Eden Grinshpan, head judge chef Mark McEwan and esteemed resident judges Chris Nuttall-Smith, Mijune Pak, and Janet Zuccarini. This season, the returning chefs unpack their knives and fight for a chance to win a $100,000 grand prize courtesy of Interac Flash and a Monogram kitchen valued at over $25,000. Top Chef Canada: All-Stars premieres Sunday, April 2 at 10 p.m. ET/PT on Food Network Canada.
Meet the 12 chefs returning to the Top Chef Canada kitchen for a second chance at winning it all:
Throughout the competition, the chefs serve up refined dishes for acclaimed culinary guest judges including: Chopped Canada judges Lynn Crawford, John Higgins, Susur Lee and Antonio Park; Sugar Showdown host Josh Elkin; television personality, cookbook author and restaurateur Lidia Bastianich; culinary superstar, chef and restaurateur Daniel Boulud; chef/owner of Raymonds in downtown St. John's Jeremy Charles; celebrity chef, restaurateur and cookbook author Maneet Chauhan; chef/owner of Montreal's Maison Publique Derek Dammann; food writer and cookbook author Sabrina Ghayour; chef/owner of Montreal's Toqué! and Brasserie T! Normand Laprise; owner of Big Gay Ice Cream Doug Quint, and chef/owner of Toronto's Bar Raval, Bar Isabel and El Rey Mezcal Bar, Grant van Gameren.
The series extends online with exclusive bonus digital content including: a tour of the brand new Top Chef Canada kitchen, behind-the-scenes culinary articles, photo galleries, deleted scenes, prize giveaways and more. For this bonus content as well as competitor and cast biographies and full episodes after they premiere, visit: foodnetwork.ca/topchefcanada.
Top Chef Canada is the homegrown version of the hit Emmy Award-winning NBCUniversal Series Top Chef and is produced by Insight Production Company Ltd. in association with Food Network Canada. Executive Producers are John Brunton, Barbara Bowlby, Mark Lysakowski, and Supervising Producer is Eric Abboud.
-30-
SOCIAL MEDIA LINKS:
Follow Corus PR on Twitter @CorusPR
Follow Food Network Canada on Twitter @FoodNetworkCA Facebook Food Network Canada and Instagram @FoodNetworkCa
Follow Top Chef Canada on Twitter @TopChefCanada and Facebook @TopChefCanada and discuss using #TopChefCanada
Watch full episodes and see exclusive content at foodnetwork.ca/shows/top-chef-canada/
Food Network Canada is a Corus Entertainment Network.
About Corus Entertainment Inc.
Corus Entertainment Inc. (TSX: CJR.B) is a leading media and content company that creates and delivers high quality brands and content across platforms for audiences around the world. The company's portfolio of multimedia offerings encompasses 45 specialty television services, 39 radio stations, 15 conventional television stations, a global content business, digital assets, live events, children's book publishing, animation software, technology and media services. Corus' roster of premium brands includes Global Television, W Network, OWN: Oprah Winfrey Network Canada, HGTV Canada, Food Network Canada, HISTORY®, Showcase, National Geographic Channel, Q107, CKNW, Fresh Radio, Disney Channel Canada, YTV and Nickelodeon Canada. Visit Corus at www.corusent.com.
About Insight Productions
Insight Productions, known for its award-winning ratings juggernauts, is Canada's most established content producer. Headed by John Brunton & Barbara Bowlby, Insight is an industry leader in the development, financing, and production of hit programming, both scripted and unscripted. The Amazing Race Canada, The Tragically Hip: A National Celebration; The JUNO Awards 2016 and How To Change The World collectively took home 14 Canadian Screen Awards in 2017. Big Brother Canada continues to be the most watched reality program across specialty channels in Canada. Past productions include Intervention Canada, Project Runway Canada, Battle of the Blades, Ready Or Not, Falcon Beach, The Truth About Alex, and Canadian Idol. Insight Productions was founded in 1979 and has since created thousands of hours of groundbreaking content. In 2015, Insight received the Academy of Canadian Cinema and Television's inaugural Icon Award in recognition of its 35th anniversary.
For media inquiries, please contact:

Catrina Jaricot
Corus Entertainment
416.479.6397
Catrina.jaricot@corusent.com
Ginger Bertrand
Top Chef Canada Publicist
Gab Communications
614.993.4464
ginger@gabcommunications.ca