Wow! Unlimited Media's Mainframe Studios And Corus Entertainment Begin Next Phase Of Production On Reboot: The Guardian Code
March 28, 2017
WOW! UNLIMITED MEDIA'S MAINFRAME STUDIOS AND CORUS ENTERTAINMENT BEGIN NEXT PHASE OF PRODUCTION ON REBOOT: THE GUARDIAN CODE
Production Underway On the Visually Stunning Live-Action/CG-Animated Action-Comedy Series Featuring Strong Characters, Compelling Mystery, and Adrenaline-Pumping Action
Cast Includes Ty Wood, Sydney Scotia, Ajay Parikh-Friese, Gabriel Darku, and Hannah Vandenbygaart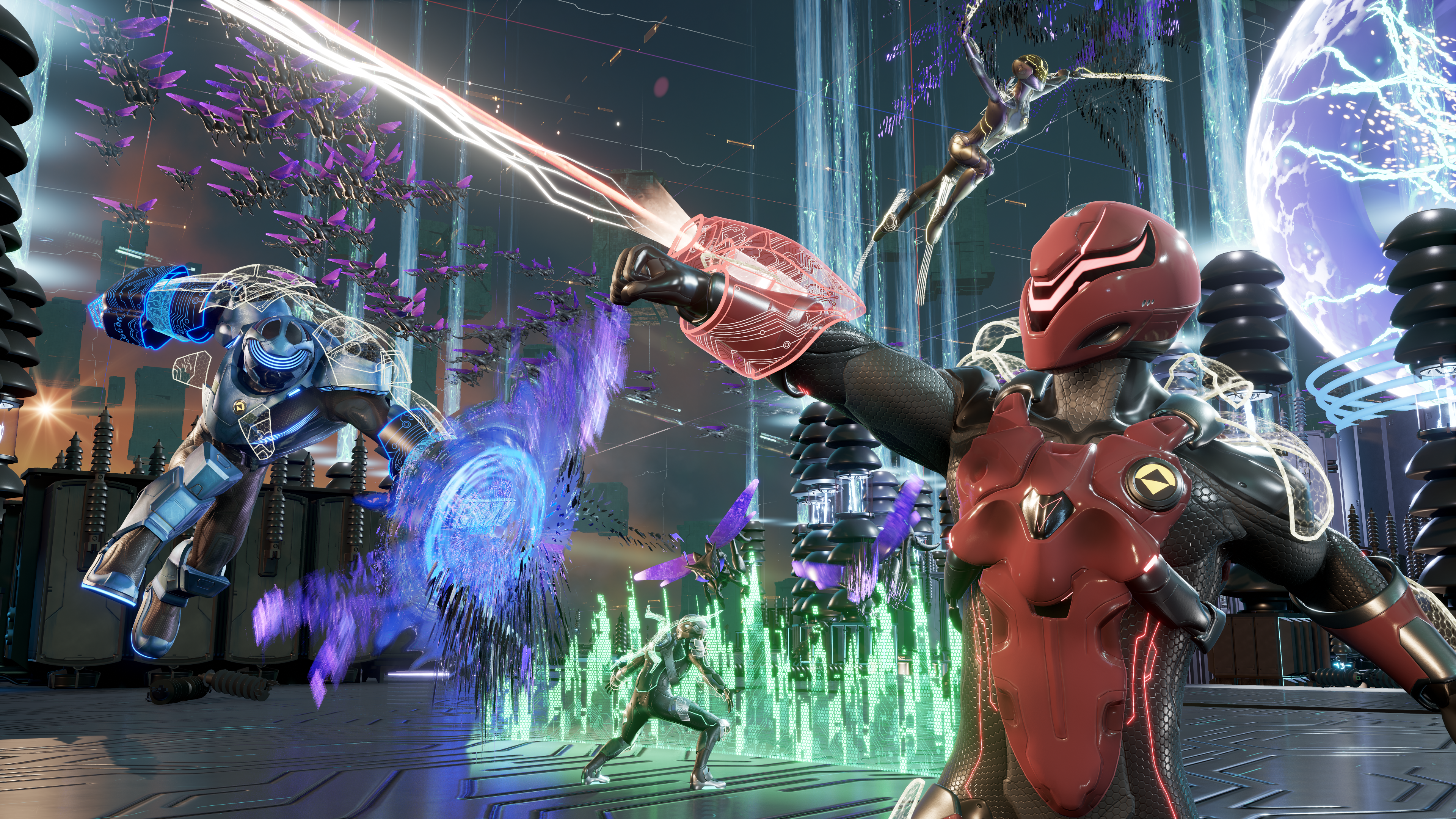 For Immediate Release
VANCOUVER, BC – WOW! Unlimited Media's Mainframe Studios and Corus Entertainment are pleased to announce that production is underway in Victoria/Vancouver, B.C. on the live-action elements of ReBoot: The Guardian Code, a 20×22 minute live-action/CG-animated hybrid television series. This next phase of production reimagines the original 1994 animated classic, ReBoot, in a real life setting for modern, tech savvy audiences. Created by Michael Hefferon, the show follows four teenagers who discover that they've been selected to become the Next-Generation Guardians of cyberspace. ReBoot: The Guardian Code will premiere in Canada in 2018 on YTV.
After playing the multiplayer Cyber Guardians video game together, four teenagers are recruited by V.E.R.A (Hannah Vandenbygaart, Bruno & Boots: Go Jump in the Pool!), the Virtual Evolutionary Recombinant Avatar, to fulfill their mandate to mend and defend cyberspace. Austin (Ty Wood, The Haunting in Connecticut), Tamra (Sydney Scotia, Some Assembly Required), Parker (Ajay Parikh-Friese, Mr. Young), and Trey (Gabriel Darku, Shadowhunters: The Mortal Instruments) now must protect cyberspace from threats that pose true consequences to both the virtual and real world. It's more than these kids expected when they started at Alan Turing High. Way more.
ReBoot: The Guardian Code intercuts live-action scenes with awe-inspiring CG animation produced with the Unreal game engine, showing how the real world and cyberspace are interconnected. "The power of the game engine's capabilities to create vast cyberspace settings along with AI (Artificial Intelligence) for dynamic secondary animation fused with live action, will deliver a truly unique and engaging experience for viewers", says Creator and Executive Producer Michael Hefferon. "As groundbreaking as the original ReBoot was being the first ever CG animated series, ReBoot: The Guardian Code takes it to a whole new level."
This innovative series will also deliver true 360-degree engagement experiences for audiences with interactive mobile games, a digital trading card game that syncs with the broadcast of the series, and a Virtual Reality experience that puts fans right in the middle of the cyberspace action. More details to be announced at a later date.
ReBoot: The Guardian Code is produced by Mainframe Studios in association with Corus Entertainment, with Executive Producer/Producer Michael Hefferon, Executive Producer/Showrunner Larry Raskin, and Matt Sheppo, the Production Executive for Corus. The action-comedy series is directed by Co-Executive Producer Pat Williams, and Michael Dowding is the Supervising Director of Animation. Corus Entertainment's YTV is the Canadian broadcaster with Nelvana Enterprises handling worldwide distribution, licensing, and merchandising for the series.
About Mainframe Studios
Mainframe Studios produced the first ever CG animated series ReBoot in 1994. The studio, along with the company's feature division Rainmaker Studios, has produced over 700 half hours of television and 60+ movies working with global partners in helping to realize some of the biggest branded entertainment. Working with top global talent, the studio utilizes the latest technology in driving innovation to the creative content it produces for key broadcasters, home entertainment and interactive companies from around the world. Based in Vancouver, Mainframe Studios is a division of Wow! Unlimited Media (TSXV: Exchange (RNK.A), a leading entertainment company that also includes internet animation pioneer Federator Networks, and has offices in Toronto, Vancouver, New York and Los Angeles. Visit Mainframe at www.mainframe.ca
About Corus Entertainment
Corus Entertainment Inc. (TSX: CJR.B) is a leading media and content company that creates and delivers high quality brands and content across platforms for audiences around the world. The company's portfolio of multimedia offerings encompasses 45 specialty television services, 39 radio stations, 15 conventional television stations, a global content business, digital assets, live events, children's book publishing, animation software, technology and media services. Corus' roster of premium brands include Global Television, W Network, OWN: Oprah Winfrey Network Canada, HGTV Canada, Food Network Canada, HISTORY®, Showcase, National Geographic, Q107, CKNW, Fresh Radio, Disney Channel Canada, YTV and Nickelodeon Canada. Visit Corus at www.corusent.com.
About Nelvana Enterprises
Nelvana is Canada's premier animation company and a world-leading producer and distributor of children's content. Nelvana has delighted audiences around the globe for more than 40 years with a vast library of more than 4,000 episodes from original, award-winning series like Babar and Franklin. Nelvana's content is distributed in more than 160 countries worldwide and broadcast across Corus Entertainment's suite of leading kids networks. Nelvana Enterprises, the global licensing and merchandising arm of Nelvana, manages the organization's portfolio of in-house and third party brands with offices in Toronto and Paris. Nelvana Studio, with offices in Toronto and Montreal, employs more than 300 Canadian artists working with local and international producers to create premium children's content for a global stage. For more information, visit www.nelvana.com.
###
For further information, interviews and photographs please contact:
ReBoot: The Guardian Code:
Colleen Kirk, 604.992.0838, colleen@thekirkgroup.net
Corus Entertainment:
Rebecca Rebeiro, 416.479.6474, rebecca.rebeiro@corusent.com
Michelle McTeague, 416.966.7724, michelle.mcteague@corusent.com