The Wall Has Spoken: Food Network Canada Announces Wall Of Chefs, A Stacked Culinary Competition Judged By The Country's Most Iconic Chefs
THE WALL HAS SPOKEN: FOOD NETWORK CANADA ANNOUNCES WALL OF CHEFS, A STACKED CULINARY COMPETITION JUDGED BY THE COUNTRY'S MOST ICONIC CHEFS
November 28, 2019
THE WALL HAS SPOKEN:
FOOD NETWORK CANADA ANNOUNCES WALL OF CHEFS,
A STACKED CULINARY COMPETITION JUDGED BY THE COUNTRY'S MOST ICONIC CHEFS
Corus Studios' Canadian Original Series #WallofChefs Premieres February 3 at 10 p.m. ET/PT on Food Network Canada
Hosted by Noah Cappe, #WallofChefs Features an Unprecedented Rotating Roster of 33 Canadian Culinary Icons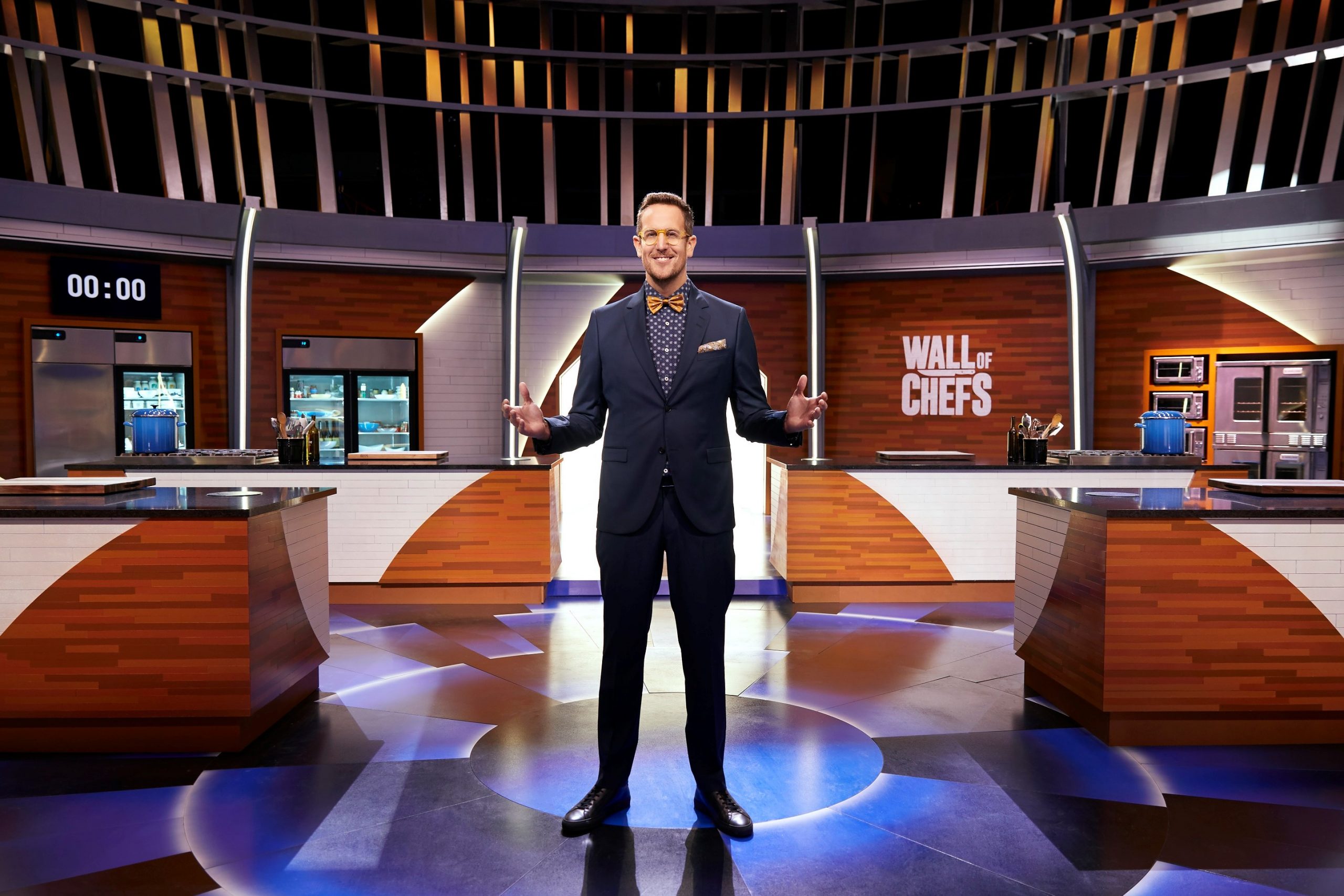 (Host, Noah Cappe)
Watch the promo tease here
For additional media material please visit the Corus Media Centre
To share this release socially use: bit.ly/2q0KZ8i
For Immediate Release
TORONTO, November 28, 2019 – A wall of 12 world-class chefs, four home cooks, three culinary challenges and one grand prize at stake: Wall of Chefs (10×60) puts amateur cooks to the ultimate test. In each exhilarating stand-alone episode of Corus Studios' Wall of Chefs, host and vibrant television personality Noah Cappe (Carnival Eats) guides four home cooks through intense rounds of culinary competition. Each challenge will test the skills and nerves of the cooks as they battle in a state-of-the-art kitchen under the towering shadow and watchful eye of "The Wall" – comprised of a revolving panel of Canada's most notable chefs. The competitors battle it out until the final round where the wall of culinary icons ultimately declares the winner, awarding the $10,000 prize. The groundbreaking new Canadian original series makes its debut February 3 at 10 p.m. ET/PT on Food Network Canada.
Wall of Chefs features an unmatched, star-studded slate of 33 Canadian culinary icons and trailblazers on rotation throughout the 10-episode run of the season. The chefs span from Vancouver, B.C. to St. John's, N.L., representing diverse cultures and cuisines, while bringing different perspectives and opinions to the forum.
The Wall of Chefs cast of culinary icons include:
Hugh Acheson – Atlanta, Ga. (5&10, The National, Empire State South, Spiller Park Coffee)
Suzanne Barr – Toronto, Ont. (True True Diner)
Victor Barry – Toronto, Ont. (Piano Piano Restaurant, Café Cancan)
Christa Bruneau-Guenther – Winnipeg, Man. (Feast Café Bistro)
Massimo Capra – Toronto, Ont. (Capra's Kitchen, Massimo's Italian, Boccone, Soprafino)
Shane Chartrand – Edmonton, Alta. (SC)
Alex Chen – Vancouver, B.C. (Boulevard Kitchen & Oyster Bar)
Christine Cushing – Toronto, Ont.
Lynn Crawford – Toronto, Ont. (Ruby Watchco, The Hearth)
Meeru Dhalwala – Vancouver, B.C. (Vij's)
Fisun Ercan – Montreal, Que. (Su)
Rob Feenie – Vancouver, B.C. (Cactus Club Cafe)
Michele Forgione – Montreal, Que. (Impasto, Pizzeria Gema, Chez Tousignant, Vesta)
Marysol Foucault – Gatineau, Que. (Edgar)
Rob Gentile – Toronto, Ont. (Bar Buca, Buca Osteria & Bar, Buca Osteria & Enoteca)
Mandel Hitzer – Winnipeg, Man. (deer + almond)
Nick Hodge – Montreal, Que. (Icehouse)
Renée Lavallée – Dartmouth, N.S. (The Canteen and Little C)
Jinhee Lee – Calgary, Alta. (Foreign Concept)
Susur Lee – Toronto, Ont. (Lee, Kid Lee, Lee Kitchen, Tunglok Heen)
Nick Liu – Toronto, ON (Dailo, Little Dailo)
Dale Mackay – Saskatoon, Sask. (Ayden Kitchen & Bar, Sticks and Stones, Little Grouse, Avenue)
Darren MacLean – Calgary, Alta. (Shokunin)
Mark McEwan – Toronto, Ont. (Bymark, One, Fabbrica, Diwan)
Corinna Mozo – Toronto, Ont. (La Cubana)
Todd Perrin – St. John's, N.L. (Mallard Cottage, Waterwest Kitchen and Meats)
Christie Peters – Saskatoon, Sask. (The Hollows, Primal)
Guy Rawlings – Toronto, Ont. (Montgomery's)
Nuit Regular – Toronto, Ont. (PAI Northern Thai Kitchen, Sabai Sabai, Sukho Thai, Kiin)
Danny Smiles – Montreal, Que. – (Le Bremner)
Alida Solomon – Toronto, Ont. (Tutti Matti)
Jesse Vergen – Saint John, N.B. (Saint John Ale House, Toro Taco, Barred Rock, Smoking Pig, McGill's)
Joël Watanabe – Vancouver, B.C. (Bao Bei, Kissa Tanto)
"We are thrilled to have Wall of Chefs join our growing Corus Studios catalogue as an original format that challenges home cooks to impress their favourite celebrity chefs. We believe this new series will garner mass appeal on an international scale," said Lisa Godfrey, Vice President of Original Content, Corus Entertainment. "Wall of Chefs marks the first time that the country's biggest culinary leaders will be featured in one colossal series for the network and we can't wait for audiences to get a taste of this high-caliber competition."
In every episode, four amateur cooks face off in culinary challenges judged by 12 of Canada's most renowned chefs, known as "The Wall". The first round is the "Crowd-Pleaser" where four home cooks are tasked with making their signature crowd-pleasing dish to impress the chef judges. One home cook is eliminated, and the three remaining home cooks move forward to compete in the "Chef's Fridge" challenge where they must use staple ingredients of the selected chef's fridge in their dish. In the third round, the final two home cooks face off in the "Restaurant-Worthy" challenge, where they are tasked to make a dish based on one of the chef judge's most popular and well-known culinary creations. In the end, only one cook will be left standing, claiming $10,000 and the respect of the wall of chefs. The home cooks from across the country taking on the ultimate challenge in the Wall of Chefs kitchen will be announced at a later date.
Foodnetwork.ca offers exclusive Wall of Chefs content, including a closer look at the stellar cast of chef judges from across the country. Viewers can look forward to food trend videos, special interviews, a glimpse into the fridges of the expert celebrity chefs and much more. In addition, full episodes will be available online the day after broadcast.
Wall of Chefs is produced by Insight Productions in association with Corus Studios for Food Network Canada. Executive Producers are John Brunton, Mark Lysakowski and Eric Abboud and Series Producer is Erica Lenczner. For Corus Studios and Food Network Canada, Marni Goldman is Production Executive, Original Lifestyle Programming, Krista Look is Director, Original Lifestyle Content, and Lisa Godfrey is Vice President of Original Content, Corus Entertainment.
– 30 –
SOCIAL MEDIA LINKS:
#WallofChefs
Follow Food Network Canada on Twitter @FoodNetworkCA, Facebook Food Network Canada and Instagram @FoodNetworkCa
Follow Corus PR on Twitter: @CorusPR
Food Network Canada is available through all major TV distributors, including: Shaw, Shaw Direct, Rogers, Bell, Videotron, Telus, Cogeco, Eastlink, SaskTel and the new STACKTV, streaming exclusively on Amazon Prime Video Channels.
Food Network Canada is a Corus Entertainment Network.
About Corus Entertainment Inc.
Corus Entertainment Inc. (TSX: CJR.B) is a leading media and content company that develops and delivers high quality brands and content across platforms for audiences around the world. Engaging audiences since 1999, the company's portfolio of multimedia offerings encompass 35 specialty television services, 39 radio stations, 15 conventional television stations, a suite of digital assets, animation software, technology and media services. Corus is an established creator of globally distributed content through Nelvana animation studio, Corus Studios, and children's book publishing house Kids Can Press. The company also owns innovative full-service social digital agency so.da, and lifestyle entertainment company Kin Canada. Corus' roster of premium brands includes Global Television, W Network, HGTV Canada, Food Network Canada, HISTORY®, Showcase, Adult Swim, National Geographic, Disney Channel Canada, YTV, Global News, Globalnews.ca, Q107, Country 105, and CFOX. Visit Corus at www.corusent.com.
About Insight Productions Ltd.
Insight Productions, known for its award-winning ratings juggernauts, is Canada's most established content producer and an industry leader in the development, financing, and production of hit programming, both scripted and unscripted, as well as digital content. With thousands of hours of programming under its belt, the company has created some of the most dynamic and top-rated programs in the world including Top Chef Canada (for which John Brunton and Mark Lysakowski, and Eric Abboud serve as Executive Producers), The Amazing Race Canada – the most watched Canadian show on record, ratings hit Big Brother Canada, Canada's national music award show – The JUNO Awards 2019, Intervention and original formats including The Launch and Battle of the Blades. Insight's vision, passion and prescience are driven by Canada's leading executive producer, John Brunton who was appointed to the Order of Canada in 2019 and is celebrating forty years as Chairman and CEO. Insight's scripted programming includes award-winning Ready Or Not, Falcon Beach, Hatching, Matching & Dispatching, A Christmas Fury, But I'm Chris Jericho! and The Jon Dore Television Show. Insight Productions was founded in 1979 and has since created thousands of hours of groundbreaking content. For more information on Insight Productions, please visit www.insighttv.com.

For more information, please contact:
Emily Crane
Associate Publicist, Lifestyle Content
Corus Entertainment
416.860.4220
emily.crane@corusent.com
Caryn Bessner
Unit Publicist, Wall of Chefs
Gab Communications
647.407.5712
caryn@gabcommunications.ca