THE HISTORY CHANNEL® HONOURS NATIONAL DAY OF TRUTH AND RECONCILIATION WITH GROUNDBREAKING CANADIAN ORIGINAL DOCUMENTARY, TRUE STORY
September 13, 2022
THE HISTORY® CHANNEL HONOURS NATIONAL DAY OF TRUTH AND RECONCILIATION WITH GROUNDBREAKING CANADIAN ORIGINAL DOCUMENTARY, TRUE STORY
New Two-Hour Documentary Explores the Relationship Between Indigenous and Settler People, Premiering September 30
Stream The HISTORY® Channel Content Anytime with STACKTV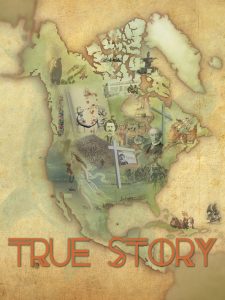 For additional photography and press kit material visit: http://www.corusent.com
For the True Story promo, click here
To share this release socially use: The HISTORY® Channel's True Story Press Release
For Immediate Release
TORONTO, September 14, 2022 – This fall, The HISTORY® Channel debuts a new Canadian original documentary that explores the real, and often misrepresented, history of Indigenous peoples on the land that is now Canada. In honour of National Day for Truth and Reconciliation, True Story examines how to move forward from Canada's colonial history and achieve reconciliation by first learning, then facing, the past. The two-hour documentary, premiering Friday, September 30 at 9 p.m. ET/PT, is narrated by Kaniehtiio Horn (Rutherford Falls) and helmed by the award-winning production team from Eagle Vision, including Executive Producer Lisa Meeches C.M., O.M. and Executive Producer, Creator, Director and Showrunner Dinae Robinson.
"The HISTORY® Channel is proud to provide a platform to share this important narrative more broadly," said Lisa Godfrey, Senior Vice President of Original Content and Corus Studios. "Through the medium of television, a documentary as researched and engaging as True Story can contribute to moving the conversation around reconciliation and historical education forward."
True Story takes an in-depth look at the relationship between Indigenous people, the land, and the settlers. Including Turtle Island's (North America) creation story and the settler people's theories that challenge it, the unique tools Indigenous people use to record their history, and the powerful role of women, Elders, and Two-Spirited/Indigiqueer in Indigenous society that patriarchal and Euro-Christian concepts sought to destabilize – True Story investigates how Indigenous history has been hidden and rewritten.
"In order for true reconciliation to take place we must acknowledge and learn from our shared past no matter how ugly it may be," said Dinae Robinson. "True Story invites all Canadians to join an honest and entertaining conversation that looks at Canada's history from the people who were here first," said Lisa Meeches.
With accessible narration, engaging trivia, and informed Indigenous voices from across the country, True Story uniquely explores history from an Indigenous point of view. The journey is heartbreaking, astonishing and shameful, but it is also uplifting and inspiring.
True Story is produced by Eagle Vision for The HISTORY® Channel. Executive Producers are Lisa Meeches, Kyle Irving, Rebecca Gibson and Dinae Robinson, Co-Executive Producer is Jessica Landry. For The HISTORY® Channel, Kathleen Meek and Maria Knight are Executives in Charge of Production, Rachel Nelson is VP of Original Scripted, Factual and Kids Content and Lisa Godfrey is Senior Vice President of Original Content and Corus Studios.
– 30 –
SOCIAL MEDIA LINKS:
Corus PR on Twitter: @CorusPR
The HISTORY® Channel on Instagram: @historyca
The HISTORY® Channel on Facebook: facebook.com/HISTORYCanada
The HISTORY® Channel on Twitter: @HistoryTVCanada
The HISTORY® Channel on YouTube: @HISTORYCanada
The HISTORY Channel is a Corus Entertainment Network.

About Corus Entertainment
Corus Entertainment Inc. (TSX: CJR.B) is a leading media and content company that develops and delivers high quality brands and content across platforms for audiences around the world. Engaging audiences since 1999, the company's portfolio of multimedia offerings encompass 33 specialty television services, 39 radio stations, 15 conventional television stations, a suite of digital and streaming assets, animation software, technology and media services. Corus is an internationally-renowned content creator and distributor through Nelvana, a world class animation studio expert in all formats and Corus Studios, a globally recognized producer of hit scripted and unscripted content. The company also owns innovative full-service social digital agency so.da, lifestyle entertainment company Kin Canada, leading 2D animation software supplier Toon Boom and children's book publishing house, Kids Can Press. Corus' roster of premium brands includes Global Television, W Network, HGTV Canada, Food Network Canada, Magnolia Network Canada, The HISTORY® Channel, Showcase, Adult Swim, National Geographic, Disney Channel Canada, YTV, Global News, Globalnews.ca, Q107, Country 105, and CFOX, along with broadly distributed Canadian streaming platforms STACKTV, TELETOON+, the Global TV App and Curiouscast. For more information visit www.corusent.com.
About STACKTV
STACKTV is Corus Entertainment's premium multi-channel television streaming service that offers thousands of hours of exclusive hit content from 13 of Canada's top TV networks, all on one platform. All series, movies and specials that air on Global Television, Food Network Canada, HGTV Canada, W Network, The HISTORY® Channel, Adult Swim, Slice, Showcase, National Geographic, Lifetime, TELETOON, Treehouse and YTV are available to stream on STACKTV live and on demand with new content added daily. STACKTV is available via Amazon Prime Video Channels, FuboTV, Rogers Ignite TV and Ignite SmartStream. For more information, visit stacktv.ca.
For media inquiries, please contact:
Selma Trebincevic, Publicity Coordinator
Corus Entertainment
416.391.7367
Selma.Trebincevic@corusent.com
Julie MacFarlane, Publicity Manager
Corus Entertainment
416.860.4876
Julie.MacFarlane@corusent.com