RADIO LEGEND ALAN CROSS CELEBRATES 30 YEARS OF THE ONGOING HISTORY OF NEW MUSIC
February 23, 2023
RADIO LEGEND ALAN CROSS CELEBRATES 30 YEARS OF THE ONGOING HISTORY OF NEW MUSIC
Canada's Longest Running Radio Documentary Airs Across North America and on the Curiouscast Podcast Network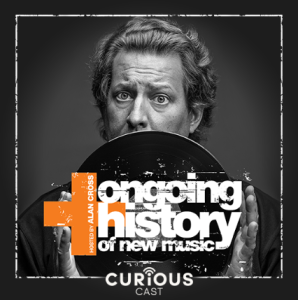 For Immediate Release
TORONTO, February 23, 2023 – Corus Audio is pleased to announce that Canada's longest running radio show, Ongoing History of New Music, hosted by iconic music expert Alan Cross, celebrates a milestone 30-year anniversary on 102.1 the Edge.
The Ongoing History of New Music is the program for anyone who loves to rock. Having expanded since its debut on February 28, 1993, the popular radio show examines the alternative rock universe, from artist profiles to various thematic explorations. After gaining widespread appeal on Toronto's 102.1 the Edge, the show was picked up nationally across Corus rock radio stations and developed into a podcast with Curiouscast in 2017, enabling it to reach more listeners throughout Canada and the U.S. The Ongoing History of New Music podcast remains one of Canada's most-listened to music podcast with a growing listener base. The show has produced 976 original radio episodes and 280 podcast episodes to date, and will run a landmark 1000th episode this fall.
"I have always been obsessed with music and am honoured to be able to share my passion with everyone," said broadcaster Alan Cross. "I'm so proud of the success of the show and that it continues to excite and resonate with listeners. I want to thank everyone who has supported the show over the years. There is no shortage of stories to tell and I'm glad people are staying along for the ride."
With over four decades in the industry, Alan is one of the most well-known music experts in Canada. He's had a long career at Corus Radio, joining the Edge (then CFNY) in October 1986. He also spent time working as a program director at Y108 (then Y95) in Hamilton, was a Senior Program Director for Corus Interactive, and a Head Curator of ExploreMusic. A jack of all trades, Alan is also an author, music consultant, and has co-founded organizations including Major League Mixes and the Music Technology Group and Event series.
The Ongoing History of New Music airs Sunday evenings across Corus Radio's rock stations and episodes are available on all podcast platforms. More information at Curiouscast.ca.
– 30 –
SOCIAL MEDIA LINKS:
Twitter: @CorusPR, @alancross
Facebook: @alancross
Instagram: @alan_crossx
About Corus Entertainment Inc.
Corus Entertainment Inc. (TSX: CJR.B) is a leading media and content company that develops and delivers high quality brands and content across platforms for audiences around the world. Engaging audiences since 1999, the company's portfolio of multimedia offerings encompass 33 specialty television services, 39 radio stations, 15 conventional television stations, digital and streaming services, animation software, technology and media services. Corus is an internationally-renowned content creator and distributor through Nelvana, a world class animation studio expert in all formats and Corus Studios, a globally recognized producer of hit scripted and unscripted content. The company also owns full-service social digital agency so.da, lifestyle entertainment company Kin Canada, leading 2D animation software supplier Toon Boom and children's book publishing house, Kids Can Press. Corus' roster of premium brands includes Global Television, W Network, HGTV Canada, Food Network Canada, Magnolia Network Canada, The HISTORY® Channel, Showcase, Adult Swim, National Geographic, Disney Channel Canada, YTV, Global News, Globalnews.ca, Q107, Country 105, and CFOX, along with streaming platforms STACKTV, TELETOON+, the Global TV App and Curiouscast. Corus is the domestic advertising representative and an original content partner for Pluto TV, a Paramount Company, which is the leading free ad-supported streaming television (FAST) service. For more information visit www.corusent.com.
For media inquiries, please contact:
Michelle Brykman
Communications Specialist, Corus Audio & Global News
416.219.9273
Rishma Govani
Director, Communications, Corus Audio & Global News
416.391.7361
rishma.govani@corusent.com