Q107 Sizzles This Summer With #1 Ratings In Toronto
September 10, 2020
Q107 SIZZLES THIS SUMMER WITH #1 RATINGS IN TORONTO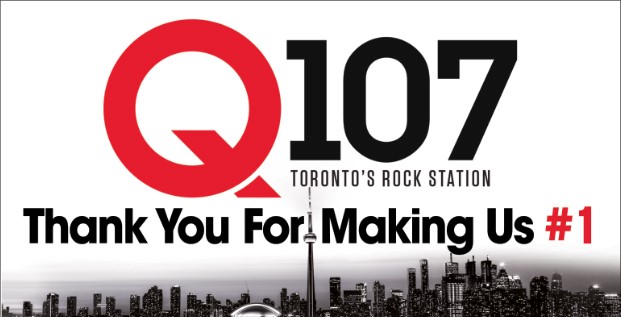 For Immediate Release
TORONTO, September 10, 2020 – With a blend of the best rock music from the 70's to 90's, and iconic personalities, Q107 (CILQ-FM) was the most listened to station in Toronto this summer, according to the newest Numeris radio ratings, released today. The station finished the summer with a 11.2 share of tuning for Adults 25-54 – the demographic looked at most closely by advertisers and agencies – putting the station at #1 against all other stations in the market*. The achievement marks the first time in 15 years that Q107 has been #1**.
"Though Q107 has been a quintessential station for rock fans in the GTA for decades, it once again reaching number one demonstrates that our music, on-air personalities and community involvement resonates with not only life-long listeners, but new ones too," said Tammy Cole, Toronto/Hamilton Regional Program Director for Corus Radio. "We couldn't be more proud of what our team has achieved. With the outstanding talent we have in place across all dayparts on Q107, we look forward to continuing this success long-term."
Q107's programming lineup kicks off every weekday through Derringer in the Morning with John Derringer from 6 a.m. – 10 a.m. ET, followed by Joanne Wilder from 10 a.m. – 2 p.m. ET, Fearless Fred from 2 p.m. – 7 p.m. ET, and Dan Chen/Kella from 7 p.m. – 11 p.m. ET. For more information or to listen to Q107 online visit q107.com.
*SOURCE: Numeris, Radio PPM, Toronto CTRL, Summer 2020, A25-54, Shr%, All Week, All Dayparts
**SOURCE: Numeris, Micro+, Diary Data Spring 2000 – Summer 2009, Toronto CTRL, A25-54, Shr% M-Su 5a-1a & Numeris, Radio PPM, Toronto CTRL, Fall 2009 – Summer 2020, A25-54, Shr%, All Week, All Dayparts
-30-
SOCIAL MEDIA LINKS:
Twitter: @Q107Toronto, @CorusPR
Facebook: @Q107Toronto
Instagram: @Q107Toronto
Q107 Toronto is a Corus Entertainment Station.
About Corus Entertainment
Corus Entertainment Inc. (TSX: CJR.B) is a leading media and content company that develops and delivers high quality brands and content across platforms for audiences around the world. Engaging audiences since 1999, the company's portfolio of multimedia offerings encompass 34 specialty television services, 39 radio stations, 15 conventional television stations, a suite of digital assets, animation software, technology and media services. Corus is an established creator of globally distributed content through Nelvana animation studio, Corus Studios, and children's book publishing house Kids Can Press. The company also owns innovative full-service social digital agency so.da, and lifestyle entertainment company Kin Canada. Corus' roster of premium brands includes Global Television, W Network, HGTV Canada, Food Network Canada, HISTORY®, Showcase, National Geographic, Disney Channel Canada, YTV and Nickelodeon Canada, Global News, Globalnews.ca, Q107, Country 105, and CFOX. Visit Corus at www.corusent.com.
For media inquiries, please contact:
Chris Sarpong
Communications, Global News & Corus Radio
416.446.5519
chris.sarpong@corusent.com
Rishma Govani
Senior Manager, Communications, Global News & Corus Radio
416.391.7361
rishma.govani@corusent.com