OH, CANADA! NEW SEASONS OF CANADIAN ORIGINAL DRAMAS FAMILY LAW AND DEPARTURE RETURN, PLUS NEW UNSCRIPTED SERIES SUPERFAN FEATURING SHANIA TWAIN JOIN GLOBAL AND STACKTV'S SUMMER LINEUP
May 1, 2023
The Much-Anticipated Second Season of Family Law Premieres Monday, May 22
Award-Winning Thriller Departure Is Back Monday, August 7 for a Third Installment with Eric McCormack Joining the Ensemble Cast
New Reality Competition Series Superfan Showcasing Kelsea Ballerini, Gloria Estefan, Little Big Town, LL COOL J, Pitbull and Shania Twain Debuts Friday, June 9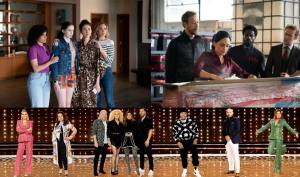 From L to R: Family Law's Genelle Williams, Eden Summer Gilmore, Jewel Staite and Lauren Holly, Departure's Kris Holden-Ried, Archie Panjabi and Mark Rendall, Superfan's Kelsea Ballerini, Gloria Estefan, Little Big Town, LL COOL J, Pitbull and Shania Twain
For additional photography, visit the Corus Media Centre here.
Follow us on Twitter at @GlobalTV_PR
To share this release socially visit: https://bit.ly/3NsGfQT
For Immediate Release
TORONTO, May 1, 2023 – Canada's biggest stars shine bright this summer on Global with the return of Global scripted series Family Law and Departure, plus new reality competition series Superfan adds even more star power to this summer's hottest schedule. The wait is over for Family Law Season 2, premiering Monday, May 22 at 8 p.m. ET/PT on Global and STACKTV. The principal cast including Canadians Jewel Staite, Victor Garber, Zach Smadu, Genelle Williams and Lauren Holly all return for the new season, which was the #1 new Canadian series when it debuted. Then, fresh off five nominations at this year's Canadian Screen Awards, including Best Drama Series, Departure Season 3 promises to bring the action this summer when it returns Monday, August 7 at 8 p.m. ET/PT on Global and STACKTV. Acclaimed Canadian actor Eric McCormack joins Emmy Award® winner Archie Panjabi and the rest of the ensemble cast as they investigate the sinking of a sea ferry destined for Newfoundland.
For the reality TV and music lovers, Global is home to the new six-episode, one-hour unscripted series Superfan featuring Kelsea Ballerini, Gloria Estefan, Little Big Town, LL COOL J, Pitbull and Canadian icon Shania Twain as they each crown their biggest fan. Debuting Friday, June 9 at 8 p.m. ET/PT on Global and STACKTV, the musical game show sees contestants vying in multiple rounds of play to prove they are their favourite artist's most devoted supporter.
"Global is the home of 'Hollywood North' with so many Canadian and international icons starring in our summer lineup this year," said Troy Reeb, Executive Vice President, Broadcast Networks, Corus Entertainment. "With the return of Global Originals Family Law and Departure, these compelling and entertaining series are sure to captivate Canadian audiences once again. And with the addition of Superfan to our summer schedule, we only further add to the star power that Global is best known for."
Airing Monday nights at 8 p.m. ET/PT beginning May 22, Family Law Season 2 follows Abby (Jewel Staite) and her dysfunctional family as they help other dysfunctional families – all while navigating their own personal dramas. After six months' probation at her father's firm, Abby's getting into the groove of family law –but her marriage is a trainwreck. Harry (Victor Garber), meanwhile, has finally made Daniel (Zach Smadu) a partner – but is he ready to share his firm with his son? Daniel's quest for approval leads him to a carefree woman who is definitely not his type, or is she? And Lucy (Genelle Williams) is crashing at Joanne's, hoping she can fix things with a newly-pregnant Maggie –and getting up her older sister's nose at the same time.
Then later this summer, Departure Season 3 sets sail Monday nights at 8 p.m. ET/PT starting August 7. The all-new, six-part event series follows the investigation into the sinking of a sea ferry, The Queen of the Narrows. It's a beautiful day in Boston when almost 500 passengers board the ferry destined for Newfoundland, Canada. A few hours into the journey an "explosion" onboard throws passengers into a panic, rushing for lifeboats as the ferry takes on water with alarming speed. What unfolds for many of the passengers is an unimaginable nightmare with serious loss of life as the ship sinks in record time. The investigation team, led by Kendra Malley (Archie Panjabi) begin to unravel the many tangled threads of the investigation all in search of one answer: why did the Queen of the Narrows suddenly sink to the bottom of the sea?
Fridays at 8 p.m. ET/PT beginning June 9 are Superfan night on Global. Hosted by Nate Burleson (CBS Mornings) and Keltie Knight, each one-hour episode will feature a different musical artist selecting one deserving superfan to win a once-in-a-lifetime prize.
Stay tuned for more summer lineup announcements coming soon, including the premiere date for the much-anticipated new Global Original Robyn Hood from prolific Canadian music video director and renowned TV director and filmmaker Director X. Plus another exciting new season of Big Brother!
Global's entertaining lineup of hit series are also all available to stream anytime on STACKTV, GlobalTV.com and the Global TV App.
Family Law is produced by SEVEN24 Films (Heartland, JANN) and Lark Productions (Motive, Fortunate Son). It was created by Susin Nielsen (Robson Arms, Cedar Cove), who also serves as executive producer and showrunner. The series is executive produced by Jordy Randall, Tom Cox, Erin Haskett and Andy Mikita. For Corus, Susan Alexander is Production Executive; Rachel Nelson is Vice President, Original Content, Scripted, Factual and Kids; Lisa Godfrey is Senior Vice President of Original Content and Corus Studios; Colin Bohm is Executive Vice President of Content and Corporate Strategy.
Christina Jennings, Scott Garvie, Paul Pope, Jackie May, and Archie Panjabi are Departure's executive producers, joined by Vincent Shiao and T.J. Scott. Patrick Cassavetti and Julie Lacey are the series producers. Executive producing for Starlings are Chris Philip and Karine Martin, along with Propagate Content's Ben Silverman; Red Arrow Studios International's Tim Gerhartz Rodrigo Herrera Ibarguengoytia, and Laura Beetz; and Sleeping Giant's David A. Stern and D. Matt Geller. Departure is directed by T.J. Scott and created by Vincent Shiao. For Corus, Kathleen Meek is Production Executive; Rachel Nelson is Vice President, Original Content, Scripted, Factual and Kids; Lisa Godfrey is Senior Vice President of Original Content and Corus Studios; Colin Bohm is Executive Vice President of Content and Corporate Strategy.
Superfan is produced by Raquel Productions, Inc. Jodi Roth, Keltie Knight and two-time Emmy® Award-winner Jack Martin executive produce. Martin also serves as showrunner. Distributed by Paramount Global Content Distribution.
Global is a Corus Entertainment Network and is available through all major TV distributors, including: Shaw, Shaw Direct, Rogers, Bell, Videotron, Telus, Cogeco, Eastlink, SaskTel and the new STACKTV, streaming exclusively on Amazon Prime Video Channels. The Global TV App is available on iOS, Android, Chromecast, Amazon Fire TV, Samsung Smart TVs, Roku streaming players, Roku TV™ models, and at watch.globaltv.com.
Source: Numeris PPM Data. FL'21 (Sept 13/21 – Dec 19/21) – confirmed data. Total Canada. AMA(000), CDN CONV COM ENG National Network, 3+ airings. Ind.2+, A25-54, A18-49, A18-34.
– 30 –
SOCIAL MEDIA LINKS:
Twitter:
@GlobalTV
@GlobalTV_PR
@CorusPR
Facebook:
https://www.facebook.com/GlobalTV
Instagram:
@globaltv
TikTok:
@globaltv
LinkedIn:
https://www.linkedin.com/company/corus-entertainment
About Corus Entertainment Inc.
Corus Entertainment Inc. (TSX: CJR.B) is a leading media and content company that develops and delivers high quality brands and content across platforms for audiences around the world. Engaging audiences since 1999, the company's portfolio of multimedia offerings encompass 33 specialty television services, 39 radio stations, 15 conventional television stations, digital and streaming services, animation software, technology and media services. Corus is an internationally-renowned content creator and distributor through Nelvana, a world class animation studio expert in all formats and Corus Studios, a globally recognized producer of hit scripted and unscripted content. The company also owns full-service social digital agency so.da, lifestyle entertainment company Kin Canada, leading 2D animation software supplier Toon Boom and children's book publishing house, Kids Can Press. Corus' roster of premium brands includes Global Television, W Network, HGTV Canada, Food Network Canada, Magnolia Network Canada, The HISTORY® Channel, Showcase, Adult Swim, National Geographic, Disney Channel Canada, YTV, Global News, Globalnews.ca, Q107, Country 105, and CFOX, along with streaming platforms STACKTV, TELETOON+, the Global TV App and Curiouscast. Corus is the domestic advertising representative and an original content partner for Pluto TV, a Paramount Company, which is the leading free ad-supported streaming television (FAST) service. For more information visit www.corusent.com.
About Lark Productions
Established in 2010, Lark Productions is an award-winning television production company with a proven track record of producing exceptional programming in Canada for the global marketplace. Lark develops both scripted and unscripted content, often in collaboration with Universal International Studios, a division of the Universal Studio Group, through a first-look distribution deal.
Lark's scripted productions include Family Law for Global TV, spy drama Fortunate Son for CBC in association with NBCUniversal International Studios, and the CSA-nominated Motive (CTV, ABC, USA Network). Active in unscripted production, Lark's unscripted slate includes CTV's new prime time series Farming for Love based on Fremantle's global franchise, along with previous hit formats The Real Housewives of Toronto (Slice) and The Real Housewives of Vancouver (Slice), Crash Gallery (CBC), Paramedics: Life on the Line (Knowledge Network), Emergency Room: Life + Death at VGH (Knowledge Network, Discovery Fit).
About SEVEN24 Films
SEVEN24 Films is an independent film and television production company whose work has spanned over two decades. Executive Producers Tom Cox and Jordy Randall have produced dramatic series, mini-series, television movies and feature films garnering over one hundred industry awards and nominations.
In addition to the two-time People's Choice Award winning series, Wynonna Earp on Syfy and CTV Sci-Fi, current projects include: Family Law, a one-hour legal series for Global, JANN, the #1 new comedy on CTV and now launching on Roku, and the hit family series Heartland, the longest running one-hour series in Canadian history, having aired its sixteen season for CBC, Netflix and UPtv.
SEVEN24's focus on integration of scripted programming with interactive content and social media has helped make Heartland and Wynonna Earp two of the most dynamic scripted television projects in the digital space.
Previous projects include Ride for Hallmark and CTV Drama, Damnation with NBC Universal for USA, Fortunate Son, a political thriller for CBC and NBCU International, Dark Cargo, a noir thriller for YouTube Premium, Young Drunk Punk for Rogers and CBC, the Canadian Screen Award winner Borealis, the Gemini Award winning movie Mayerthorpe and Gemini Award winning Mini-Series Burn Up.
Tom Cox and Jordy Randall were also co-producers on numerous high-profile feature films including the Academy Award nominated Brokeback Mountain and are both recipients of the Queen Elizabeth II Diamond Jubilee Medal in recognition of their contribution to the arts.
SEVEN24 Films was recently named Playback Magazine's Production Company of the Year.
About Shaftesbury
Shaftesbury is an award-winning creator and producer of original content for television, film, and digital, established in 1987 by Christina Jennings, Chairman and President. Shaftesbury's current primetime slate includes 16 seasons of the international hit series Murdoch Mysteries for CBC, ITV Studios and UKTV, and five seasons of Hudson & Rex for Citytv, both are available in over 120 countries worldwide. Other projects include: the acclaimed horror anthology series Slasher on Shudder and Hollywood Suite, with Emmy® Award-winner Eric McCormack starring in the upcoming fifth season; three seasons of the acclaimed six-part event series Departure for Global starring Emmy® Award-winner Archie Panjabi and the late Academy® Award-winner Christopher Plummer; and SisterS, a new Irish Canadian co-production by and starring Sarah Goldberg (Barry) and Susan Stanley, for Crave, RTÉ and IFC.
www.shaftesbury.ca
For media inquiries, please contact:
Nick Seliwoniuk
Senior Publicist, Global Television
647.461.1178
nick.seliwoniuk@corusent.com
Jacqui VanSickle
Publicity Manager, Global Television
416.860.4224
jacqui.vansickle@corusent.com
Cassandra Chambers
Associate Publicist, Global Television
416.479.6945
cassandra.chambers@corusent.com