National Geographic Premieres Second Season Of Acclaimed Anthology Series, Genius: Picasso On April 24
March 26, 2018
NATIONAL GEOGRAPHIC PREMIERES SECOND SEASON OF
ACCLAIMED ANTHOLOGY SERIES, GENIUS: PICASSO ON APRIL 24
Antonio Banderas and Alex Rich Star in the Joint Role of Pablo Picasso
10-Episode Series is Executive Produced by
Academy Award ® Winners Brian Grazer and Ron Howard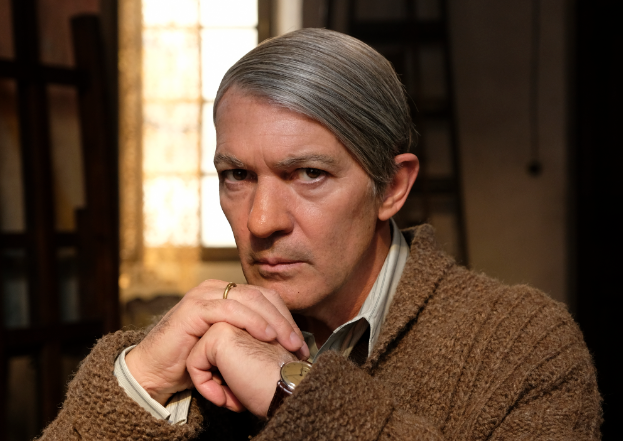 Antonio Banderas as Pablo Picasso in Season 2 of National Geographic's Emmy®-nominated anthology series Genius.
Image Courtesy of National Geographic/Dusan Martincek.
Watch the trailer here
For images visit the Corus Media Centre
To share this release socially use: bit.ly/2IKG4wR
For Immediate Release
TORONTO – Following the success of its ground-breaking first season, Emmy®, Golden Globe®, and Screen Actor's Guild Award®–nominated anthology series Genius explores a new icon in its second instalment: Pablo Picasso. As one of the most influential and celebrated artists of the 20th century, his passionate nature and relentless creative drive were linked inextricably to his tumultuous personal life. Genius: Picasso (10×60) chronicles the prolific artist as he pushed the boundaries of artistic expression, leading to his worldwide renown as a genius. The acclaimed series premieres with back-to-back episodes Tuesday, April 24 at 9 p.m. ET/PT on National Geographic with subsequent new episodes airing at 10 p.m. ET/PT, beginning May 1.

Antonio Banderas (The Skin I'm In, The Mask of Zorro) brings to life the artistic career of Pablo Picasso. Joining Banderas in the role is Alex Rich, (Glow, True Detective), as the younger Pablo who rejects academic study and joins the circle of young bohemian artists and writers struggling to make it in early 20th century Spain and France.
Clémence Poésy (The Tunnel) portrays Françoise Gilot, a French painter and best-selling author whose decade-long affair with Picasso yielded two children and who was his only lover strong enough to withstand his ferocious intensity and move on with her life. Sebastian Roché (Young Pope) is Emile Gilot, Francoise's tyrannical father. Robert Sheehan (Fortitude), plays Carles Casagemas, a Spanish art student and poet who was one of Picasso's closest friends. Poppy Delevingne (Kingsman: The Golden Circle), portrays Marie-Thérèse Walter, a lover and muse of Picasso, who mothered his first daughter. Aisling Franciosi (Game of Thrones) is Fernande Olivier, a French artist and model, of whom Picasso painted more than 60 portraits.
They join returning cast members from the Emmy®, Golden Globe®, and Screen Actor's Guild Award®–nominated first season, Samantha Colley (The Crucible) as Dora Maar, a French photographer and painter who was also Picasso's lover and muse; T.R. Knight (Grey's Anatomy) as Max Jacob, one of Picasso's first friends in Paris; Seth Gabel (Salem) as Guillaume Apollinaire, one of the foremost poets of the 20th century and a frequent collaborator with Picasso; and Johnny Flynn (Lovesick), who makes a special appearance as French actor Alain Cuny. The series also features a number of well-known personalities who crossed paths with Picasso, including Coco Chanel, Henri Matisse, Georges Braque and Jean Cocteau.
The second season of the acclaimed series began production last year, filming in many locations where Picasso himself once lived and worked. These locations included Paris, Barcelona, Budapest, Malta, and a three-day shoot in Málaga, Spain, the birthplace of both Picasso and Banderas, where production filmed in the same house in which Picasso was born, the church where he was baptised and the bullring where he found much inspiration in his youth.
Genius: Picasso is executive produced by Imagine's Brian Grazer, Ron Howard and Francie Calfo, and co-produced by Anna Culp; showrunner, executive producer, writer and director is Ken Biller. From MWM Studios, Gigi Pritzker and Rachel Shane are executive producers and Melissa Rucker is co-producer. Sam Sokolow and Jeff Cooney from EUE/Sokolow Entertainment are also executive producers. For National Geographic, Carolyn G. Bernstein is executive vice president and head of global scripted development and production. The series is produced by Fox 21 Television Studios, Imagine Television and MWM Studios.
– 30 –
SOCIAL MEDIA LINKS:
Follow Corus PR on Twitter @CorusPR
Follow National Geographic on Facebook Nat Geo TV Canada
See exclusive content at natgeotv.com/ca/genius-picasso
National Geographic is a Corus Entertainment Inc. Network.
About Corus Entertainment Inc.
Corus Entertainment Inc. (TSX: CJR.B) is a leading media and content company that creates and delivers high quality brands and content across platforms for audiences around the world. The company's portfolio of multimedia offerings encompasses 44 specialty television services, 39 radio stations, 15 conventional television stations, a global content business, digital assets, live events, children's book publishing, animation software, technology and media services. Corus' roster of premium brands includes Global Television, W Network, OWN: Oprah Winfrey Network Canada, HGTV Canada, Food Network Canada, HISTORY®, Showcase, National Geographic Channel, Q107, CKNW, Fresh Radio, Disney Channel Canada, YTV and Nickelodeon Canada. Visit Corus at www.corusent.com.
About National Geographic Partners LLC
National Geographic Partners LLC (NGP), a joint venture between National Geographic and 21st Century Fox, is committed to bringing the world premium science, adventure and exploration content across an unrivaled portfolio of media assets. NGP combines the global National Geographic television channels (National Geographic Channel, Nat Geo Wild, Nat Geo Mundo, Nat Geo People) with National Geographic's media and consumer-oriented assets, including National Geographic magazines; National Geographic studios; related digital and social media platforms; books; maps; children's media; and ancillary activities that include travel, global experiences and events, archival sales, licensing and e-commerce businesses. Furthering knowledge and understanding of the world has been the core purpose of National Geographic for 130 years, and now it is committed to going deeper, pushing boundaries, going further for consumers… all while reaching millions of people around the world in 172 countries and 43 languages every month. NGP returns 27 percent of its proceeds to the nonprofit National Geographic Society to fund work in the areas of science, exploration, conservation and education. For more information visit natgeotv.com or nationalgeographic.com.
About Fox 21 Television Studios
Fox 21 Television Studios is a production unit housed within Fox Television Group devoted to making creatively Ambitious scripted and unscripted series for all distribution platforms. Fox 21 Television Studios is responsible for the for the Emmy- and Golden Globe-winning sensation from Ryan Murphy, Nina Jacobson and Brad Simpson "The People v. O.J. Simpson: American Crime Story" (with FX Productions); the Emmy- and Golden Globe-winning "Homeland," starring Claire Danes and Mandy Patinkin; the critically acclaimed "The Americans" (with FX Productions) starring Matthew Rhys and Keri Russell; "Dice," from Scot Armstrong, Sean Furst, Bryan Furst, Richard Shepard, Bruce Rubenstein and Andrew Dice Clay; "Queen of the South," executive produced by David T. Friendly and Natalie Chaidez; and "Chance" from Kem Nunn, Alexandra Cunningham, Lenny Abrahamson, Michael London, and Brian Grazer. Upcoming series include Genius (with Imagine, MWM Studios and EUE/Sokolow Entertainment) from Ron Howard, Brian Grazer, Francie Calfo, Gigi Pritzker, Rachel Shane, Sam Sokolow, Jeff Cooney, Ken Biller and Noah Pink; "Seven Seconds" from Veena Sud; and Ryan Murphy's latest anthology, "FEUD: Bette and Joan," starring Oscar winners Jessica Lange and Susan Sarandon.
For media inquiries, please contact:
Emily Crane
Associate Publicist
Corus Entertainment
416.860.4220
Emily.Crane@corusent.com
Devon Cavanagh
Publicity Coordinator
Corus Entertainment
416.479.6712
Devon.cavanagh@corusent.com