MONSTERS, MAZES AND MYSTERY: CURIOUSCAST ANNOUNCES ESCAPING DENVER SEASON 2
March 24, 2022
MONSTERS, MAZES AND MYSTERY: CURIOUSCAST ANNOUNCES ESCAPING DENVER SEASON 2
Curiouscast's Fiction Adventure Podcast Escaping Denver Season 2 Premieres March 28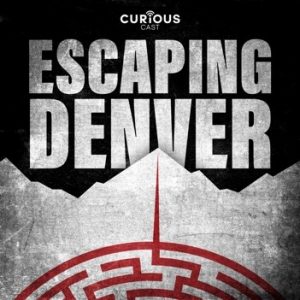 For Immediate Release
VANCOUVER, March 24, 2022 – Corus Entertainment's award-winning podcast network Curiouscast today announced the second season of its fiction adventure podcast Escaping Denver, beginning March 28. Escaping Denver was Curiouscast's first fiction podcast, which premiered July 2021.
"We are so excited for the next chapter in the Escaping Denver adventure with the launch of Season 2. The first season developed a strong and dedicated audience in both Canada and the U.S. and we look forward to continuing the journey this year," said Chris "Dunner" Duncombe, Director of Streaming and Podcasting, Curiouscast/Corus Entertainment.
Sara and Noah wake up in complete darkness, trapped miles below the Denver International Airport (DIA) with no hope for escape. Join their perilous voyage as they struggle for freedom from a mind-bending labyrinth filled with unimaginable horrors. Their only hope could come from the complete stranger they can send voice messages to. Escaping Denver dives straight into the deep end of conspiracy theories surrounding the Denver International Airport. New episodes will be released bi-weekly. Listen to the Season 2 trailer here.
"Curiouscast have not only supported our twisted tale from the get-go, but continue to give us free rein to explore our world of mysteries, mazes and monsters, which we explore once again. Season 2 uncovers some answers for Noah and Sara, but they may not be what audiences are expecting," said Brady Roberts and Mike Howorun, Escaping Denver creators.
To listen to every episode of the podcast for free, subscribe on Apple Podcasts, Spotify, Google Podcasts, or wherever you get your favourite podcasts. For more information visit Curiouscast.ca.
The award-winning Curiouscast network launched in 2018 and is home to internationally recognized brands with diverse audio storytelling, including: Edward R. Murrow International Podcast Award Winners Crime Beat** and 13 Hours Inside the Nova Scotia Massacre; the #1 Canadian-produced music podcast, The Ongoing History of New Music*; and 2020 Canadian Podcast Award winners Dark Poutine, History of the 90's , as well as Nighttime, The Peak Daily and RTDNA winner Global News What Happened To.
*SOURCE: Apple Podcasts: Top Charts (Canada), Music, October 14, 2020.
**SOURCE: Apple Podcasts: Best Listens of 2019 (Canada), December 5, 2019.
***SOURCE: Canadian Podcast Awards: 2020 Winners – awards.podcamptoronto.com/award/
-30-
SOCIAL MEDIA LINKS:
Twitter: @CorusPR, @Curiouscast, @escapingdenver
Instagram: @escapingdenver
Curiouscast is a Corus Entertainment Network.
About Corus Entertainment Inc.
Corus Entertainment Inc. (TSX: CJR.B) is a leading media and content company that develops and delivers high quality brands and content across platforms for audiences around the world. Engaging audiences since 1999, the company's portfolio of multimedia offerings encompass 33 specialty television services, 39 radio stations, 15 conventional television stations, a suite of digital and streaming assets, animation software, technology and media services. Corus is an internationally-renowned content creator and distributor through Nelvana, a world class animation studio expert in all formats and Corus Studios, a globally recognized producer of hit scripted and unscripted content. The company also owns innovative full-service social digital agency so.da, lifestyle entertainment company Kin Canada, leading 2D animation software supplier Toon Boom and children's book publishing house, Kids Can Press. Corus' roster of premium brands includes Global Television, W Network, HGTV Canada, Food Network Canada, Magnolia Network Canada, The HISTORY® Channel, Showcase, Adult Swim, National Geographic, Disney Channel Canada, YTV, Global News, Globalnews.ca, Q107, Country 105, and CFOX, along with broadly distributed Canadian streaming platforms STACKTV, Nick+, the Global TV App and Curiouscast. For more information visit www.corusent.com.
For media inquiries, please contact:
Michelle Brykman
Communications Specialist, Global News, Corus Radio & Curiouscast
416.219.9273
Rishma Govani
Director, Communications, Global News, Corus Radio & Curiouscast
416.391.7361