LOST CAR RESCUE SEASON 2 FOLLOWS CLASSIC CAR HUNTERS' GREATEST ADVENTURE YET, BEGINNING APRIL 19 ON THE HISTORY® CHANNEL AND STACKTV
March 7, 2023
LOST CAR RESCUE SEASON 2 FOLLOWS CLASSIC CAR HUNTERS' GREATEST ADVENTURE YET, BEGINNING APRIL 19 ON THE HISTORY® CHANNEL AND STACKTV
The Ambitious Team Travel by Land and Air to Uncover Rare Vehicles in Canada's Remote Wilderness
Season 1 Recently Secured Two Canadian Screen Award Nominations, Including Best Factual Series
Stream The HISTORY® Channel Anytime with STACKTV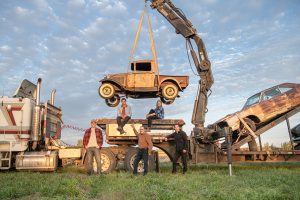 From left to right: Lost Car Rescue's Matt Sager, Steve Sager, David Mischuk, Jessica James, Lee Brandt
For additional photography, click here
For the Lost Car Rescue promo, click here
To share this release socially use: Lost Car Rescue Season 2 Press Release
For Immediate Release
TORONTO, March 7, 2023 – The ambitious team of Lost Car Rescue (6×60) return for a second season this spring, venturing deeper than ever into Canada's remote wilderness in search of abandoned and valuable vehicles. Beginning Wednesday, April 19 at 10 p.m. ET/PT on The HISTORY® Channel and STACKTV, the Corus Studios distributed original series follows the car hunters as they find these treasured vehicles and bring their unique stories to light. Led by Matt Sager, each member of the Lost Car Rescue team plays a crucial role: the plane pilot, Jess; Steve "the wrench"; auto body expert, Dave; and crane operator, Lee. Using a fleet of speciality vehicles – including a 1946 Dodge Power Wagon, 1988 Freightliner, and 1948 Stinson plane – the team journeys 3,000 kilometres from their home base in British Columbia into Northern Alberta and Northwestern Ontario for an all-new adventure.
In the premiere episode, the team tracks down several historic vehicles in the remote region of Rainy River, in Northwestern Ontario. Travelling this far poses a massive risk as expenses add up quickly and time is money. They must fill the rig with as many valuable cars as they can find to make the trip worthwhile. As Steve and Lee compete with Dave to fill the remaining spots on the semi's trailer, Matt and Jess hit the skies in search of a historic railway truck to assist a local museum. Faced with Ontario's dense forests and expansive lakes, the duo quickly realize they will need help finding the lost truck. Luckily, with the assistance of locals, including a floatplane pilot and an eleven-year-old explorer, Matt and Jess just might strike gold.
Throughout the season, the crew travel across the country searching for various unique finds, including a car allegedly owned by America's most famous mobster, Al Capone, and an iconic 20th-century vehicle from the oil boom. Despite having to work through mass floods, a broken crane rig and a race against a mobile crusher threatening to destroy the treasures they aim to save, the team always finds a way to make it work. Faced with this many new challenges forces them to be creative, expand their skills, learn to delegate and take on new roles in their quest to find and save automotive treasures.
Lost Car Rescue is produced by Boat Rocker's Proper Television for The HISTORY® Channel. Executive Producers are Allison Grace, Cathie James, and Lesia Capone, and Series Producer is Jay Armstrong. For The HISTORY® Channel, Kathleen Meek is the Executive in Charge of Production, Rachel Nelson is Vice President of Original Scripted and Factual Content and Lisa Godfrey is Senior Vice President of Original Content and Corus Studios.
The HISTORY® Channel, including Lost Car Rescue Season 1, can be streamed via STACKTV, available on Amazon Prime Video Channels, FuboTV, Rogers Ignite TV and Ignite SmartStream. The network is also available through all major TV distributors, including: Shaw, Shaw Direct, Rogers, Bell, Videotron, Telus, Cogeco, Eastlink and SaskTel.
– 30 –
SOCIAL MEDIA LINKS:
Corus PR on Twitter: @CorusPR
The HISTORY® Channel on Instagram: @historyca
The HISTORY® Channel on Facebook: facebook.com/HISTORYCanada
The HISTORY® Channel on Twitter: @HistoryTVCanada
The HISTORY® Channel on YouTube: @HISTORYCanada
The HISTORY Channel is a Corus Entertainment Network.

About Corus Entertainment Inc.
Corus Entertainment Inc. (TSX: CJR.B) is a leading media and content company that develops and delivers high quality brands and content across platforms for audiences around the world. Engaging audiences since 1999, the company's portfolio of multimedia offerings encompass 33 specialty television services, 39 radio stations, 15 conventional television stations, digital and streaming services, animation software, technology and media services. Corus is an internationally-renowned content creator and distributor through Nelvana, a world class animation studio expert in all formats and Corus Studios, a globally recognized producer of hit scripted and unscripted content. The company also owns full-service social digital agency so.da, lifestyle entertainment company Kin Canada, leading 2D animation software supplier Toon Boom and children's book publishing house, Kids Can Press. Corus' roster of premium brands includes Global Television, W Network, HGTV Canada, Food Network Canada, Magnolia Network Canada, The HISTORY® Channel, Showcase, Adult Swim, National Geographic, Disney Channel Canada, YTV, Global News, Globalnews.ca, Q107, Country 105, and CFOX, along with streaming platforms STACKTV, TELETOON+, the Global TV App and Curiouscast. Corus is the domestic advertising representative and an original content partner for Paramount Global's Pluto TV, the world's leading free ad-supported streaming television (FAST) service. For more information visit www.corusent.com.
About STACKTV
STACKTV is Corus Entertainment's premium multi-channel television streaming service that offers thousands of hours of exclusive hit content from 16 of Canada's top TV networks, all on one platform. All series, movies and specials that air on Global Television, Food Network Canada, HGTV Canada, W Network, The HISTORY® Channel, Adult Swim, Slice, Showcase, National Geographic, Lifetime, TELETOON, Treehouse, YTV, Disney Channel, Disney XD and Disney Junior are available to stream on STACKTV live and on demand with new content added daily. STACKTV is available via Amazon Prime Video Channels, FuboTV, Rogers Ignite TV and Ignite Streaming. For more information, visit stacktv.ca.
For media inquiries, please contact:
Selma Trebincevic, Associate Publicist
Corus Entertainment
416.391.7367
Selma.Trebincevic@corusent.com
Devon Cavanagh, Senior Publicist
Corus Entertainment
416.479.6712
Devon.Cavanagh@corusent.com
Julie MacFarlane, Publicity Manager
Corus Entertainment
416.860.4876
Julie.Macfarlane@corusent.com