Legendary 680 CJOB Sportscaster Bob Irving Retires as Voice of the Winnipeg Blue Bombers
November 9, 2021
LEGENDARY 680 CJOB SPORTCASTER BOB IRVING RETIRES AS VOICE OF THE WINNIPEG BLUE BOMBERS
After Nearly 50 Years, Bob Irving's Final Game is the West Final on December 5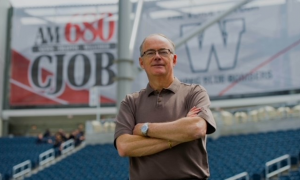 For Immediate Release
WINNIPEG, November 9, 2021 – Global News Radio 680 CJOB today announced that after 52 years in the broadcasting business, veteran sportscaster Bob Irving has decided to retire. Irving will conclude his nearly five decades as voice of the Winnipeg Blue Bombers on the final home game of the season on December 5. In honour of Irving's remarkable run as the Bombers play-by-play announcer, the team will be dedicating this game to him including a pre-game ceremony to recognize Bob's contributions to the team.
Bob "Knuckles" Irving has been an important member of the sports community in Manitoba since his arrival at CJOB in 1973. He became the voice of the Bombers in 1974 and has broadcast more than 800 games. Along the way, he voiced several Grey Cup games on national radio, was inducted into both the Blue Bomber and Canadian Football Halls of Fame, had the Bombers media room named after him and appointed to the Order of Manitoba.
"I've been lucky to live my dream of being a sports broadcaster at one of the best radio stations in Canada," said Bob Irving. "In nearly five decades at CJOB, I've covered a range of sports, anchored the morning sports for nearly 40 years, but the icing on the cake has been the chance to be the voice of the Bombers. I'm grateful for the tremendous support of my wife Daye, who has had my back every step of the way, and my kids, Kyle, Reid and Ashleigh, who have provided similar support. It's now time to hang up the mic and join Daye in exploring what the rest our years have in store. Thanks to everyone I have worked with along the way and to the loyal CJOB listeners who make it all possible. It's been a sweet ride."
"Bob has been an essential figure in Canada's sports community for nearly five decades and has left a legacy at the station," said Heather Steele, 680 CJOB Manager, Talk & Talent. "His passion, knowledge, and most notably his voice will be greatly missed and we wish him nothing but the best in his next chapter."
"Bob Irving has been synonymous with the Winnipeg Blue Bombers for parts of six decades dating back to calling his first game for CJOB in September of 1973," said Winnipeg Football Club President & CEO Wade Miller. "Bob has made a lasting mark with his contribution to the organization. He has been a tireless supporter of the Blue Bombers and a passionate advocate for Manitoba and for the Canadian Football League. He's always been giving of his time beyond regular work hours at CJOB by hosting Blue Bomber banquets and other team functions, as well as volunteering for numerous local charities. We're fortunate to have been able to listen to Bob for as long as we have and wish him the best in an incredibly well-deserved retirement."
Winnipeg's news and information leader 680 CJOB has been the city's sports leader offering exclusive content and game coverage for Manitoba's three premier sports franchises, the Winnipeg Jets, the Winnipeg Blue Bombers and the Manitoba Moose. 680 CJOB is synonymous with excellence in sports reporting, talk radio, news and community involvement. In 2021, the station celebrated 75 years serving Manitobans.
– 30 –
SOCIAL MEDIA LINKS:
Twitter: @CorusPR, @680CJOB, @BobIrvingCJOB
Facebook: @680CJOB
Instagram: @680cjob
Global News Radio 680 CJOB is part of the Corus Entertainment Network.
About Corus Entertainment
Corus Entertainment Inc. (TSX: CJR.B) is a leading media and content company that develops and delivers high quality brands and content across platforms for audiences around the world. Engaging audiences since 1999, the company's portfolio of multimedia offerings encompass 33 specialty television services, 39 radio stations, 15 conventional television stations, a suite of digital and streaming assets, animation software, technology and media services. Corus is an internationally-renowned content creator and distributor through Nelvana, a world class animation studio expert in all formats and Corus Studios, a globally recognized producer of hit scripted and unscripted content. The company also owns innovative full-service social digital agency so.da, lifestyle entertainment company Kin Canada, leading 2D animation software supplier Toon Boom and children's book publishing house, Kids Can Press. Corus' roster of premium brands includes Global Television, W Network, HGTV Canada, Food Network Canada, HISTORY®, Showcase, Adult Swim, National Geographic, Disney Channel Canada, YTV, Global News, Globalnews.ca, Q107, Country 105, and CFOX, along with broadly distributed Canadian streaming platforms STACKTV, Nick+, the Global TV App and Curiouscast. For more information visit www.corusent.com.
For media inquiries, please contact:
Michelle Brykman
Communications Specialist, Global News & Corus Radio
647.631.7135
michelle.brykman@corusent.com
Rishma Govani
Director, Communications, Global News & Corus Radio
416.391.7361
rishma.govani@corusent.com