Island Of Bryan Becomes HGTV Canada's Highest Rated Series In Over 10 Years
ISLAND OF BRYAN BECOMES HGTV CANADA'S HIGHEST RATED SERIES IN OVER 10 YEARS
May 16, 2019
ISLAND OF BRYAN BECOMES HGTV CANADA'S HIGHEST RATED SERIES IN OVER 10 YEARS

The Canadian Original Series is Currently the #3 Program Across All of Canadian Specialty in Spring '19
New Episodes Air Sundays at 10 p.m. ET/PT on HGTV Canada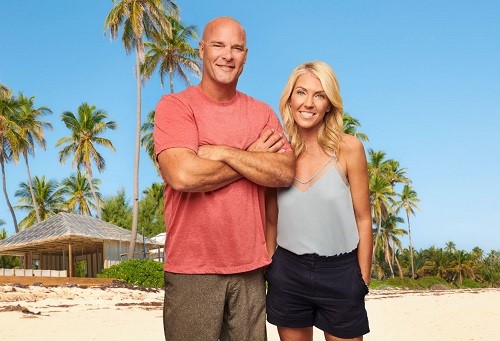 From left to right: Bryan Baeumler and Sarah Baeumler. Photo courtesy of HGTV Canada.

For additional photography and press kit material visit: www.corusent.com

To share this socially: bit.ly/2VEPQKM
For Immediate Release
TORONTO, May 16, 2019 – HGTV Canada's Bryan and Sarah Baeumler are in the midst of their biggest project yet: rebuilding and restoring a beachfront resort in the Bahamas. Their island adventure has viewers hooked, as Island of Bryan breaks HGTV Canada ratings records with the first four episodes becoming the most-watched individual episodes of any program on the network in over 10 years.* The series continues to sustain and grow its audience week-to-week, with the fourth episode generating a 6% increase from the premiere's audience among A25-54.** With seven episodes remaining, the series is currently the #3 program across all of Canadian Specialty in Spring '19.** Island of Bryan follows the success of Season 2 of Bryan Inc. which ranked as the #1 program on HGTV Canada last spring.***
Island of Bryan is also overperforming on HGTV Canada's digital and social media platforms. The success extends online where the series launch gallery received more than 1.8 million page views to date, while the first five episodes are currently the Top 5 most-viewed episodes on HGTV.ca.**** Creative and engaging social media content for the series has reached over six million users and delivered an average engagement rate of 37.72%, with top performing content including the series promo and series tease.
Since his first television series on HGTV Canada in 2007, Bryan Baeumler has led seven of channel's Canadian Original series, including Canada's Handyman Challenge, Disaster DIY, Disaster DIY: Cottage Edition, Leave It to Bryan, House of Bryan, and Bryan Inc., where his wife Sarah officially joined him as co-host. Bryan and Sarah also appear together in HGTV Canada's Home to Win.
New episodes of Island of Bryan continue Sundays at 10 p.m. ET/PT on HGTV Canada. Island of Bryan is produced by Si Entertainment in association with Corus Entertainment's HGTV Canada. The series is proudly sponsored in part by Royal Bank of Canada.
For more information and exclusive content, please visit HGTV.ca.
-30-
*Source: Numeris PPM Data, 01/09/2008 to 28/04/2019, confirmed data, A25-54 AMA(000), HGTV, Total Canada
**Source: Numeris PPM Data, SP'19 STD (Dec 31/18 – Apr 28/19) confirmed data, 3+ airings, A2554, AMA(000), CDN COM ENG Spec+Dig excluding sports, Total Canada
***Source: Numeris PPM Data, SP18 (Jan 1 – May 27/18) confirmed data, 3+ airings, A25-54 AMA(000), HGTV, Total Canada
****Source: Omniture
SOCIAL MEDIA LINKS:
#IslandofBryan
Twitter: @CorusPR, @hgtvcanada
Facebook: facebook.com/HGTV.ca
Instagram: @hgtvcanada, @sarahbaeumler, @bryanbaeumler
HGTV Canada is a Corus Entertainment Network.
About Corus Entertainment Inc.
Corus Entertainment Inc. (TSX: CJR.B) is a leading media and content company that develops and delivers high quality brands and content across platforms for audiences around the world. The company's portfolio of multimedia offerings encompass 37 specialty television services, 39 radio stations, 15 conventional television stations, a suite of digital assets, animation software, technology and media services. Corus is an established creator of globally distributed content through Nelvana animation studio, Corus Studios, and children's book publishing house Kids Can Press. The company also owns innovative full-service social digital agency so.da, and lifestyle entertainment company Kin Canada. Corus' roster of premium brands includes Global Television, W Network, HGTV Canada, Food Network Canada, HISTORY®, Showcase, National Geographic, Disney Channel Canada, YTV and Nickelodeon Canada, Global News, Globalnews.ca, Q107, Country 105, and CFOX. Visit Corus at www.corusent.com.
For more information please contact:
Julie MacFarlane, Senior Publicist
Corus Entertainment
416.860.4876
Julie.MacFarlane@corusent.com
Laura Lourenco, Publicity Coordinator
Corus Entertainment
416.479.6730
Laura.Lourenco@corusent.com