HGTV CANADA'S FALL SLATE IS THE DESTINATION FOR HOME INSPIRATION
August 22, 2023
HGTV CANADA'S FALL SLATE IS THE DESTINATION FOR HOME INSPIRATION
Scott McGillivray and Debra Salmoni Return with New Episodes of
Scott's Vacation House Rules Starting Monday, September 18
New Seasons of Ugliest House in America, Good Bones and
Unsellable Houses Join the Schedule
Stream HGTV Canada Anytime with STACKTV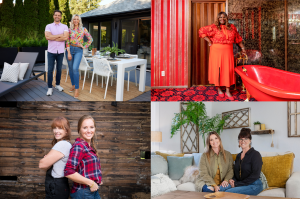 (L-R: Scott's Vacation House Rules, Ugliest House in America, Good Bones and Unsellable Houses)
Photo courtesy of HGTV Canada
For Immediate Release
TORONTO, August 22, 2023 – This fall, HGTV Canada delivers jaw-dropping reveals, vacation inspiration, and heartwarming moments all season long. The schedule is bolstered by new episodes of Corus Studios Original series Scott's Vacation House Rules (7×60) with real estate expert and contractor Scott McGillivray, and his trusted design partner Debra Salmoni. Returning to the schedule with new seasons include Ugliest House in America (1×60, 5×30) starring home design enthusiast and comedian Retta, alongside renovation overhaul series Good Bones (9×60) and Unsellable Houses (13×60). The well-rounded schedule sees HGTV Canada's experts offer creative design solutions, big and bold transformations, and real estate tips and tricks each night of the week.
Returning this fall, HGTV Canada debut's seven new episodes of Corus Studios Original series Scott's Vacation House Rules beginning Monday, September 18 at 10 p.m. ET/PT. Scott and Debra tackle a range of vacation properties including a midcentury getaway in Ontario's lakeside Prince Edward County, an organic oasis in Niagara and many more dreamy escapes. Scott's Vacation House Rules is supported by financial sponsor CIBC, insulation supplier ROCKWOOL, and the properties are brightened with Pollard Windows & Doors.
Moving onto the schedule on Sunday, September 3 at 9 p.m. ET/PT, a new season of Ugliest House in America sees comedian Retta tour cross-country to visit hideous homes, and surprising the worst one with a $150,000 renovation from designer Alison Victoria (Windy City Rehab). Powerhouse mother-daughter duo Karen E. Laine and Mina Starsiak Hawk return Sunday, September 3 at 10 p.m. ET/PT with a new season of Good Bones, as they revitalize properties in their hometown of Indianapolis. Keeping it all in the family, twin sisters and real estate consultants Leslie Davis and Lyndsay Lamb join the fall schedule with a new season of Unsellable Houses (13×60) on Tuesday, September 12 at 10 p.m. ET/PT.
On Monday, September 4 at 9 p.m. ET/PT, renowned designer Hilary Farr returns with a new season of Tough Love with Hilary Farr (10×60). With her creative design solutions and a little bit of tough love, Hilary helps families with homes lacking function and flair to renovate their spaces and get them back on track. Setting the stage on Thursday, September 14 at 11 p.m. ET/PT is brand-new series Flip the Strip (6×60), which follows the stars of the Las Vegas show Australia's Thunder from Down Under. In each episode, the expert tradesmen overhaul clients' homes with glitz and glam, infusing casino-inspired style alongside celebrated designer Kelly Stone.
New seasons of Bargain Block (10×60) and No Demo Reno (12×60) will also air this fall, premiering Wednesday, August 30 at 9 p.m. ET/PT and Thursday, September 14 at 9 p.m. ET/PT respectively.
Scott's Vacation House Rules is produced by MEM, Scott McGillivray is CEO, Angela Jennings is President, Nanci MacLean is COO, Kelly Wray is Executive Producer and Bernice Kim is Showrunner. For Corus Studios and HGTV Canada, Colin Bohm is Executive Vice President of Content and Corporate Strategy, Lisa Godfrey is Senior Vice President of Original Content and Corus Studios, Rachel Nelson is Vice President of Original Content and Jesse Barkley and Dora Fong are the HGTV Canada Executives in Charge of Production.
For complete list of programs and air times, visit HGTV.ca
– 30 –
SOCIAL MEDIA LINKS:
Follow Corus PR on X (formerly Twitter): @CorusPR
Follow HGTV Canada on X (formerly Twitter): @HGTVCanada
Follow HGTV Canada Facebook: facebook.com/HGTV.ca
Follow HGTV Canada Instagram: @hgtvcanada
Follow HGTV Canada TikTok: @hgtvcanada
Visit hgtv.ca for exclusive content
HGTV Canada is a Corus Entertainment Network.
About Corus Entertainment Inc.
Corus Entertainment Inc. (TSX: CJR.B) is a leading media and content company that develops and delivers high quality brands and content across platforms for audiences around the world. Engaging audiences since 1999, the company's portfolio of multimedia offerings encompass 33 specialty television services, 39 radio stations, 15 conventional television stations, digital and streaming platforms, and technology and media services. Corus is an internationally-renowned content creator and distributor through Nelvana, a world class animation studio expert in all formats and Corus Studios, a globally recognized producer of hit scripted and unscripted content. The company also owns full-service social digital agency so.da, lifestyle entertainment company Kin Canada, and children's book publishing house, Kids Can Press. Corus' roster of premium brands includes Global Television, W Network, HGTV Canada, Food Network Canada, Magnolia Network Canada, The HISTORY® Channel, Showcase, Adult Swim, National Geographic, Disney Channel Canada, YTV, Global News, Globalnews.ca, Q107, Country 105, and CFOX, along with streaming platforms STACKTV, TELETOON+, the Global TV App and Curiouscast. Corus is the domestic advertising representative and an original content partner for Pluto TV, a Paramount Company, which is the leading free ad-supported streaming television (FAST) service. For more information visit www.corusent.com.
For more information and interview opportunities with Scott McGillivray and Debra Salmoni, please contact:
Emily Crane, Senior Publicist
Corus Entertainment
416.860.4220
Emily.Crane@corusent.com
Julie MacFarlane, Publicity Manager
Corus Entertainment
416.860.4876
Julie.MacFarlane@corusent.com