The Good Fight, The Next Chapter In The Good Wife Story, Comes To W Network
THE GOOD FIGHT, THE NEXT CHAPTER IN THE GOOD WIFE STORY, COMES TO W NETWORK
February 8, 2017
THE GOOD FIGHT, THE NEXT CHAPTER IN THE GOOD WIFE STORY, COMES TO W NETWORK
Series Premieres February 19 with a Special Event Broadcast on W Network and Global
Stars Christine Baranski, Cush Jumbo, Rose Leslie, Delroy Lindo, Erica Tazel, Sarah Steele and Justin Bartha with Recurring Guest Stars Paul Guilfoyle and Bernadette Peters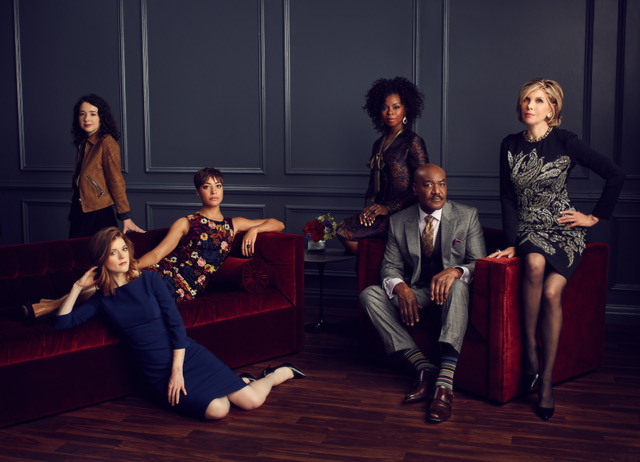 (L-R) Sarah Steele, Rose Leslie, Cush Jumbo, Erica Tazel, Delroy Lindo, Christine Baranski
For Immediate Release
TORONTO– W Network is home to the highly-anticipated new series The Good Fight, the new edition of The Good Wife. The series from Robert and Michelle King, starring Christine Baranski, Cush Jumbo, Rose Leslie, Delroy Lindo, Erica Tazel, Sarah Steele and Justin Bartha, with recurring guest stars Paul Guilfoyle and Bernadette Peters, premieres on Sunday, February 19 at 8 p.m. ET/PT in a special event broadcast, on both W Network and Global. All episodes will air exclusively on W Network following the premiere.
The Good Fight picks up one year after the events of the final broadcast episode of The Good Wife. In the new series, an enormous financial scam wipes out Diane Lockhart's savings while simultaneously destroying the reputation of a young lawyer, Maia. Forced out of Lockhart & Lee, they join Lucca Quinn at one of Chicago's pre-eminent law firms.
Robert and Michelle King, creators and executive producers of The Good Wife, return as showrunners and executive producers of the new series. Phil Alden Robinson co-wrote and will executive produce the premiere episode with the Kings. Ridley Scott, David Zucker, Liz Glotzer, Brooke Kennedy and Alison Cross also serve as executive producers. The series is produced by CBS Television Studios in association with Scott Free Productions and King Size Productions. The series is distributed worldwide by CBS Studios International.
Visit Facebook.com/WNetwork for the series trailer and WNetwork.com for more information and updates.
– 30 –
SOCIAL MEDIA LINKS:
Follow Corus PR on Twitter @CorusPR
Subscribe to the W Network YouTube channel: YouTube.com/user/OfficialWNetwork
Follow W Network on Twitter @W_Network, Facebook facebook.com/wnetwork and Instagram @w_network
Follow W Dish Facebook, Twitter, Instagram, Pinterest​ and YouTube
W Network is a Corus Entertainment Network.

About Corus Entertainment Inc.
Corus Entertainment Inc. (TSX: CJR.B) is a leading media and content company that creates and delivers high quality brands and content across platforms for audiences around the world. The company's portfolio of multimedia offerings encompasses 45 specialty television services, 39 radio stations, 15 conventional television stations, a global content business, digital assets, live events, children's book publishing, animation software, technology and media services. Corus' roster of premium brands includes Global Television, W Network, OWN: Oprah Winfrey Network Canada, HGTV Canada, Food Network Canada, HISTORY®, Showcase, National Geographic Channel, Q107, CKNW, Fresh Radio, Disney Channel Canada, YTV and Nickelodeon Canada. Visit Corus at www.corusent.com.
For more information please contact:
Julie MacFarlane
Senior Publicist
Corus Entertainment
416.860.4876
Julie.MacFarlane@corusent.com
Cathy Kurzbock
Publicity Manager
Corus Entertainment
416.860.4219
cathy.kurzbock@corusent.com