GLOBAL NEWS WHAT HAPPENED TO? PODCAST RETURNS FOR SEASON 2
November 24, 2021
GLOBAL NEWS WHAT HAPPENED TO? PODCAST RETURNS FOR SEASON 2
Award-Winning Podcast, Produced by Corus Entertainment's Curiouscast, Revisits Stories That Once Dominated Headlines
New Episodes Debut November 25 Free on All Podcast Platforms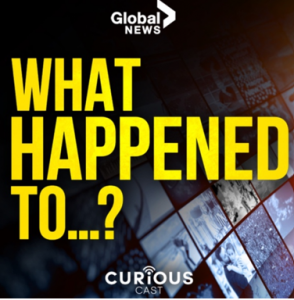 For Immediate Release
TORONTO, November 24, 2021 – Corus Entertainment's award-winning podcast Global News What Happened To? returns to the Curiouscast Podcast Network for an exciting second season. Season 2 will include 20 brand new episodes released bi-weekly and debuts on November 25 on all podcast platforms.
There are stories that grabbed the entire world's attention and then seemed to almost disappear when the mics turned off. But what happened to them? In her RTDNA award-winning podcast, Global News Reporter Erica Vella takes listeners back inside one of these stories in every episode to not just tell the story of what happened, but what has happed since, and speak to the people at the heart of each story to understand the true impact on their lives and their community.
Season 1 launched November 2020, exploring stories such as the Chilean mining accident, Fukushima nuclear disaster, ALS Ice Bucket Challenge and Lac-Mégantic rail disaster. This year, listeners can expect a deeper dive into 20 gripping stories including Kony 2012, Ted Williams 'The Man with the Golden Voice', Notre Dame cathedral fire and the collapse of Rana Plaza.
"We have been working tirelessly over the last couple months on Season 2 and I'm so excited to share this with the world," said Erica Vella, Global News, Host of What Happened To? "This season really builds on the work that we did on Season 1. For Season 2, not only do we cover major news events but we also catch up with fascinating people who, at one time, captured the attention of the world. We also had many listeners reach out suggesting stories that they wanted to hear more about so we were able curate the perfect content for his season's line up."
Whatever Happened To? Season 1 is currently available and Season 2 will roll out bi-weekly episodes beginning November 25, starting with a fascinating story on Murder Hornets. On this episode, Erica Vella explores more about the Asian giant hornet and how they managed to arrive in Canada in 2019. She also learns how the insect earned the nickname "murder hornets" and finds out if the insects pose a significant risk to North American honeybees.
Listen to all Curiouscast podcasts for free on Apple Podcasts, Spotify, Google Podcasts, or wherever you get your favourite podcasts. For more information visit Curiouscast.ca.
The award-winning Curiouscast network launched in 2018 and is home to internationally recognized brands with diverse audio storytelling, including: the #1 music podcast in Canada, The Ongoing History of New Music*; Edward R. Murrow International Podcast Award Winners 13 Hours Inside the Nova Soctia Massacre and Crime Beat (the #1 true crime podcast in Canada)**; and 2020 Canadian Podcast Award winners Dark Poutine, History of the 90's, Nighttime, Escaping Denver, Marsfall, Friendo and more.
*SOURCE: Apple Podcasts: Top Charts (Canada), Music, October 1, 2020.
**SOURCE: Apple Podcasts: Best Listens of 2019 (Canada), December 5, 2019.
***SOURCE: Canadian Podcast Awards: 2020 Winners – https://canpodawards.ca/award/
– 30 –
SOCIAL MEDIA LINKS:
Twitter: @CorusPR, @Curiouscast
Instagram: @whateverhappenedtopodcast
Curiouscast is a Corus Entertainment Network.

About Corus Entertainment Inc.
Corus Entertainment Inc. (TSX: CJR.B) is a leading media and content company that develops and delivers high quality brands and content across platforms for audiences around the world. Engaging audiences since 1999, the company's portfolio of multimedia offerings encompass 33 specialty television services, 39 radio stations, 15 conventional television stations, a suite of digital and streaming assets, animation software, technology and media services. Corus is an internationally-renowned content creator and distributor through Nelvana, a world class animation studio expert in all formats and Corus Studios, a globally recognized producer of hit scripted and unscripted content. The company also owns innovative full-service social digital agency so.da, lifestyle entertainment company Kin Canada, leading 2D animation software supplier Toon Boom and children's book publishing house, Kids Can Press. Corus' roster of premium brands includes Global Television, W Network, HGTV Canada, Food Network Canada, HISTORY®, Showcase, Adult Swim, National Geographic, Disney Channel Canada, YTV, Global News, Globalnews.ca, Q107, Country 105, and CFOX, along with broadly distributed Canadian streaming platforms STACKTV, Nick+, the Global TV App and Curiouscast. For more information visit www.corusent.com.
For media inquiries, please contact:
Michelle Brykman
Communications Specialist, Global News & Corus Radio
647.631.7135
michelle.brykman@corusent.com
Rishma Govani
Director, Communications, Global News & Corus Radio
416.391.7361
rishma.govani@corusent.com