Global News Morning Toronto Launches March 4 With Exciting New Host Team
Global News Launches Global News Morning Toronto
February 12, 2019
GLOBAL NEWS MORNING TORONTO LAUNCHES MARCH 4 WITH EXCITING NEW HOST TEAM

Global News Morning Toronto – Hosted by TV Favourite Jennifer Valentyne and News Anchor Antony Robart – Leads Exciting Changes to Global Toronto News Lineup


L to R: Antony Robart, Jennifer Valentyne, Liem Vu, Marianne Dimain
TORONTO, February 12, 2019 – Global Toronto is pleased to announce the debut of new local morning program, Global News Morning Toronto, hosted by Antony Robart (former co-anchor of Global News at 11) and Toronto TV favourite Jennifer Valentyne. Toronto's destination for news, weather, traffic and stories from the heart of the community, Global News Morning Toronto airs weekdays from 6 to 9 a.m. ET beginning Monday, March 4.
Global News Morning Toronto will provide viewers with a perfect blend of the biggest news of the day and hyper-local coverage of the stories, people and communities that matter most to GTA residents. News anchor Antony Robart co-hosts the show alongside Jennifer Valentyne, who returns to TV mornings after a two-year stint on Corus radio station Q107 Toronto. Robart and Valentyne will be joined by weather specialist Liem Vu and field reporter Marianne Dimain, who will both report throughout the show.
"It's a great day for local news as we bring the Global News Morning brand to Toronto," said Ward Smith, Vice-President News and Information, Eastern Canada, Corus Entertainment. "With a clear focus on the community – delivered by beloved, familiar faces in Jennifer and Antony – we believe the program will resonate with viewers."
For 23 years Jennifer Valentyne has been a highly recognized personality on television, exceling in multiple community-facing roles on morning television in Toronto. Valentyne is a social media guru and pop culture aficionado with a range of hosting experience including W Network's The Bachelor/Bachelorette Canada After Show.
Antony Robart is a veteran journalist, working across the globe for organizations such as ABC News, CBC News, and CNBC. A versatile broadcaster, equally at home delivering hard news as he is exploring heart-warming stories from the community, Robart also possesses morning television experience, having co-hosted Global's local morning show from 2012 to 2015.
Alongside the announcement of Global News Morning Toronto, Global Toronto is excited to announce additional changes to its television news slate. Farah Nasser, co-anchor of Global News at 5:30 & 6, will additionally anchor Global News at Noon, while Crystal Goomansingh will take on sole anchor duties for Global News at 11.
Global Toronto's full refreshed lineup of news programming is as follows: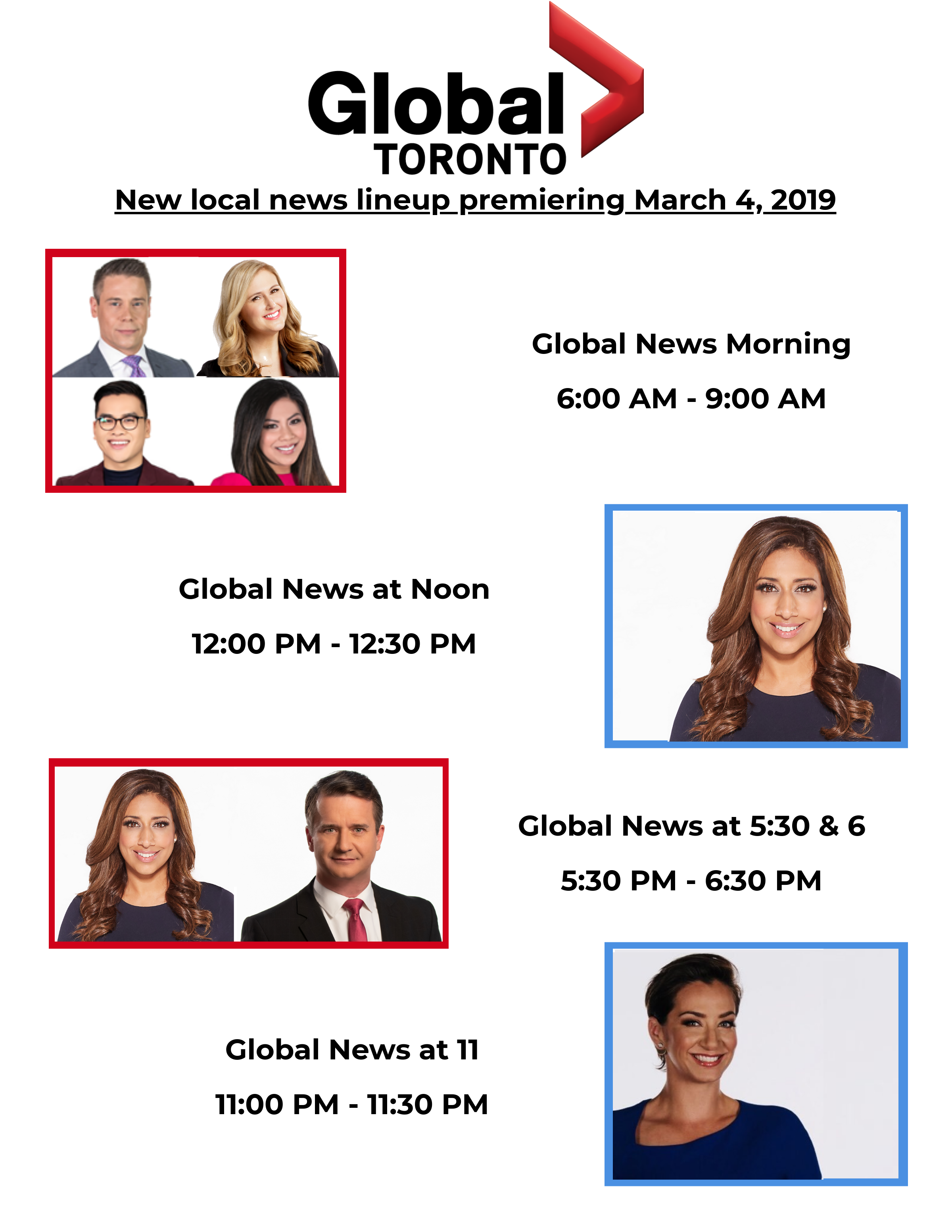 Global News Morning Toronto debuts on Global Toronto Monday, March 4, 2019. For full programming information visit Globalnews.ca.
-30-
SOCIAL MEDIA LINKS:
Twitter: @globalnewsto, @CorusPR
Facebook: @GlobalToronto
Instagram: @globalnewsto
Global Toronto is a Corus Entertainment Network.
Corus Entertainment
Corus Entertainment Inc. (TSX: CJR.B) is a leading media and content company that creates and delivers high-quality brands and content across platforms for audiences around the world. The company's portfolio of multimedia offerings encompasses 44 specialty television services, 39 radio stations, 15 conventional television stations, a global content business, digital assets, live events, children's book publishing, animation software, technology and media services. Corus' roster of premium brands includes Global Television, W Network, OWN: Oprah Winfrey Network Canada, HGTV Canada, Food Network Canada, HISTORY®, Showcase, National Geographic, Q107, CKNW, Fresh Radio, Disney Channel Canada, YTV and Nickelodeon Canada. Visit Corus at www.corusent.com.
For media inquiries, please contact:
Chris Sarpong
Communications, Global News & Corus Radio
416.446.5519
chris.sarpong@corusent.com
Rishma Govani
Senior Manager, Communications, Global News & Corus Radio
416.391.7361
rishma.govani@corusent.com