GLOBAL NEWS COMMEMORATES CANADIAN VETERANS WITH REMEMBRANCE DAY COVERAGE
November 3, 2022
GLOBAL NEWS COMMEMORATES CANADIAN VETERANS WITH REMEMBRANCE DAY COVERAGE
No Stone Left Alone Live Stream on Globalnews.ca Debuts November 7 and Global News Original Special Canada Remembers Airs November 11
Stream Global News 24/7 at Globalnews.ca or with the Global TV App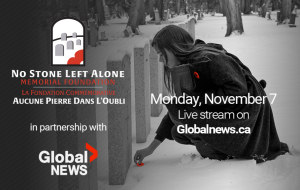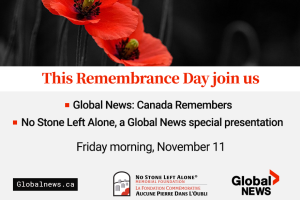 For Immediate Release
EDMONTON, November 3, 2022 – Global News is honored to provide comprehensive national coverage that pays respect to our country's armed forces. Starting on November 7, educational event No Stone Left Alone will be live streamed and then on Remembrance Day, the network will broadcast two special presentations, Canada Remembers hosted by Dawn Friesen and No Stone Left Alone, a special presentation, hosted by Farah Nasser.
For the 12th consecutive year, Global News has partnered with the No Stone Left Alone Memorial Foundation, whose mission is to honour Canada's military by educating students and youth about the sacrifices and bravery of those who served. On November 7 at 12:30 p.m. ET / 9:30 a.m. PT / 10:30 a.m. MT / 1:30 p.m. AT, legendary broadcaster and retired Global Edmonton anchor, Gord Steinke, will host the No Stone Left Alone ceremony from Beechmount Cemetery in Edmonton. Students from across Canada will have the opportunity to view this program which will be live streamed on Globalnews.ca, Facebook Live (via each Global News' stations Facebook accounts) and YouTube.
The No Stone Left Alone broadcast provides students with a heartfelt and authentic experience while also increasing their knowledge of the role Canadian soldiers have played in history in wartime and peacekeeping missions. This unique intergenerational and inspirational act of remembrance, in which students pay their respects by placing a poppy on the headstone of each veteran, serves as a reminder of those who came before us and the men and women in uniform deployed around the world.
Additionally, Global News will air No Stone Left Alone, a special presentation hosted by award-winning journalist Farah Nasser on November 11 at 10 a.m. PT/CT/ET / 11:30 a.m. MT and 11 a.m. AT. Through interviews and highlights from the student ceremonies across the country, this 30-minute broadcast will reinforce the mission of the No Stone Left Alone Memorial Foundation.
On Remembrance Day, award-winning anchor and executive editor of the flagship national newscast Global National, Dawna Friesen, will host the one-hour special, Canada Remembers. Airing on November 11 at 7:30 a.m. PT / 8:30 a.m. MT / 10:30 a.m. ET/CT (repeated at 10:30 a.m. in Edmonton) and 11:30 a.m. AT, Canada Remembers will take viewers live to the Remembrance Day ceremony at the National War Museum in Ottawa and feature interviews with Candy Greff, this year's Silver Cross Mother and others.
Global News:
Stream free 24/7 local and national Global News content exclusively on the Global TV App, available now on iOS, Android, Chromecast and at watch.globaltv.com. Global News programming is also available through all major TV distributors, including: Shaw, Shaw Direct, Rogers, Bell, Videotron, Telus, Cogeco, Eastlink, and SaskTel and STACKTV, available via Amazon Prime Video Channels, FuboTV, Rogers Ignite TV and Ignite SmartStream.
-30-
SOCIAL MEDIA LINKS:
Twitter: @CorusPR, @GlobalNews
Instagram: @GlobalNews
Facebook: @GlobalNews
Global News is part of the Corus Entertainment Network.
About Corus Entertainment
Corus Entertainment Inc. (TSX: CJR.B) is a leading media and content company that develops and delivers high quality brands and content across platforms for audiences around the world. Engaging audiences since 1999, the company's portfolio of multimedia offerings encompass 33 specialty television services, 39 radio stations, 15 conventional television stations, a suite of digital and streaming assets, animation software, technology and media services. Corus is an internationally-renowned content creator and distributor through Nelvana, a world class animation studio expert in all formats and Corus Studios, a globally recognized producer of hit scripted and unscripted content. The company also owns innovative full-service social digital agency so.da, lifestyle entertainment company Kin Canada, leading 2D animation software supplier Toon Boom and children's book publishing house, Kids Can Press. Corus' roster of premium brands includes Global Television, W Network, HGTV Canada, Food Network Canada, Magnolia Network Canada, The HISTORY® Channel, Showcase, Adult Swim, National Geographic, Disney Channel Canada, YTV, Global News, Globalnews.ca, Q107, Country 105, and CFOX, along with broadly distributed Canadian streaming platforms STACKTV, TELETOON+, the Global TV App and Curiouscast. For more information visit www.corusent.com.
For media inquiries, please contact:
Cathy Paine Communications Specialist, Global News & Corus Radio
647-649-1634
cathy.paine@corusent.com
Rishma Govani
Director, Communications, Global News & Corus Radio
416-391-7361
rishma.govani@corusent.com