Global News Commemorates Canadian Veterans For Remembrance Day
11-02-2018_Global-News-remembrance-day-2018
November 2, 2018
GLOBAL NEWS COMMEMORATES CANADIAN VETERANS FOR REMEMBRANCE DAY
National News Specials, No Stone Left Alone and
Canada Remembers, Air on Sunday, November 11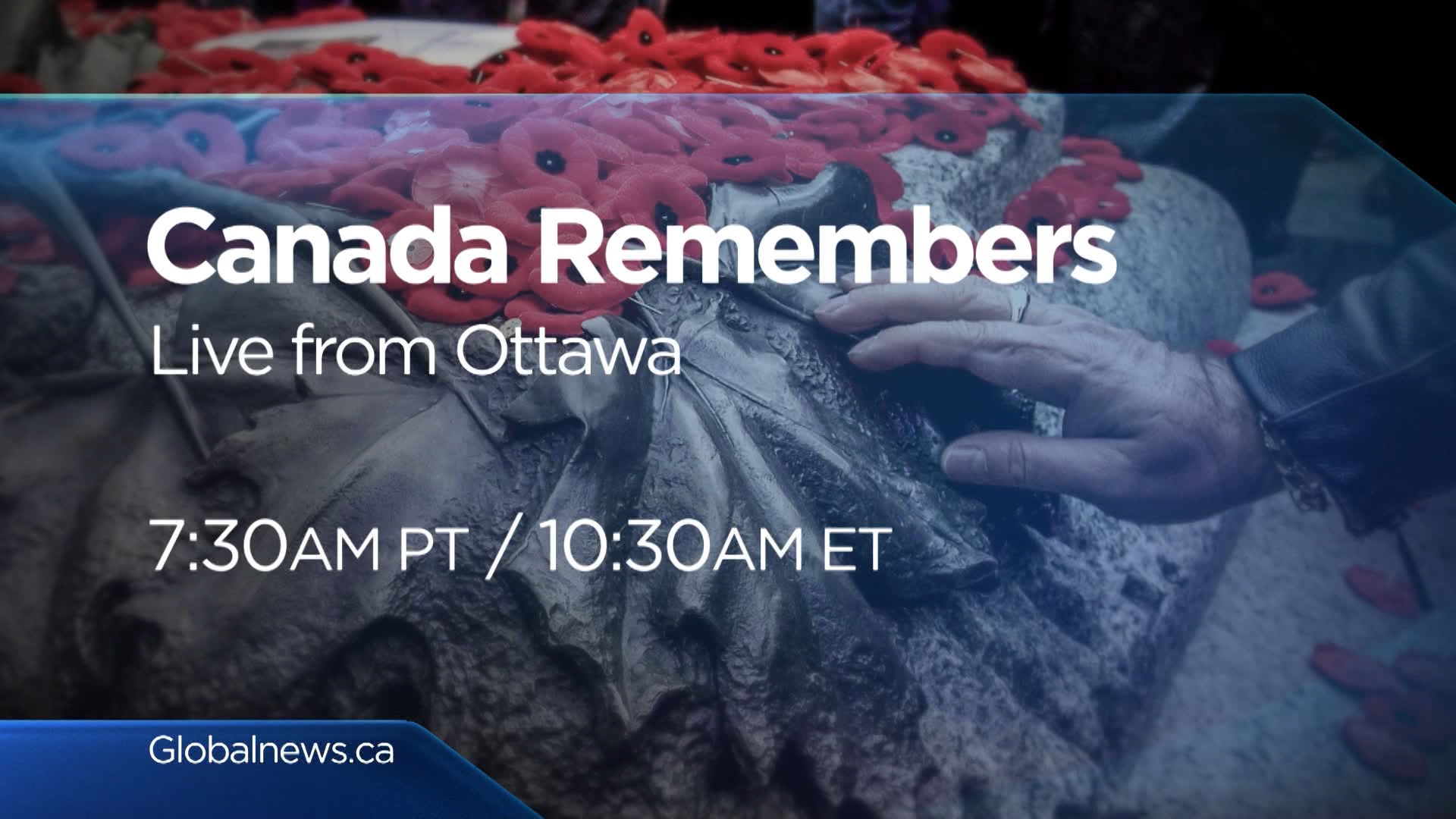 For Immediate Release
TORONTO, Canada – Lest we forget. Global News is once again providing viewers with poignant coverage of Remembrance Day, honouring Canadians who have served in the military. From nation-wide coverage of the burgeoning student-centred movement, No Stone Left Alone, to special editions of Global National in Ottawa, Global News is honoured to present the past and present of how Canadians remember.
The No Stone Left Alone Memorial Foundation operates Remembrance Day events for students with the mission to place poppies on the headstones of veterans, while educating on the stories of sacrifice by members of the armed forces. Since its launch in 2011, more than 100 ceremonies now occur in 53 communities across Canada and are attended by elected officials, military, indigenous leaders, and local dignitaries.
On Monday, November 5, Global News will air coverage of No Stone Left Alone ceremonies in its local evening newscasts, with live streams of the events available online at Globalnews.ca and each station's Facebook page. Live streams will be available at:
Then on Sunday, November 11, Global News will air a Remembrance Day news special, titled No Stone Left Alone, airing at 10 a.m. PT/MT/CT/ET, and at 12:30 p.m. AT. The 30-minute presentation will include stories woven together from No Stone Left Alone events across Canada, and feature students sharing their reflections of fallen soldiers' stories. The special will also air across the Global News Radio network with audio commentary by national host Charles Adler, airing on 980 CKNW in Vancouver, 770 CHQR in Calgary, 630 CHED in Edmonton, 680 CJOB in Winnipeg, 640 Toronto, 980 CFPL in London, and 900 CHML in Hamilton.
Following No Stone Left Alone, Global National anchor Dawna Friesen hosts Canada Remembers; a live, commercial-free, network news special, airing on Sunday, November 11 at 10:30 a.m. ET/CT. Friesen will be joined in Ottawa by special guest Dean Oliver, military historian and director of research at the Canadian Museum of History, to commemorate the 100th anniversary of the end of the First World War. That evening, Friesen will anchor Global National (5:30 p.m. PT/MT/CT and 6.30 ET/AT) from Ottawa, with Chief Political Correspondent David Akin and Ottawa Bureau Chief Mercedes Stephenson live from the National War Memorial, while correspondent Mike Armstrong reports from Belgium.
Also on November 11, fellow Corus Entertainment network HISTORY® dedicates its schedule to a Day of Remembrance with the two-part special premiere of 100 Days to Victory, a gripping account of Canada's pivotal contribution to the last 100 days of the First World War at 9 p.m. and 10 p.m. ET/PT.
– 30 –
SOCIAL MEDIA LINKS:
Twitter: @CorusPR, @GlobalNews
Facebook: Facebook.com/GlobalNews
Instagram: @globalnews
Global News is part of the Corus Entertainment Network.

Corus Entertainment
Corus Entertainment Inc. (TSX: CJR.B) is a leading media and content company that creates and delivers high quality brands and content across platforms for audiences around the world. The company's portfolio of multimedia offerings encompasses 44 specialty television services, 39 radio stations, 15 conventional television stations, a global content business, digital assets, live events, children's book publishing, animation software, technology and media services. Corus' roster of premium brands includes Global Television, W Network, OWN: Oprah Winfrey Network Canada, HGTV Canada, Food Network Canada, HISTORY®, Showcase, National Geographic, Q107, CKNW, Fresh Radio, Disney Channel Canada, YTV and Nickelodeon Canada. Visit Corus at www.corusent.com.

For media inquiries, please contact:
Lindsey McCulloch
Communications Associate
Global News and Corus Radio, Western Canada
416.967.3128
lindsey.mcculloch@corusent.com
Rishma Govani
Senior Manager, Communications
Global News and Corus Radio
416.391.7361
rishma.govani@corusent.com