GLOBAL MONTREAL TO AIR ELECTION NIGHT COVERAGE LIVE ACROSS MULTIPLE PLATFORMS
September 29, 2022
GLOBAL MONTREAL TO AIR ELECTION NIGHT COVERAGE LIVE ACROSS MULTIPLE PLATFORMS
Quebec Election Coverage Begins October 3 at 7:30 p.m. ET
Live Continuous Coverage Will Be Available on Various Platforms Including Amazon Prime Video, Roku, STACK TV, the Global TV App, Globalnews.ca, YouTube and Facebook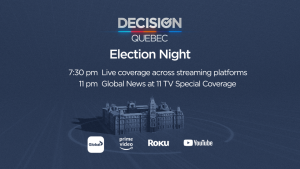 For Immediate Release
MONTREAL, September 29, 2022 – Global Montreal will bring the 2022 Decision Quebec election night coverage across all platforms on October 3, extending reports from the 5:30 p.m., 6:30 p.m., and 11 p.m. newscasts, allowing audiences to easily access live reports on any device.
Global Montreal Anchor Aalia Adam and Global News Morning host Laura Casella will lead the election coverage on streaming platforms from 7:30 p.m. to 11:35 p.m. Reporting in the field will be journalists Tim Sargeant with the Liberals, Dan Spector with the Coalition Avenir Quebec and Amanda Jelowicki with Quebec Solidaire; along with analysts Pearl Eliadis from the Max Bell School of Public Policy, Daniel Beland at the McGill Institute for the Study of Canada and Toula Drimonis, author of We, the Others: Allophones, Immigrants, and Belonging in Canada. Also joining the coverage are Global News Chief Political Correspondent David Akin and Concordia University political scientist Guy Lachapelle.
Live coverage will be available to stream on Amazon Prime Video, Roku, the Global TV app, the Global News YouTube and Facebook channels, and on Globalnews.ca. Followed by a recap of the results at 11 p.m. on all streaming platforms and on Global TV.
The election results will be covered live throughout the evening, providing audiences with comprehensive news, interactive updates, and insightful commentary, including reports on the major party leaders and the new emerging parties such as Bloc Montreal and Canadian Party of Quebec.
For more information, visit Globalnews.ca/Montreal.
– 30 –
SOCIAL MEDIA LINKS:
Twitter: @CorusPR, @Global_Montreal
Instagram: @Global_Montreal
Facebook: @GlobalMontreal
Global News is part of the Corus Entertainment Network.
About Corus Entertainment
Corus Entertainment Inc. (TSX: CJR.B) is a leading media and content company that develops and delivers high quality brands and content across platforms for audiences around the world. Engaging audiences since 1999, the company's portfolio of multimedia offerings encompass 33 specialty television services, 39 radio stations, 15 conventional television stations, a suite of digital and streaming assets, animation software, technology and media services. Corus is an internationally-renowned content creator and distributor through Nelvana, a world class animation studio expert in all formats and Corus Studios, a globally recognized producer of hit scripted and unscripted content. The company also owns innovative full-service social digital agency so.da, lifestyle entertainment company Kin Canada, leading 2D animation software supplier Toon Boom and children's book publishing house, Kids Can Press. Corus' roster of premium brands includes Global Television, W Network, HGTV Canada, Food Network Canada, Magnolia Network Canada, The HISTORY® Channel, Showcase, Adult Swim, National Geographic, Disney Channel Canada, YTV, Global News, Globalnews.ca, Q107, Country 105, and CFOX, along with broadly distributed Canadian streaming platforms STACKTV, TELETOON+, the Global TV App and Curiouscast. For more information visit www.corusent.com.
For media inquiries, please contact:
Michelle Brykman
Communications Specialist, Global News & Corus Radio
416.219.9273
Rishma Govani
Director, Communications, Global News & Corus Radio
416.391.7361