FARAH NASSER JOINS GLOBAL NATIONAL AS WEEKEND ANCHOR
June 7, 2022
FARAH NASSER JOINS GLOBAL NATIONAL AS WEEKEND ANCHOR
Award-Winning Journalist Transitions to Global National after Seven Years Co-Anchoring Global Toronto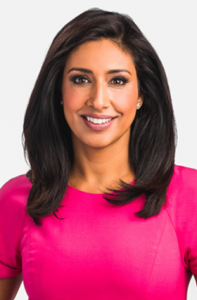 For Immediate Release
TORONTO, June 7, 2022 – Global News is pleased to announce that notable award-winning journalist and anchor Farah Nasser will be moving from Global Toronto to join Global National, Global's flagship newscast, as weekend anchor. She will continue reporting for the national current affairs program, The New Reality.
"I'm honoured to be joining Global National. It is a bittersweet moment and while I'm sad to leave my Global Toronto colleagues, I'm excited for this new opportunity to expand my role to reach a wider national audience," said Farah Nasser, Anchor, Global News.
Nasser first joined Global Toronto in 2015 as co-anchor on Global News at 5:30 & 6 and quickly rose to become a respected newsroom leader and mentor. As one of Toronto's most recognizable faces in news, Nasser is a trailblazer in the industry. She has initiated difficult conversations related to race and championed diversity and inclusion through storytelling. A credible journalist with over two decades of experience, she received the Edward R. Murrow Award for Excellence in Diversity, Equity and Inclusion for her compelling special Living in Colour: Being Black in Canada and won the RTDNA Sam Ross Award for her viral commentaries 93 Killed a Day at the Barrel of a Gun (2018) and What If the Fighting in Aleppo Was Happening in Toronto? (2017); the latter story is used as a teaching aid in schools to explain the Syrian conflict.
Nasser has covered major events with accuracy, grace and compassion including the Toronto van attack, the London, Ont. terror attack that killed a Muslim family, and was in Washington, D.C. for the election of President Joe Biden. She was also the first journalist to be granted a one-on-one with Prime Minister Justin Trudeau when the country reopened after long-standing closures in 2021.
"Farah is a consummate professional and a passionate journalist who audiences trust. She has an incredible ability to break down stories in a compelling and relatable way. Farah is a powerhouse on every platform and we're lucky to have her part of the Global National team," said Ingrid Bakewell, National Director of Network Programming, Global News.
When not reporting on the day's headlines, Nasser spends her time volunteering in the community. She's a member of the board of directors of the Canadian Journalism Foundation and serves as a mentor for the Canadian Association of Journalists and for CivicAction, a non-profit that brings together senior and emerging leaders from diverse backgrounds. She regularly speaks at community events and has worked with organizations such as Journalists for Human Rights, the Aga Khan Foundation and the Economic Club of Canada. She is also a graduate of Toronto Metropolitan University's (formerly Ryerson University) Radio and Television Arts program.
Global National is Canada's early-evening national newscast and provides a distinctive voice and approach to the day's top stories. The multiple award-winning broadcast has been voted Best Newscast by the Radio Television Digital News Association (RTDNA) of Canada and by the Canadian Screen Awards (CSA). Global National is seen daily at 5:30 p.m. CT/MT/PC and 6:30 p.m. ET/AT.
Nasser's last day on the local Toronto newscast will be Wednesday, June 8.
– 30 –
SOCIAL MEDIA LINKS:
Twitter: @CorusPR, @GlobalNational
Facebook: @GlobalNational
Instagram: @GlobalNational
Global News is part of the Corus Entertainment Network.
About Corus Entertainment
Corus Entertainment Inc. (TSX: CJR.B) is a leading media and content company that develops and delivers high quality brands and content across platforms for audiences around the world. Engaging audiences since 1999, the company's portfolio of multimedia offerings encompass 33 specialty television services, 39 radio stations, 15 conventional television stations, a suite of digital and streaming assets, animation software, technology and media services. Corus is an internationally-renowned content creator and distributor through Nelvana, a world class animation studio expert in all formats and Corus Studios, a globally recognized producer of hit scripted and unscripted content. The company also owns innovative full-service social digital agency so.da, lifestyle entertainment company Kin Canada, leading 2D animation software supplier Toon Boom and children's book publishing house, Kids Can Press. Corus' roster of premium brands includes Global Television, W Network, HGTV Canada, Food Network Canada, Magnolia Network Canada, The HISTORY® Channel, Showcase, Adult Swim, National Geographic, Disney Channel Canada, YTV, Global News, Globalnews.ca, Q107, Country 105, and CFOX, along with broadly distributed Canadian streaming platforms STACKTV, Nick+, the Global TV App and Curiouscast. For more information visit www.corusent.com.
For media inquiries, please contact:
Michelle Brykman
Communications Specialist, Global News & Corus Radio
416.219.9273
michelle.brykman@corusent.com
Rishma Govani
Director, Communications, Global News & Corus Radio
416.391.7361
rishma.govani@corusent.com