Everybody Needs A "Friendo": Curiouscast Podcast Launches Today
October 28, 2021
EVERYBODY NEEDS A "FRIENDO": CURIOUSCAST PODCAST LAUNCHES TODAY
Curiouscast Podcast Network Partners with YouTube Sensation and
Kin Community Influencer Amanda Muse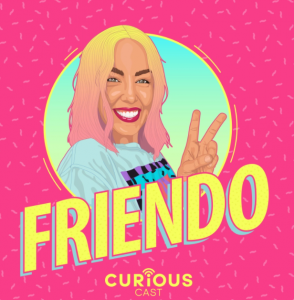 For Immediate Release
TORONTO, OCTOBER 28, 2021 – Corus Entertainment's Curiouscast Podcast Network is excited to announce its latest partnership with YouTube star and member of the Kin Community Network, Amanda Muse for her new podcast Friendo. The podcast launches today with new episodes available weekly. Episodes and information available at https://curiouscast.ca/podcast/friendo/
You know that feeling you get when you're around a good friend? There's nothing like it in the world. It can completely turn around a bad day and make a great one even better. That's what Friendo is all about. Every person no matter who they are has a story and Friendo celebrates those stories. More than anything, Friendo is a place to be yourself. In each episode, YouTube sensation Amanda Muse introduces fascinating people who will inspire and entertain.
"We are thrilled to be working with Amanda on her new podcast Friendo. Amanda's dedicated and wide-spread YouTube and social media followers know how charismatic she is and we're excited to bring her unique sense of humour and new show to podcast audiences everywhere," said Chris 'Dunner' Duncombe, Director of Podcasting and Streaming, Curiouscast/Corus Entertainment.
While living as an expatriate in Malaysia, Amanda Muse started her YouTube channel AmandaMuse to document her journey into motherhood with her two children and connect with woman around the world on a similar path, engaging a community online. Now living in Toronto, AmandaMuse has become a lifestyle brand. In 2018, Amanda was featured on TIME.com, spoke at conferences about social media, and was nominated for Livestream of the Year Iris Award.
To listen to every episode of the podcast for free, subscribe on Apple Podcasts, Spotify, Google Podcasts, or wherever you get your favourite podcasts. For more information visit Curiouscast.ca.
The award-winning Curiouscast network launched in 2018 and is home to internationally recognized brands with diverse audio storytelling, including: the #1 music podcast in Canada, The Ongoing History of New Music*; Edward R. Murrow International Podcast Award Winners 13 Hours Inside the Nova Soctia Massacre and Crime Beat**; and 2020 Canadian Podcast Award winners Dark Poutine, History of the 90's, Nighttime, Escaping Denver, Marsfall and more.
-30-
AMANDAMUSE SOCIAL MEDIA LINKS:
YouTube: @AmandaMuse
Instagram: @amandamuse
Twitter: @museamanda
Facebook: @museamanda
TikTok: @museamanda
SOCIAL MEDIA LINKS:
Twitter: @CorusPR, @Curiouscast
Curiouscast is a Corus Entertainment Network.

About Kin Community
Kin Community Canada are experts in influencer marketing and social media strategy and represent many of Canada's top lifestyle creators including The Domestic Geek (2.3+ million), DIY Mommy (1.3+ million), hot for food (825K), Alexandra Gater (534.1K) and Lyn Allure (454.6K). Working in conjunction with Corus, Kin uses data and trends to help brands develop cohesive campaigns that leverage their network creator's highly-engaged audiences as well as tapping into a broad base of Kin vetted creators. Kin was acquired by Corus Entertainment in Spring of 2019. For more information please reach out to Kin Partner Enquiries KINPartnerInquiries@corusent.com.

About Corus Entertainment Inc.
Corus Entertainment Inc. (TSX: CJR.B) is a leading media and content company that develops and delivers high quality brands and content across platforms for audiences around the world. Engaging audiences since 1999, the company's portfolio of multimedia offerings encompass 33 specialty television services, 39 radio stations, 15 conventional television stations, a suite of digital and streaming assets, animation software, technology and media services. Corus is an internationally-renowned content creator and distributor through Nelvana, a world class animation studio expert in all formats and Corus Studios, a globally recognized producer of hit scripted and unscripted content. The company also owns innovative full-service social digital agency so.da, lifestyle entertainment company Kin Canada, leading 2D animation software supplier Toon Boom and children's book publishing house, Kids Can Press. Corus' roster of premium brands includes Global Television, W Network, HGTV Canada, Food Network Canada, HISTORY®, Showcase, Adult Swim, National Geographic, Disney Channel Canada, YTV, Global News, Globalnews.ca, Q107, Country 105, and CFOX, along with broadly distributed Canadian streaming platforms STACKTV, Nick+, the Global TV App and Curiouscast. For more information visit www.corusent.com.
For media inquiries, please contact:
Michelle Brykman
Communications Specialist, Global News & Corus Radio
647.631.7135
michelle.brykman@corusent.com
Rishma Govani
Director, Communications, Global News & Corus Radio
416.391.7361
rishma.govani@corusent.com