DESCENDANTS OF WORLD WAR I AND II VETERANS DISCOVER THEIR ANCESTORAL TRUTH IN OUR WAR, PREMIERING NOVEMBER 11 ON THE HISTORY® CHANNEL
October 11, 2022
DESCENDANTS OF WORLD WAR I AND II VETERANS DISCOVER THEIR ANCESTRAL TRUTH IN OUR WAR, PREMIERING NOVEMBER 11 ON THE HISTORY® CHANNEL
Epic Stories are Reveals From World War I and II Contributors in New Canadian Docu-Series, Our War, Premiering Remembrance Day
Stream The HISTORY® Channel Content Anytime with STACKTV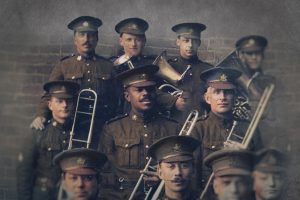 For additional photography and press kit material visit: http://www.corusent.com
For the Our War promo, click here
To share this release socially use: The HISTORY® Channel's Our War Press Release
For Immediate Release
TORONTO, October 11, 2022 – This Remembrance Day, The HISTORY® Channel commemorates diverse heroes of World War I and II with the new Canadian Original docu-series, Our War. Over two, one-hour episodes premiering back-to-back on Friday, November 11 at 9 p.m. ET/PT, the epic stories of these forgotten heroes are told through their modern-day descendants, who discover the harrowing secrets of their ancestors. Developed and produced by Lark Production's award-winning team, Our War takes viewers on a real-life genealogical investigation that reveals the past through a younger generation.
Each story in Our War unfolds with a burning question that demands an answer. Whether it's deciphering a deathbed confession or unearthing the truth behind a family legend – the series follows each descendent as they scour museums and archives, clue by clue, to unearth the harrowing secrets their kin took to the grave. Every mystery solved will uncover who each ancestor truly was, bringing their family members closer to understanding themselves.
The premiere episode begins with the great-great granddaughter of one of Canada's first Black servicemen as she searches for a memorial plaque awarded to the next-of-kin of those killed in World War I. Through her search, she learns how her great-great grandfather found himself on the frontlines of Canada's most famous battles, and is ultimately led to a poignant discovery about his sacrifice in the war. In the second episode, a teenaged descendant of legendary Onondaga Runner, Tom Longboat, learns of his ancestor's valiant, yet little known, actions during The Great War. Initially bonding with Longboat over a shared love of sport, he eventually learns that his great-great-great grandfather was much more than just a runner.
Our War is produced by Lark Productions for The HISTORY® Channel. Executive Producers are Erin Haskett, Aynsley Vogel and Ruth Nanda who serves as Series Producer and Co-Executive Producers Tex Antonucci and Jean Parsons. Directors/Directors of Photography are Michael Bourquin and Zach Williams. Narration by Jessica Garcie. For The HISTORY® Channel, Kathleen Meek and Maria Knight are Executives in Charge of Production, Rachel Nelson is Vice President of Original Scripted and Factual Content and Lisa Godfrey is Senior Vice President of Original Content and Corus Studios.
– 30 –
SOCIAL MEDIA LINKS:
Corus PR on Twitter: @CorusPR
The HISTORY® Channel on Instagram: @historyca
The HISTORY® Channel on Facebook: facebook.com/HISTORYCanada
The HISTORY® Channel on Twitter: @HistoryTVCanada
The HISTORY® Channel on YouTube: @HISTORYCanada
The HISTORY Channel is a Corus Entertainment Network.

About Corus Entertainment
Corus Entertainment Inc. (TSX: CJR.B) is a leading media and content company that develops and delivers high quality brands and content across platforms for audiences around the world. Engaging audiences since 1999, the company's portfolio of multimedia offerings encompass 33 specialty television services, 39 radio stations, 15 conventional television stations, a suite of digital and streaming assets, animation software, technology and media services. Corus is an internationally-renowned content creator and distributor through Nelvana, a world class animation studio expert in all formats and Corus Studios, a globally recognized producer of hit scripted and unscripted content. The company also owns innovative full-service social digital agency so.da, lifestyle entertainment company Kin Canada, leading 2D animation software supplier Toon Boom and children's book publishing house, Kids Can Press. Corus' roster of premium brands includes Global Television, W Network, HGTV Canada, Food Network Canada, Magnolia Network Canada, The HISTORY® Channel, Showcase, Adult Swim, National Geographic, Disney Channel Canada, YTV, Global News, Globalnews.ca, Q107, Country 105, and CFOX, along with broadly distributed Canadian streaming platforms STACKTV, TELETOON+, the Global TV App and Curiouscast. For more information visit www.corusent.com.
About STACKTV
STACKTV is Corus Entertainment's premium multi-channel television streaming service that offers thousands of hours of exclusive hit content from 13 of Canada's top TV networks, all on one platform. All series, movies and specials that air on Global Television, Food Network Canada, HGTV Canada, W Network, The HISTORY® Channel, Adult Swim, Slice, Showcase, National Geographic, Lifetime, TELETOON, Treehouse and YTV are available to stream on STACKTV live and on demand with new content added daily. STACKTV is available via Amazon Prime Video Channels, FuboTV, Rogers Ignite TV and Ignite SmartStream. For more information, visit stacktv.ca.
For media inquiries, please contact:
Selma Trebincevic, Publicity Coordinator
Corus Entertainment
416.391.7367
Selma.Trebincevic@corusent.com
Devon Cavanagh, Senior Publicist
Corus Entertainment
416.479.6712
Devon.Cavanagh@corusent.com
Julie MacFarlane, Publicity Manager
Corus Entertainment
416.860.4876
Julie.MacFarlane@corusent.com