CURIOUSCAST LAUNCHES NEW CRYPTO HOUSE PODCAST WITH MATRIX MORTGAGE GLOBAL
June 30, 2022
CURIOUSCAST LAUNCHES NEW CRYPTO HOUSE PODCAST WITH MATRIX MORTGAGE GLOBAL
Curiouscast Podcast Network Produces 13 Episode Beginner's Guide to Crypto for Matrix Mortgage Global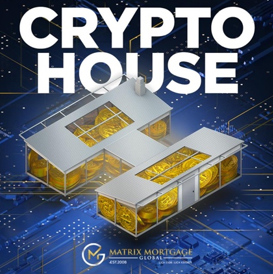 For Immediate Release
TORONTO, June 30, 2022 – Corus Entertainment's award-winning podcast network Curiouscast announced today that it will produce a new 13 episode branded podcast series with Matrix Mortgage Global titled Crypto House. The first episode is now available and will be released bi-weekly on Wednesdays.
A "crypto-education" series, Crypto House aims to break down the fundamentals of digital currency in a user friendly way. The podcast will teach listeners the ins and outs of cryptocurrency, from the history of block-chain technology to NFT's, stable and alt coins, smart contracts and more. Crypto House is hosted by Matrix Mortgage Global CEO Shawn Allen and each episode will feature top experts from across the world of digital finance.
Matrix Mortgage Global is an elite mortgage brokerage in Toronto, Ont. catering to homeowners and first time buyers for both residential and commercial mortgages. The team consists of experienced agents and brokers with backgrounds in financial planning, investments and real estate. Founded by Shawn Allen in 2008, Matrix Mortgage Global was the first mortgage company in Canada to accept crypto as a form of payment and have won numerous awards including the Canadian Mortgage Award (CMA) for Broker of the Year.
"I'm thrilled to partner with Curiouscast to produce this educational and entertaining podcast," said Shawn Allen, CEO of Matrix Mortgage Global. "From NFTs to block-chain technology, there has been a lot of innovation in the industry. I look forward to diving deep into the fascinating world of digital currency with audiences across the country."
The award-winning Curiouscast network launched in 2018 and is home to internationally recognized brands with diverse audio storytelling, including: Edward R. Murrow International Podcast Award and RTDNA winners Crime Beat** (now adapted for TV on Global News and Hulu) and 13 Hours Inside the Nova Scotia Massacre; the #1 Canadian-produced music podcast, The Ongoing History of New Music*; and 2020 Canadian Podcast Award winners Dark Poutine, History of the 90's , as well as Nighttime, The Peak Daily and RTDNA winner Global News What Happened To. For more information visit Curiouscast.ca.
*SOURCE: Apple Podcasts: Top Charts (Canada), Music, October 14, 2020.
**SOURCE: Apple Podcasts: Best Listens of 2019 (Canada), December 5, 2019.
***SOURCE: Canadian Podcast Awards: 2020 Winners – awards.podcamptoronto.com/award/
-30-
SOCIAL MEDIA LINKS:
Twitter: @CorusPR, @Curiouscast

Curiouscast is a Corus Entertainment Network.
About Corus Entertainment Inc.
Corus Entertainment Inc. (TSX: CJR.B) is a leading media and content company that develops and delivers high quality brands and content across platforms for audiences around the world. Engaging audiences since 1999, the company's portfolio of multimedia offerings encompass 33 specialty television services, 39 radio stations, 15 conventional television stations, a suite of digital and streaming assets, animation software, technology and media services. Corus is an internationally-renowned content creator and distributor through Nelvana, a world class animation studio expert in all formats and Corus Studios, a globally recognized producer of hit scripted and unscripted content. The company also owns innovative full-service social digital agency so.da, lifestyle entertainment company Kin Canada, leading 2D animation software supplier Toon Boom and children's book publishing house, Kids Can Press. Corus' roster of premium brands includes Global Television, W Network, HGTV Canada, Food Network Canada, Magnolia Network Canada, The HISTORY® Channel, Showcase, Adult Swim, National Geographic, Disney Channel Canada, YTV, Global News, Globalnews.ca, Q107, Country 105, and CFOX, along with broadly distributed Canadian streaming platforms STACKTV, Nick+, the Global TV App and Curiouscast. For more information visit www.corusent.com.
About Matrix Mortgage Global
Matrix Mortgage Global has championed alternative lending in Canada since inception. Together with a strong technology infrastructure and innovative lending product suite, Matrix Mortgage Global plays a critical role in educating and financing Canadian borrowers. With a national reach Matrix Mortgage Global has financed over $1.5B in mortgage originations and has revolutionized the accessibility of alternative and private funds offering a diverse suite of mortgage and investment solutions. Matrix Mortgage Global is a major stake holder in the Canadian mortgage landscape and was the first mortgage company in Canada to accept crypto as a form of payment. matrixmortgageglobal.ca
For media inquiries, please contact:
Michelle Brykman
Communications Specialist, Global News, Corus Radio & Curiouscast
416.219.9273
michelle.brykman@corusent.com
Rishma Govani
Director, Communications, Global News, Corus Radio & Curiouscast
416.391.7361
rishma.govani@corusent.com
Carla Allen
Managing Director, Matrix Mortgage Global
416.206.4230
Carla@mmgb.ca
Craigg Slowly
Communications Director, Matrix Mortgage Global
647.572.2314
Craigg@mmgb.ca