CORUS STUDIOS' SWEETEST COMPETITION SERIES GREAT CHOCOLATE SHOWDOWN RETURNS BEGINNING MARCH 1 AT 9 P.M. ET/PT ON FOOD NETWORK CANADA
January 17, 2022
CORUS STUDIOS' SWEETEST COMPETITION SERIES
GREAT CHOCOLATE SHOWDOWN RETURNS BEGINNING
MARCH 1 AT 9 P.M. ET/PT ON FOOD NETWORK CANADA
A Fresh Batch of 10 Talented Home Bakers Vie for the $50,000
Grand Prize and Title of Great Chocolate Showdown Champion
Quaker® Canada Joins This Season as the Official Oat Flour Sponsor
Catch Up on Past Seasons and Stream New Episodes Live and On Demand
with STACKTV or the Global TV App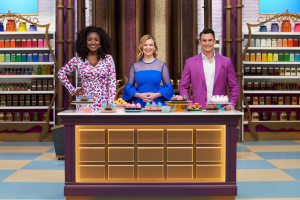 (L-R): Great Chocolate Showdown's judging panel: Cynthia Stroud, Anna Olson and Steve Hodge.
Get a first look at Food Network Canada's upcoming programming here
To share this release socially use: bit.ly/3nuTK4U
For Immediate Release
TORONTO, January 17, 2021 – Great Chocolate Showdown, which reached over 2.8 million Canadians during its second season on Food Network Canada,* is back with a fresh batch of 10 highly skilled home bakers who will go head-to-head in this decadent dessert competition. Each week they will have their baking skills and creativity in the kitchen put to the test through a series of chocolate-based challenges. Quaker® Canada joins this season as a sponsor, supplying their premium Quaker® Oat Flour to be used by the competitors in making their delectable cocoa creations. The third season of Great Chocolate Showdown premieres March 1 at 9 p.m. ET/PT on Food Network Canada.
Great Chocolate Showdown's esteemed judging panel returns, made up of television personality and best-selling cookbook author Anna Olson (Anna's Occasions), award-winning British cake designer Cynthia Stroud and prominent pastry chef and chocolatier Steve Hodge (Project Bakeover). To avoid elimination each week, the dazzling dessert-makers must delight this panel of world-renowned judges with their delectable creations.
This season's diverse group of brilliant bakers hail from across North America. While their ages, professions and baking experience vary, they are united by their love for baking and all things chocolate. They will be tasked with challenges that include creating a chocolate carousel filled with marvelous mini desserts, crafting a cocoa confection inspired by a passion for fashion, making a decadently delicious chocolate pasta dish, and more. Come the epic season finale, only three bakers will remain to battle it out in the most demanding dessert competition yet.
The home bakers taking on the biggest chocolate challenge of their lives, vying to be crowned 'Great Chocolate Showdown Champion' and win the $50,000 grand prize are:
Amber Horn, 43 – Bartender
Bri Brown, 33 – Office Manager
Connie Kazan, 42 – Stay-at-Home Mom
Evan Morgan-Newpher, 31 – Zoo Guest Service Manager
Gavan Knox, 44 – Stay-at-Home Dad
Ian Frias, 28 – Finance Manager
Lexi Christiansen, 24 – Model
Maile Crewdson, 35 – Stay-at-Home Mom
Shyam Rethinavelu, 34 – Fashion Stylist
Vince Driver, 31 – Freelance Artist
This season, Quaker® Canada stocks the pantry with a variety of products and each week the competitors will be able to use Quaker® Oat Flour in the creation of their delicious baked goods. The brand will also have an integrated episode challenge that will see the bakers take a cherished memory of their favourite childhood dessert and use it as inspiration to create a scrumptious brunch dish.
On foodnetwork.ca, viewers can learn more about the series and its cast and competitors, see exclusive behind-the-scenes content, recipes and delicious how-tos with the judges after the episodes air.
As previously announced, The CW Network has acquired Corus Studios' Great Chocolate Showdown, Season 1, which is set to air January 29 at 8 p.m. ET.
Great Chocolate Showdown is produced by Nikki Ray Media Agency in association with Corus Studios for Food Network Canada. For Nikki Ray Media Agency, Mike Sheerin and Tanya Linton are Executive Producers and Jen Pratt is Co-Executive Producer. For Corus Studios and Food Network Canada, Debbie Brown is Executive in Charge of Production, Krista Look is Vice President of Original Lifestyle Content and Lisa Godfrey is Senior Vice President of Original Content and Corus Studios.
– 30 –
Source:
*Numeris PPM Data. SP'21 (Jan 4/21 – May 30/21) – confirmed data. Total Canada. CumRch(000), Ind 2+. Great Chocolate Showdown Season 2. Food Network. All airings
SOCIAL MEDIA LINKS:
#GreatChocolateShowdown
Follow Food Network Canada on Twitter @FoodNetworkCA, Facebook Food Network Canada and Instagram @FoodNetworkCa
Follow Corus PR on Twitter: @CorusPR
Food Network Canada is a Corus Entertainment Network.
Food Network Canada can be streamed on the new Global TV App, available now on iOS, Android, Chromecast and at watch.globaltv.com, and via STACKTV, available on Amazon Prime Video Channels. The network is also available through all major TV distributors, including: Shaw, Shaw Direct, Rogers, Bell, Videotron, Telus, Cogeco, Eastlink and SaskTel.

About Corus Entertainment
Corus Entertainment Inc. (TSX: CJR.B) is a leading media and content company that develops and delivers high quality brands and content across platforms for audiences around the world. Engaging audiences since 1999, the company's portfolio of multimedia offerings encompass 33 specialty television services, 39 radio stations, 15 conventional television stations, a suite of digital assets, animation software, technology and media services. Corus is an established creator of globally distributed content through Nelvana animation studio, Corus Studios, and children's book publishing house Kids Can Press. The company also owns innovative full-service social digital agency so.da, and lifestyle entertainment company Kin Canada. Corus' roster of premium brands includes Global Television, W Network, HGTV Canada, Food Network Canada, HISTORY®, Showcase, National Geographic, Disney Channel Canada, YTV and Nickelodeon Canada, Global News, Globalnews.ca, 630 CHED, Global News Radio 880 Edmonton, CISN Country 103.9 and Chuck @ 92.5. Visit Corus at www.corusent.com.

For more information, please contact:
Devon Cavanagh
Associate Publicist, Lifestyle Content
Corus Entertainment
416.479.6712
Devon.cavanagh@corusent.com

Amy Doary
Unit Publicist, Great Chocolate Showdown
416.710.6079
amy@adpr.ca