Corus Studios' Island Of Bryan (renovation Island) Sets Its Sail For HGTV
May 7, 2020
CORUS STUDIOS' ISLAND OF BRYAN (RENOVATION ISLAND) SETS ITS SAIL FOR HGTV
Newly Titled for the U.S. Market, Renovation Island Premieres on HGTV Starting June 7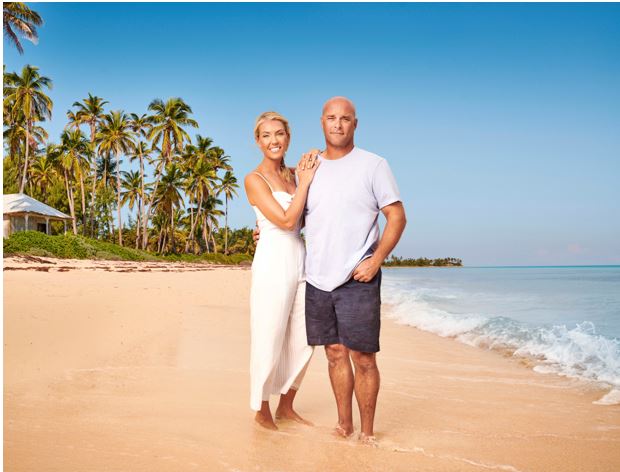 (Left-right: Sarah Baeumler and Bryan Baeumler of Island of Bryan / Renovation Island)
Photo courtesy of HGTV Canada
For additional photography and press kit material visit: www.corusent.com
To share this socially: bit.ly/3fvITSP
For Immediate Release
TORONTO, May 7, 2020 – Corus Studios original hit series Island of Bryan sets its sail with a landmark deal of Season 1 and Season 2 to HGTV, owned by Discovery, Inc. Newly titled Renovation Island for the U.S. market, the series follows Bryan and Sarah Baeumler as they navigate the biggest renovation of their life; rebuilding and restoring a beachfront resort in the Bahamas, with their four children in tow. Season 1 is set to premiere Sunday, June 7 at 8 p.m. ET/PT on HGTV.
In Canada, audiences affinity with the series grew with record high ratings for Season 2,* surpassing the first season's success as the most-watched series on the network in the past 10 years.** Giving an all-access pass to the step-by-step renovations and designs, now U.S. audiences will experience Bryan and Sarah's story as they transform Caerula Mar Club into their spectacular vision.
"Corus Studios focuses its strategy on developing engaging content with compelling storytelling and loveable characters," said Lisa Godfrey, Vice President of Original Content, Corus Entertainment. "This series offers the essence of both these values, along with a storyline of escapism, family dynamics and outstanding reveals that will capture viewers and have them coming back for more, week after week. We are thrilled to see Corus Studios content expand to the U.S. market and look forward to seeing this record-breaking series build momentum across North America."
Island of Bryan is produced by Si Entertainment in association with Corus Entertainment's HGTV Canada. Corus Entertainment's Original Content team driving its slate of unscripted series is helmed by industry executive Lisa Godfrey as Vice President of Original Content and supported by Krista Look (Director of Lifestyle Content), and Marni Goldman (Production Executive). Corus Studios is represented by Rita Carbone Fleury, who oversees the global sales of Corus' original content slate and brokered this deal.
Source:
*Numeris PPM Data. S2 (2/23/20 – 4/12/20) vs. S1 (4/7/19 – 6/30/19) – confirmed data. Total Canada/AMA(000). Ind.2+ and A25-54. HGTV Canada.
**Numeris PPM Data. 9/1/09 – 4/19/20 – confirmed data. Total Canada/AMA(000). Mo-Su 2a-2a. Ind.2+ and A25-54. HGTV Canada.
– 30 –
Corus Studios is a division of Corus Entertainment.
About Corus Studios
Established in 2015, Corus Studios, a division of Corus Entertainment, is a premium content studio that develops, produces and distributes a wide array of original lifestyle, unscripted and factual content globally. Offering dynamic programming that entertains, informs and drives audiences across platforms, Corus Studios content is featured across Corus' suite of channels, including HGTV Canada, HISTORY®, Food Network Canada, and SLICE™. To date, Corus Studios content has been sold in over 150 territories worldwide.
About Corus Entertainment
Corus Entertainment Inc. (TSX: CJR.B) is a leading media and content company that develops and delivers high quality brands and content across platforms for audiences around the world. Engaging audiences since 1999, the company's portfolio of multimedia offerings encompass 34 specialty television services, 39 radio stations, 15 conventional television stations, a suite of digital assets, animation software, technology and media services. Corus is an established creator of globally distributed content through Nelvana animation studio, Corus Studios, and children's book publishing house Kids Can Press. The company also owns innovative full-service social digital agency so.da, and lifestyle entertainment company Kin Canada. Corus' roster of premium brands includes Global Television, W Network, HGTV Canada, Food Network Canada, HISTORY®, Showcase, Adult Swim, National Geographic, Disney Channel Canada, YTV and Nickelodeon Canada, Global News, Globalnews.ca, Q107, Country 105, and CFOX. Visit Corus at www.corusent.com.
For more information, please contact:
Catrina Jaricot, Senior Publicity Manager
Corus Entertainment
416.479.6397
Catrina.jaricot@corusent.com