680 CJOB REVEALS NEW WINNIPEG BLUE BOMBERS PLAY-BY-PLAY ANNOUNCER
February 23, 2022
680 CJOB REVEALS NEW WINNIPEG BLUE BOMBERS PLAY-BY-PLAY ANNOUNCER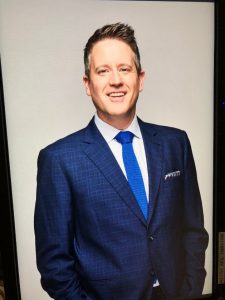 For Immediate Release
WINNIPEG, February 23, 2022 – Corus Radio's 680 CJOB is pleased to announce that starting on May 15, long time broadcaster Derek Taylor will be the new voice of the Grey Cup Champion Winnipeg Blue Bombers. Derek has been selected following an extensive search to replace long-time announcer Bob Irving, who stepped away in 2021 after a 48-year career.
Derek Taylor is a broadcast veteran with over two decades of experience that has taken him from British Columbia to Ontario and every province in between. He joins 680 CJOB after three years as the voice of the Saskatchewan Roughriders and nine years at Manitoba Bisons football, including their 2007 Vanier Cup win. Derek is well-known to Canadian sports fans after stints at Fox Sports World Canada and TSN, where he was known for his energetic style on SportsCentre and his unique coverage of the CFL – most notably his segment The Details.
Derek's first call will be the Blue Bombers pre-season game against their rivals, and Derek's former team, the Saskatchewan Roughriders on May 23, 2022.
"Congratulations to Derek on coming home to Winnipeg as the new voice of the Bombers. His long-standing ties to the city make him a perfect fit and he wilI be working with some of the finest people in our industry. I know his work ethic and vibrant personality will knock it out if the park," said retired play-by-play announcer Bob Irving.
"The Winnipeg Football Club looks forward to our fans listening to Derek Taylor on 680 CJOB. His passion for the CFL has been noticed and we look forward to having him back in Winnipeg," said Wade Miller, Winnipeg Blue Bombers President and CEO.
"Derek Taylor's name and the CFL go hand in hand. His passion for the league, and specifically the Winnipeg Blue Bombers, is clear the moment he starts talking," said Heather Steele, 680 CJOB Manager, Talk & Talent. "We couldn't be happier that he's bringing his wealth of experience to passionate football fans in Canada. The energy Derek injects into every conversation leaves you smiling, and his respect for his colleagues and listeners makes him the perfect addition. CJOB is so very excited to welcome him warmly as the new voice of the Bombers."
-30-
SOCIAL MEDIA LINKS:
Twitter: @CorusPR, @680CJOB
Facebook: @680CJOB
Instagram: @680CJOB
680 CJOB is a Corus Entertainment Network
About Corus Entertainment
Corus Entertainment Inc. (TSX: CJR.B) is a leading media and content company that develops and delivers high quality brands and content across platforms for audiences around the world. Engaging audiences since 1999, the company's portfolio of multimedia offerings encompass 33 specialty television services, 39 radio stations, 15 conventional television stations, a suite of digital and streaming assets, animation software, technology and media services. Corus is an internationally-renowned content creator and distributor through Nelvana, a world class animation studio expert in all formats and Corus Studios, a globally recognized producer of hit scripted and unscripted content. The company also owns innovative full-service social digital agency so.da, lifestyle entertainment company Kin Canada, leading 2D animation software supplier Toon Boom and children's book publishing house, Kids Can Press. Corus' roster of premium brands includes Global Television, W Network, HGTV Canada, Food Network Canada, The HISTORY® Channel, Showcase, Adult Swim, National Geographic, Disney Channel Canada, YTV, Global News, Globalnews.ca, Q107, Country 105, and CFOX, along with broadly distributed Canadian streaming platforms STACKTV, Nick+, the Global TV App and Curiouscast. For more information visit www.corusent.com.
For media inquiries, please contact:
Cathy Paine
Communications Specialist, Global News & Corus Radio
647.649.1634
Cathy.paine@corusent.com
Rishma Govani
Director Communications, Global News & Corus Radio
416.391.7361
rishma.govani@corusent.com