640 TORONTO LAUNCHES ITS FIRST BEER, BREAKING BREWS, WITH LOCAL BREWERY
April 6, 2023
640 TORONTO LAUNCHES ITS FIRST BEER, BREAKING BREWS, WITH LOCAL BREWERY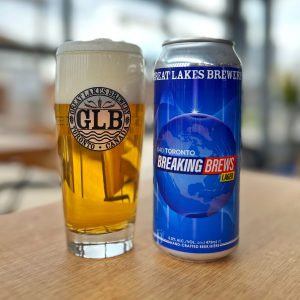 For Immediate Release
TORONTO, April 6, 2023 – The official beer of Spring has arrived. Looking for suds that will take your mind off the mayoral race, taxes, healthcare and TTC commute times? Corus Radio's 640 Toronto (CFIQ-AM) is thrilled to launch its first beer, Breaking Brews!
Named by thousands of listeners who voted on the official name, Breaking Brews was created by Great Lakes Brewery, one of the oldest independent craft breweries in Canada specializing in producing flavourful beers with seasonal ingredients. This limited-edition thirst-quenching lager hits all the right notes offering lightly toasted malts of straw and honey, alongside freshly cut grass that finishes clean with a noticeable bitterness. It's a beer brewed right here in Toronto for all Torontonians across this amazing city to enjoy.
"640 Toronto is excited to partner with Great Lakes Brewery on a co-branded beer," said Amanda Cupido, Director Talk & Talent, 640 Toronto. "Not only do we love supporting local, independent businesses, their brewpub is across the street from the station and has become our go-to spot! It was also great to have the support from thousands of our listeners who voted on the name of the beer and we hope that they will enjoy the lager as much as we do."
One of many 640 Toronto community initiatives, Breaking Brews can be purchased starting on April 6, at the GLB Brewpub (tap and store), located at 11 Lower Jarvis Street in Toronto, through its online shop or through Uber Eats or Doordash.
"We're thrilled to work with our friends and neighbours over at 640 Toronto to offer their listeners a well-crafted lager, and we can't wait for Toronto residents to experience Breaking Brews," said Troy Burtch, Senior Manager, Sales and Business Development. "As one of Canada's oldest independently owned craft breweries, we understand the importance of building relationships and collaborating with community organizations and local businesses, so this partnership with 640 Toronto is right in our wheelhouse. Like talk radio who keep Toronto residents up to date and informed of the latest news, Great Lakes takes great pride in keeping things local and focused on offering the freshest product on the market, and Breaking Brews is no exception."
Award-winning 640 Toronto is one of the most listened to talk format radio stations in Canada and covers the stories that matter most to the GTA. Offering a unique blend of informed, interactive and engaging current affairs shows that delve into the top news and sports stories of the day, listeners can tune into 640 Toronto on the radio dial or online at www.640toronto.com.
This is a limited edition, so get your Breaking Brews before it's all gone.
-30-
SOCIAL MEDIA LINKS:
Twitter: @CorusPR, @am640 @GreatLakesBeer
Facebook: @640toronto @GreatLakesBeer
Instagram: @am640 @greatlakesbeer
640 Toronto is part of the Corus Entertainment Network.
About Corus Entertainment Inc.
Corus Entertainment Inc. (TSX: CJR.B) is a leading media and content company that develops and delivers high quality brands and content across platforms for audiences around the world. Engaging audiences since 1999, the company's portfolio of multimedia offerings encompass 33 specialty television services, 39 radio stations, 15 conventional television stations, digital and streaming services, animation software, technology and media services. Corus is an internationally-renowned content creator and distributor through Nelvana, a world class animation studio expert in all formats and Corus Studios, a globally recognized producer of hit scripted and unscripted content. The company also owns full-service social digital agency so.da, lifestyle entertainment company Kin Canada, leading 2D animation software supplier Toon Boom and children's book publishing house, Kids Can Press. Corus' roster of premium brands includes Global Television, W Network, HGTV Canada, Food Network Canada, Magnolia Network Canada, The HISTORY® Channel, Showcase, Adult Swim, National Geographic, Disney Channel Canada, YTV, Global News, Globalnews.ca, Q107, Country 105, and CFOX, along with streaming platforms STACKTV, TELETOON+, the Global TV App and Curiouscast. Corus is the domestic advertising representative and an original content partner for Pluto TV, a Paramount Company, which is the leading free ad-supported streaming television (FAST) service. For more information visit www.corusent.com.
About Great Lakes Brewery
Great Lakes Brewery is an independently owned craft brewery that specializes in producing flavourful beers that will be sure to awaken your taste buds with each sip. From unique seasonal ales, bottle conditioned releases, year-round ales and premium lagers to our 7 Barrel and Tank Ten Series of beers, GLB produces a variety of products to be enjoyed by everyone.
For media inquiries, please contact:
Cathy Paine, Communications Specialist, Corus Radio
647-649-1634
cathy.paine@corusent.com
Rishma Govani
Director, Communications, Corus Radio
416-391-7361
rishma.govani@corusent.com