640 TORONTO DEBUTS FIRST EVER ORIGINAL PODCAST, TODAY IN TO
February 1, 2023
640 TORONTO DEBUTS FIRST EVER ORIGINAL PODCAST,
TODAY IN TO
Podcast Hosted by Radio Personality Dani Stover Launches
February 22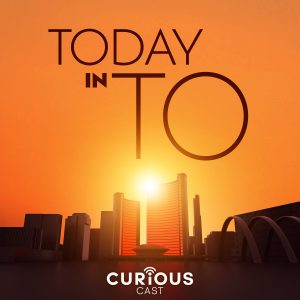 For Immediate Release
TORONTO, February 1, 2023 – Corus Radio's 640 Toronto (CFIQ-AM) is pleased to announce the launch of its original podcast, Today in TO, hosted by radio personality Dani Stover. Today in TO is part of the award-winning Curiouscast podcast network and debuts on February 22.
With so much happening in this big city, it can be hard to keep up. Today in TO provides a succinct overview of the stories that matter most to the GTA. Host Dani Stover will look at the biggest stories and connect the dots on what's going on, how we got here and what to keep an eye on. Click here to listen to the trailer.
"Today in TO will not be like any other news podcast in the city," said Amanda Cupido, Director of Talk & Talent, 640 Toronto. "I'm excited to be championing a strategic use of podcasts in connection with a talk radio station in Canada. This podcast is a first of its kind and will deepen our relationship with the community and listeners who prefer podcasts. It will be supported by Curiouscast and produced by an all-star audio team who are on the pulse of everything Toronto."
Dani Stover is an on-air contributor for 640 Toronto and hosts the station's new evening show Let's Talk with Dani Stover weekdays from 7 p.m. to 10 p.m. Launched in November 2022, Let's Talk with Dani Stover dives deep on some of the days major stories covered on 640 Toronto as well as from London's 980 CFPL and Hamilton's 900 CHML. Dani has over a decade of radio experience, both on-air and behind-the-scenes. She worked as a producer for 102.1 the Edge in Toronto, hosted mornings on 101.5 The Wolf in Peterborough for six years and spent time at Indie 88 as a weekend host and swing announcer after graduating from Seneca's journalism program. Dani also hosted and produced the Only in Toronto and blogTO podcasts before returning to Corus at 640 Toronto to produce the Kelly Cutrara Show.
"I've always had a passion for telling stories, and this city is full of them. I'm excited to bring my love of Toronto to the table, with a healthy dose of humour and cynicism on the side," said Dani Stover. "As someone who's hosted other podcasts before, this one is different because we are supported by a content-making machine at 640 Toronto, which will allow us to share multiple sides to every story and keep listeners informed. Today in TO will be gentle, yet spicy, while diving into the exciting, important, and frustrating stories happening in and around the city."
New episodes will be released every Wednesday. To listen to each episode for free, subscribe on Apple Podcasts, Spotify, Google Podcasts, Amazon Music, or anywhere else podcasts are available.
640 Toronto offers a unique blend of informed, interactive and engaging current affairs shows, delving deeper into the top news and sports stories of the day. Tune in to 640 Toronto on the radio dial, or listen online at www.640toronto.com.
Curiouscast is Corus Entertainment's multi-award-winning podcast network home to a host of internationally recognized brands with diverse audio storytelling. Its' slate of award-winning podcasts includes: Crime Beat (adapted for TV on Global News and Hulu), Dark Poutine, Nighttime, The Ongoing History of New Music, History of the 90s, Everything 80s, The Peak Daily, 13 Hours: Inside the Nova Scotia Massacre, Escaping Denver and Global News What Happened To?. Launched in 2018, Curiouscast has won numerous prestigious national and international awards for their excellent audio content including two Edward R. Murrow International Awards, multiple RTDNA Awards, and Canadian Podcast Awards. Curiouscast also hosts all of Corus Radio's news and talk radio shows on demand for listeners to access their favourite daily and weekly shows whenever they like on all major platforms including Apple Podcasts, Google Podcasts, Amazon Music, Spotify, and anywhere you find your favorite podcasts. For more information visit Curiouscast.ca.
– 30 –
SOCIAL MEDIA LINKS:
Twitter: @CorusPR, @am640, @Curiouscast
Facebook: @640toronto
Instagram: @am640
About Corus Entertainment Inc.
Corus Entertainment Inc. (TSX: CJR.B) is a leading media and content company that develops and delivers high quality brands and content across platforms for audiences around the world. Engaging audiences since 1999, the company's portfolio of multimedia offerings encompass 33 specialty television services, 39 radio stations, 15 conventional television stations, digital and streaming services, animation software, technology and media services. Corus is an internationally-renowned content creator and distributor through Nelvana, a world class animation studio expert in all formats and Corus Studios, a globally recognized producer of hit scripted and unscripted content. The company also owns full-service social digital agency so.da, lifestyle entertainment company Kin Canada, leading 2D animation software supplier Toon Boom and children's book publishing house, Kids Can Press. Corus' roster of premium brands includes Global Television, W Network, HGTV Canada, Food Network Canada, Magnolia Network Canada, The HISTORY® Channel, Showcase, Adult Swim, National Geographic, Disney Channel Canada, YTV, Global News, Globalnews.ca, Q107, Country 105, and CFOX, along with streaming platforms STACKTV, TELETOON+, the Global TV App and Curiouscast. Corus is the domestic advertising representative and an original content partner for Pluto TV, a Paramount Company, which is the leading free ad-supported streaming television (FAST) service. For more information visit www.corusent.com.
For media inquiries, please contact:
Michelle Brykman
Communications Specialist, Corus Audio & Global News
416.219.9273
michelle.brykman@corusent.com
Rishma Govani
Director, Communications, Corus Audio & Global News
416.391.7361
rishma.govani@corusent.com