'TORONTO THREADS' AND 'TORONTO TOMORROW' JOIN WEEKEND RADIO LINEUP ON 640 TORONTO
August 14, 2023
Both Talk Shows Bring a Whole New Sound to Saturday Evenings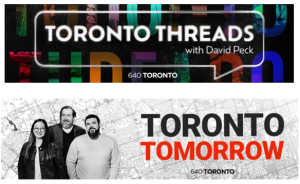 For Immediate Release
TORONTO, August 14, 2023 – Saturdays nights just got a whole lot more exciting on 640 Toronto, with the addition of new program Toronto Threads and the recently added show Toronto Tomorrow.
Toronto Threads, hosted by author and speaker, David Peck, will air Saturdays at 10 p.m., beginning on August 19. Featuring in-depth conversations with interesting people who shape Toronto and the GTA, the show focuses on the diverse cultures, experiences and voices that make up the fabric of the city.
"I'm excited about the show and looking forward to leaning in and learning more about some of the creative, hopeful and hardworking people who shape this incredible town," said host David Peck. "There are going to be some beautiful surprises. I can't wait for the insightful interviews and engaging conversations!"
Listeners can also get a taste of their city on Toronto Tomorrow, 640's latest addition to the weekend lineup, which airs Saturdays at 8 p.m. Join Dan Speerin, Tamer Gargour and Jessie Lee from Toronto Metropolitan University's Transmedia Zone in the Creative Innovation Studio, as they hang with the city's most innovative and future-forward thinkers.
"I'm delighted that the 640 Toronto weekend lineup continues to expand with original, local programming and thoughtful hosts who provide fresh, can't-miss radio, that's in line with our weekday programming," said Director of Talk, Talent & Programming, Amanda Cupido. "With new shows like Toronto Threads and Toronto Tomorrow, we're able to continue to lift voices within the community and serve audiences in a way that stands out from the rest."
Tune into Toronto Threads starting Saturday, August 19 at 10 p.m., and Toronto Tomorrow every Saturday at 8 p.m.
-30-
SOCIAL MEDIA LINKS
X (Formerly known as Twitter): @am640, @davidpecklive, @danspeerin, @tamergar
Instagram: @am640, @danspeerin, @tamergar
640 Toronto is part of the Corus Entertainment Network.
About Corus Entertainment Inc.
Corus Entertainment Inc. (TSX: CJR.B) is a leading media and content company that develops and delivers high quality brands and content across platforms for audiences around the world. Engaging audiences since 1999, the company's portfolio of multimedia offerings encompass 33 specialty television services, 39 radio stations, 15 conventional television stations, digital and streaming platforms, and technology and media services. Corus is an internationally-renowned content creator and distributor through Nelvana, a world class animation studio expert in all formats and Corus Studios, a globally recognized producer of hit scripted and unscripted content. The company also owns full-service social digital agency so.da, lifestyle entertainment company Kin Canada, and children's book publishing house, Kids Can Press. Corus' roster of premium brands includes Global Television, W Network, HGTV Canada, Food Network Canada, Magnolia Network Canada, The HISTORY® Channel, Showcase, Adult Swim, National Geographic, Disney Channel Canada, YTV, Global News, Globalnews.ca, Q107, Country 105, and CFOX, along with streaming platforms STACKTV, TELETOON+, the Global TV App and Curiouscast. Corus is the domestic advertising representative and an original content partner for Pluto TV, a Paramount Company, which is the leading free ad-supported streaming television (FAST) service. For more information visit www.corusent.com.
About David Peck
David Peck is a writer, speaker, entertainer, academic, social change consultant. With a master's degree in philosophy and postgraduate work in International Development, he is the founder of SoChange, a social enterprise that works with the corporate and NGO community in leadership development, innovation and entrepreneurship. David is also a professional magician and creator of the award-winning children's television show Spellz. He has recently directed his first feature length documentary, Broken Courage. He has published two books, Irreconcilable Differences and Real Change is Incremental. David is passionate about uncovering great people and stories from Toronto and the GTA.
For media inquiries, please contact:
Anna Arnone, Communications Specialist, Corus Radio
647-880-5052
anna.arnone@corusent.com
Amanda Cupido, General Programming Director – Talk & Talent, 640 Toronto
647-286-8927
amanda.cupido@corusent.com