ROZ WESTON TO DEPART ET CANADA AFTER AN ICONIC 17 SEASONS
May 26, 2022
The Broadcast Veteran's Final Episode Airs June 23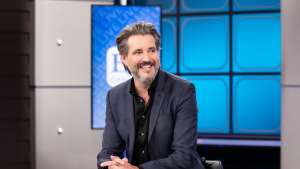 For Immediate Release
TORONTO, May 26, 2022 – ET Canada and Roz Weston announced today that the longtime reporter will be stepping down from his role after 17 seasons on the entertainment news program. Appearing on ET Canada since its inception in 2005, Weston has travelled the globe covering the biggest stories in entertainment news. He will film his final episode of ET Canada on June 23, with a special farewell to the show.
"Seventeen years on one show is a rare and a ridiculous amount of time in this business," proclaimed Weston. "From Cannes and Moscow, to Egypt and Los Angeles, I've travelled around the world (probably twice) and got to interview every rock star and action hero I had a poster of on my wall when I was a kid. Shania Twain in Vegas, Brad Pitt in London, dirty dancing with Patrick Swayze and doing high leg kicks with Liza Minnelli – I've got a lifetime of stories."
"Roz has been an invaluable part of the ET Canada team since the beginning," said Lisa Godfrey, Senior Vice President of Original Content and Corus Studios. "His easy rapport with celebrities and his dedication to his craft is what makes him one of the best in the business. He will be missed!"
A mainstay in Canadian broadcasting for over two decades, Weston has been honoured throughout his career for his monumental contribution to Canada's media landscape, receiving accolades from the Canadian Music and Broadcast Industry Awards, the New York Festival of Radio, and the Canadian Screen Awards.
"Two years ago, like everyone, I went into lockdown not knowing what to expect or who I'd be at the end of it all," stated Weston. "For sixteen months I channeled that uncertainty into creativity and wrote a book – my memoir, A Little Bit Broken. It will be released on September 27 and I'm as nervous as I am excited. I'm sad to be leaving my friends at ET Canada, but this project needs my full attention. I want to thank the audience for sharing your time with me on ET Canada and ET Canada Live. It has meant the world to me."
Weston will be releasing his highly anticipated memoir A Little Bit Broken through publisher Doubleday Canada on September 27, 2022. Fans can watch his final episode on Thursday, June 23 on Global, and streaming live and on-demand with STACKTV and the Global TV App.
ET Canada airs weeknights at 7:30 p.m. ET/ 7 p.m. PT on Global. For up-to-the-moment entertainment news, celebrity interviews and more, visit etcanada.com, and stream ET Canada live and on-demand with STACKTV and the Global TV App. For an extra dose of celebrity entertainment, tune-in to ET Canada Weekend airing Saturdays at 7 p.m. ET/PT on Global.
Global is a Corus Entertainment Network and is available through all major TV distributors, including: Shaw, Shaw Direct, Rogers, Bell, Videotron, Telus, Cogeco, Eastlink, SaskTel and STACKTV, available via Amazon Prime Video Channels, Rogers Ignite TV and Ignite SmartStream. The Global TV App is available on iOS, Android, Chromecast, Amazon Fire TV, Samsung Smart TVs, Roku streaming players, Roku TV™ models, and at watch.globaltv.com.
– 30 –
About ET Canada
Entertainment Tonight Canada is a Canadian Screen Award-winning, nationally syndicated entertainment news program hosted by Cheryl Hickey. Along with Roz Weston, Sangita Patel, Carlos Bustamante Morgan Hoffman and Los Angeles reporter Keshia Chanté, ET Canada brings viewers closer to the stars with exclusive interviews and specials with the biggest celebrities in Hollywood.
About Corus Entertainment Inc.
Corus Entertainment Inc. (TSX: CJR.B) is a leading media and content company that develops and delivers high quality brands and content across platforms for audiences around the world. Engaging audiences since 1999, the company's portfolio of multimedia offerings encompass 33 specialty television services, 39 radio stations, 15 conventional television stations, a suite of digital and streaming assets, animation software, technology and media services. Corus is an internationally-renowned content creator and distributor through Nelvana, a world class animation studio expert in all formats and Corus Studios, a globally recognized producer of hit scripted and unscripted content. The company also owns innovative full-service social digital agency so.da, lifestyle entertainment company Kin Canada, leading 2D animation software supplier Toon Boom and children's book publishing house, Kids Can Press. Corus' roster of premium brands includes Global Television, W Network, HGTV Canada, Food Network Canada, Magnolia Network Canada, The HISTORY® Channel, Showcase, Adult Swim, National Geographic, Disney Channel Canada, YTV, Global News, Globalnews.ca, Q107, Country 105, and CFOX, along with broadly distributed Canadian streaming platforms STACKTV, Nick+, the Global TV App and Curiouscast. For more information visit www.corusent.com.
For media inquiries, please contact:
Melissa Ferris
Publicist, ET Canada
mferris@etcanada.com