REAL ESTATE EXPERT SCOTT MCGILLIVRAY AND DESIGNER DEBRA SALMONI UNLOCK RENTAL POTENTIAL IN COTTAGE COUNTRY IN SEASON 4 OF SCOTT'S VACATION HOUSE RULES
REAL ESTATE EXPERT SCOTT MCGILLIVRAY AND DESIGNER DEBRA SALMONI UNLOCK RENTAL POTENTIAL IN COTTAGE COUNTRY IN SEASON 4 OF SCOTT'S VACATION HOUSE RULES
March 20, 2023
The Corus Studios Original Series Returns April 23 on HGTV Canada and STACKTV
Stream HGTV Canada Anytime with STACKTV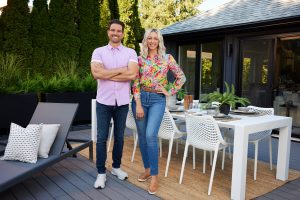 (L-R: Scott McGillivray and Debra Salmoni. Photo courtesy of HGTV Canada) For additional photography and press kit material visit: www.corusent.com
For the Scott's Vacation House Rules promo, click here
For Immediate Release
TORONTO, March 20, 2023 – HGTV Canada offers vacation inspiration this spring with a brand-new season of Scott's Vacation House Rules (14×60). In the Corus Studios Original series, real estate expert, contractor and Canadian Screen Award-nominated host, Scott McGillivray, and his trusted design partner Debra Salmoni team up to uncover the rental potential of promising properties. Utilizing years of experience and know-how, Scott and Debra help homeowners make smart investment decisions and ultimately transform their vacation properties and turn a profit in the competitive rental market. Season 4 of Scott's Vacation House Rules debuts Sunday, April 23 at 10 p.m. ET/PT on HGTV Canada and STACKTV with the first seven episodes set to air on Sundays this spring. The second set of episodes are slated to air this fall.
This season of Scott's Vacation House Rules showcases dream escapes from growing tourism hot spots in Canadian cottage country. Viewers see Scott and Debra overhaul and redesign dated properties and revive them into buzz-worthy pockets of paradise. The new season introduces scenic locations including a cliffside cottage retreat, a bungalow on the bay, a breezy beach house, and Scott undertakes a personal project by renovating a cottage owned by a longtime friend. In each renovation, Scott's five reliable rental rules combined with Debra's lively designs allow properties to reach their full rental potential.
Scott's Vacation House Rules continues to partner with the series' official financial sponsor, CIBC, to help make these Canadians' home ambitions real through access to easy financial tips and tools on their Smart Advice hub, and the always available help of their financial advisors. As the Official Insulation Supplier of HGTV Canada, ROCKWOOL showcases its residential stone wool insulation products in applications throughout the home—from the exterior to the interior—to achieve quieter, safer, and more comfortable spaces for the ideal vacation home experience. And the vacation spaces are brightened with Pollard Windows & Doors solutions and active integrations.
HGTV Canada audiences can currently watch Scott McGillivray on the action-packed competition series Renovation Resort, which has the #1 premiere this year among Canadian Original series across all Specialty Entertainment programs*. New episodes of Renovation Resort air Sunday nights at 10 p.m. ET/PT on HGTV Canada and STACKTV.
Scott's Vacation House Rules is produced by M.E.M, Scott McGillivray is CEO, Angela Jennings is President, Nanci MacLean is COO, Kelly Wray is Executive Producer and Bernice Kim is Showrunner. For Corus Studios and HGTV Canada, Colin Bohm is Executive Vice President of Content and Corporate Strategy, Lisa Godfrey is Senior Vice President of Original Content and Corus Studios, Krista Look is Vice President of Original Lifestyle Content and Jesse Barkley is the HGTV Canada Executive in Charge of Production.
HGTV Canada can be streamed via STACKTV, available on Amazon Prime Video Channels, FuboTV, Rogers Ignite TV and Ignite SmartStream. The network is also available through all major TV distributors, including: Shaw, Shaw Direct, Rogers, Bell, Videotron, Telus, Cogeco, Eastlink and SaskTel.
Viewers can catch-up on seasons 1-3 of Scott's Vacation House Rules anytime on STACKTV.
Interviews with Debra Salmoni from Scott's Vacation House Rules are available upon request.
Scott's Vacation House Rules is currently casting for a new season, visit HGTV.ca for additional information.
Source:
*Numeris PPM Data, Total Canada, SP23'STD (Jan 2 – Mar 12/23) confirmed data until Mar 5, A25-54, AMA(000), CDN SPEC COM ENG excluding sports, premiere airings only.
– 30 –
SOCIAL MEDIA LINKS:
Follow Corus PR on Twitter: @CorusPR
Follow HGTV Canada on Twitter: @HGTVCanada
Follow HGTV Canada Facebook: facebook.com/HGTV.ca
Follow HGTV Canada Instagram: @hgtvcanada
Follow HGTV Canada TikTok: @hgtvcanada
Visit hgtv.ca for exclusive content
#ScottsVacationHouseRules
HGTV Canada is a Corus Entertainment Network.

About Corus Entertainment Inc.
Corus Entertainment Inc. (TSX: CJR.B) is a leading media and content company that develops and delivers high quality brands and content across platforms for audiences around the world. Engaging audiences since 1999, the company's portfolio of multimedia offerings encompass 33 specialty television services, 39 radio stations, 15 conventional television stations, digital and streaming services, animation software, technology and media services. Corus is an internationally-renowned content creator and distributor through Nelvana, a world class animation studio expert in all formats and Corus Studios, a globally recognized producer of hit scripted and unscripted content. The company also owns full-service social digital agency so.da, lifestyle entertainment company Kin Canada, leading 2D animation software supplier Toon Boom and children's book publishing house, Kids Can Press. Corus' roster of premium brands includes Global Television, W Network, HGTV Canada, Food Network Canada, Magnolia Network Canada, The HISTORY® Channel, Showcase, Adult Swim, National Geographic, Disney Channel Canada, YTV, Global News, Globalnews.ca, Q107, Country 105, and CFOX, along with streaming platforms STACKTV, TELETOON+, the Global TV App and Curiouscast. Corus is the domestic advertising representative and an original content partner for Paramount Global's Pluto TV, the world's leading free ad-supported streaming television (FAST) service. For more information visit www.corusent.com.
About STACKTV
STACKTV is Corus Entertainment's premium multi-channel television streaming service that offers thousands of hours of exclusive hit content from 16 of Canada's top TV networks, all on one platform. All series, movies and specials that air on Global Television, Food Network Canada, HGTV Canada, W Network, The HISTORY® Channel, Adult Swim, Slice, Showcase, National Geographic, Lifetime, TELETOON, Treehouse, YTV, Disney Channel, Disney XD and Disney Junior are available to stream on STACKTV live and on demand with new content added daily. STACKTV is available via Amazon Prime Video Channels, FuboTV, Rogers Ignite TV and Ignite Streaming. For more information, visit stacktv.ca.
For media inquiries, please contact:
Emily Crane, Senior Publicist
Corus Entertainment
416.860.4220
Emily.Crane@corusent.com
Julie MacFarlane, Publicity Manager
Corus Entertainment
416.860.4876
Julie.MacFarlane@corusent.com