New Year, New Fresh! London's 103.1 Fresh Radio Launches New Morning And Afternoon Shows As Part Of Refreshed Lineup And Look
January 7, 2021
NEW YEAR, NEW FRESH! LONDON'S 103.1 FRESH RADIO LAUNCHES NEW MORNING AND AFTERNOON SHOWS AS PART OF REFRESHED LINEUP AND LOOK
Fresh Mornings with Kim, Mark & Ian, and Hit Show Tucker & Maura Debut January 11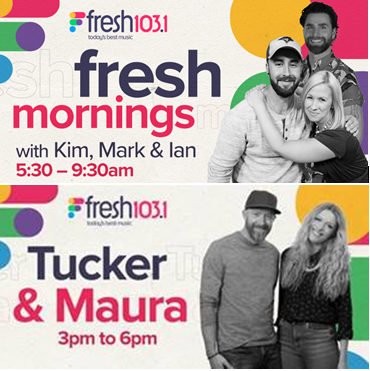 LONDON, Ont., January 7, 2021 – 103.1 Fresh Radio (CFHK-FM), London's home for Today's Best Music, today announced an exciting new on-air lineup and look for the new year. Alongside revamped branding and station imaging, Fresh evening host Ian, will join longtime morning pair Kim and Mark for a new morning program, Fresh Mornings with Kim, Mark & Ian (5:30 a.m. – 9:30 a.m.). Additionally, hit radio duo Tucker & Maura (3 p.m. – 6 p.m.) will expand their show to familiar Southwestern Ontario airwaves. Both shows air every weekday starting Monday, January 11.
Fresh's new shows each come with significant history in the local market. Kim, Mark and Ian are all current hosts with the station, while Tucker spent a very successful spell on-air in London, winning Canadian Music Week's 'On Air Talent of The Year – Secondary Market' twice during that period.
"We're thrilled to reenergize the station with a new lineup that delivers great personalities and great music all day," said Brad Gibb, Regional Program Director, Corus Radio. "Ian is a perfect addition to what's already one of the top-rated morning shows in the market, and we're very pleased to have Tucker return to air in London through his fantastic show with Maura."
103.1 Fresh Radio's programming lineup is rounded out by popular station personalities Liz Gogol (11 a.m. – 3 p.m.) and Toni Ross (6 p.m. – 10 p.m.) shifting to the midday and evening slots respectively.
103.1 Fresh Radio's full on-air lineup is as follows:
Fresh Mornings with Kim, Mark & Ian – 5:30 a.m. to 9:30 a.m.
103 Minutes of Fresh Music – 9:30 a.m. to 11 a.m.
Liz Gogol – 11 a.m. to 3 p.m.
Tucker & Maura – 3 p.m. to 6 p.m.
Toni Ross – 6 p.m. to 10 p.m.
For more information or to listen to 103.1 Fresh Radio online visit 1031freshradio.ca.
– 30 –
SOCIAL MEDIA LINKS:
Twitter: @1031FreshRadio, @CorusPR
Facebook: @1031freshradio
Instagram: @1031freshradio
103.1 Fresh Radio is part of the Corus Entertainment Network.
About Corus Entertainment
Corus Entertainment Inc. (TSX: CJR.B) is a leading media and content company that develops and delivers high quality brands and content across platforms for audiences around the world. Engaging audiences since 1999, the company's portfolio of multimedia offerings encompass 33 specialty television services, 39 radio stations, 15 conventional television stations, a suite of digital assets, animation software, technology and media services. Corus is an established creator of globally distributed content through Nelvana animation studio, Corus Studios, and children's book publishing house Kids Can Press. The company also owns innovative full-service social digital agency so.da, and lifestyle entertainment company Kin Canada. Corus' roster of premium brands includes Global Television, W Network, HGTV Canada, Food Network Canada, HISTORY®, Showcase, Adult Swim, National Geographic, Disney Channel Canada, YTV, Global News, Globalnews.ca, Q107, Country 105, and CFOX. Visit Corus at www.corusent.com.
For media inquiries, please contact:
Chris Sarpong
Communications, Global News & Corus Radio
416.446.5519
chris.sarpong@corusent.com
Rishma Govani
Senior Manager, Communications, Global News & Corus Radio
416.391.7361
rishma.govani@corusent.com