Let The Battles Begin! Iron Chef Canada Returns With A New Ensemble Of Challengers Ready To Compete For Culinary Supremacy
August 6, 2019
LET THE BATTLES BEGIN!
IRON CHEF CANADA RETURNS WITH A NEW ENSEMBLE
OF CHALLENGERS READY TO COMPETE FOR
CULINARY SUPREMACY
#IronChefCanada returns August 28 on Food Network Canada
Canada's Roster of Renowned Iron Chefs Returns to the Kitchen Stadium Along with Gail Simmons as Host, Chris Nuttall-Smith as Floor Reporter and Jai West as Chairman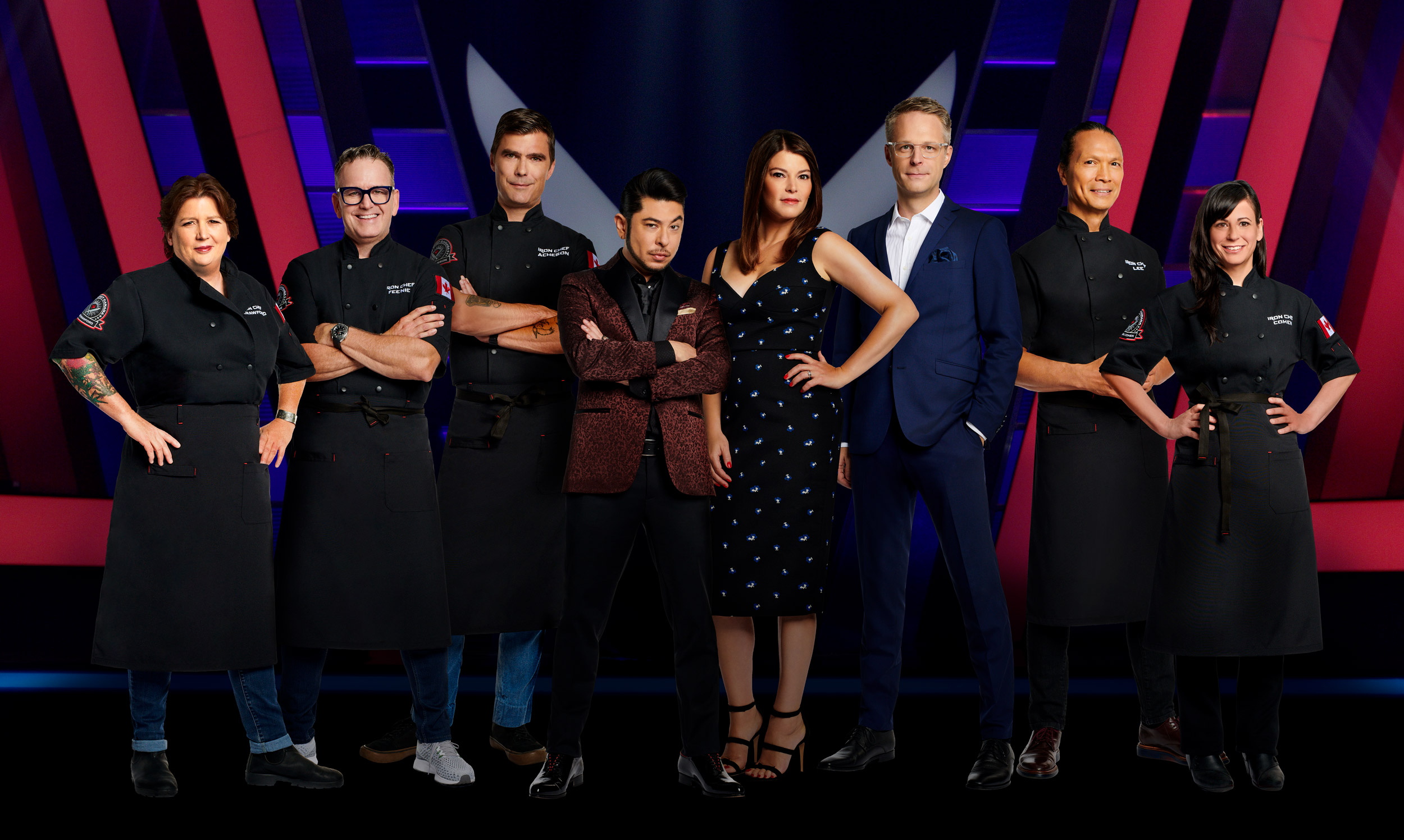 From L to R: Lynn Crawford, Rob Feenie, Hugh Acheson, Jai West, Gail Simmons, Chris Nuttall-Smith, Susur Lee and Amanda Cohen. Photo credit: Courtesy of Food Network Canada
For additional media material please visit the Corus Media Centre
To share this release socially use: bit.ly/2MJxxhS
For Immediate Release
TORONTO, August 6, 2019 – Iron Chef Canada is back this fall with new episodes (10×60) featuring highly skilled competitors and more fiery, over-the-top action. Ten new chef challengers are ready to face off against Canada's legendary Iron Chefs in head-to-head battles for culinary supremacy. The epic showdowns begin Wednesday, August 28 at 10 p.m. ET/PT on Food Network Canada.
Renowned culinary expert and television personality Gail Simmons returns as host, alongside prominent food journalist and critic Chris Nuttall-Smith as floor reporter and Vancouver-native Jai West as Iron Chef Canada's revered Chairman. Celebrated Canadian Iron Chefs Hugh Acheson, Amanda Cohen, Lynn Crawford, Rob Feenie, and Susur Lee all return for battle.
In each hour-long battle, a uniquely talented chef challenger brings their culinary prowess to contend with an Iron Chef in the fully equipped Monogram kitchen stadium, outfitted with top-of-the-line appliances from Monogram. Using a featured "secret ingredient," the chefs prepare five dishes and at the mid-way point of each battle, the Chairman turns up the heat when he introduces his "culinary curveball," an unexpected ingredient that must be incorporated into at least one course. The dishes are judged on taste, presentation and originality by a panel of culinary experts and industry professionals to determine whose cuisine reigns supreme.
The new batch of chefs ready for battle are:
Paul Boehmer, Toronto, Ont. – Chef/Owner of Böehmer
Shane Chartrand, Enoch, Alta. – Chef and General Manager, SC Restaurant at River Cree Resort
Fisun Ercan, Montreal, Que. – Executive Chef, Su Restaurant
Jonathan Gushue, Joe Batt's Arm, N.L. – Executive Chef, Fogo Island Inn
Stefan Hartmann, Vancouver, B.C. – Regional Executive Chef, Tacofino
Nick Hodge, Montreal, Que. – Chef/Owner, Icehouse
Duncan Ly, Calgary, Alta. – Executive Chef and Owner, Foreign Concept Restaurant
Giuseppe "Pino" Posteraro, Vancouver, B.C. – Chef/Founder/Proprietor, Cioppino's Mediterranean Grill
Ivana Raca, Toronto, Ont. – Executive Chef and Partner, Ufficio Restaurant
Scott Vivian, Toronto, Ont. – Chef and Owner, Beast Restaurant
The fierce competitions kick off on August 28 with an intense battle between legendary Iron Chef Susur Lee and British Columbia-based challenger and a Michelin Star recipient, Chef Stefan Hartmann. The duo will be tasked to create unforgettable dishes that feature the off-cuts of meat known as offal. Chef Lee enters kitchen stadium with Sous Chefs Jonas Mangao and Bryan Gunness, while Chef Hartmann is accompanied by Sous Chefs Francis Domacena and Friedolin Janke. Guest judges for this episode include food writer Jeffrey Merrihue, Food Network Canada personality Mijune Pak (Top Chef Canada), and restaurateur and television personality Brad Smith.
Upcoming new episodes of Iron Chef Canada will see a rotating panel of acclaimed culinary guest judges including first-time appearances by Quebecois restaurateur Lenny Lighter, chef and activist Joshna Maharaj, acclaimed musician and food adventurer Steven Page, and notable restaurant writer and photographer Renée Suen.
On foodnetwork.ca, exclusive Iron Chef Canada content includes a more in-depth look at the upcoming competitors, interviews with the Canadian Iron Chefs, secret ingredient tips and tricks videos, and the Iron Chef Canada quiz determines if fans have what it takes to compete. Full episodes of the show are also available online after broadcast.
Food Network Canada is available on a National Free Preview from October 1 to November 17, 2019. Please check local listings for additional details.
Iron Chef Canada is produced by Proper Television in association with Corus Entertainment's Food Network Canada and based on the original 'Iron Chef' Series Produced by Fuji Television Network, Inc.
– 30 –
SOCIAL MEDIA LINKS:
Join the conversation: #IronChefCanada
Follow Food Network Canada on Twitter @FoodNetworkCA, Facebook Food Network Canada and Instagram @FoodNetworkCa
Follow Corus PR on Twitter: @CorusPR
Food Network Canada is available through all major TV distributors, including: Shaw, Shaw Direct, Rogers, Bell, Videotron, Telus, Cogeco, Eastlink, SaskTel and the new STACKTV, streaming exclusively on Amazon Prime Video Channels.
Food Network Canada is a Corus Entertainment Network.
About Corus Entertainment Inc.
Corus Entertainment Inc. (TSX: CJR.B) is a leading media and content company that develops and delivers high quality brands and content across platforms for audiences around the world. The company's portfolio of multimedia offerings encompass 37 specialty television services, 39 radio stations, 15 conventional television stations, a suite of digital assets, animation software, technology and media services. Corus is also an established creator of globally distributed content through Nelvana animation studio, Corus Studios, and children's book publishing house Kids Can Press. The company also owns innovative full-service social digital agency so.da, and lifestyle entertainment company Kin Canada. Corus' roster of premium brands includes Global Television, W Network, HGTV Canada, Food Network Canada, HISTORY®, Showcase, National Geographic, Disney Channel Canada, YTV and Nickelodeon Canada, Global News, Globalnews.ca, Q107, Country 105, and CFOX. Visit Corus at www.corusent.com.
About Proper Television Inc.
Since opening its doors in 2004, Proper Television has become one of Canada's most successful production companies. Proper works across a wide range of genres, creating more than 600 hours of reality, lifestyle, documentary and specialist factual programming. The company's ratings-grabbing slate includes a mix of originals like VEGAS RAT RODS, LAST STOP GARAGE, UNDER NEW MANAGEMENT with ARLENE DICKINSON, and MARY'S KITCHEN CRUSH, along with big international formats such as MASTERCHEF CANADA, CANADA'S WORST DRIVER, THE GREAT CANADIAN BAKING SHOW, and IRON CHEF CANADA. In 2017 Proper Television became a division of Boat Rocker Media. www.propertelevision.com.

For more information, please contact: Emily Crane
Associate Publicist, Lifestyle Content
Corus Entertainment
416.860.4220
emily.crane@corusent.com
Lindsey McCulloch
Publicist, Iron Chef Canada
Proper Television
lmcCulloch@propertelevision.com
416-598-2500 x 571