HGTV Canada And Food Network Canada Invite Viewers To Vote On Binge-worthy Series For #fanfavouritefriday
April 30, 2020
HGTV CANADA AND FOOD NETWORK CANADA INVITE VIEWERS TO VOTE ON BINGE-WORTHY SERIES FOR #FANFAVOURITEFRIDAY
Voting Opens May 1 on @HGTVCanada, Followed by @FoodNetworkCA Starting May 29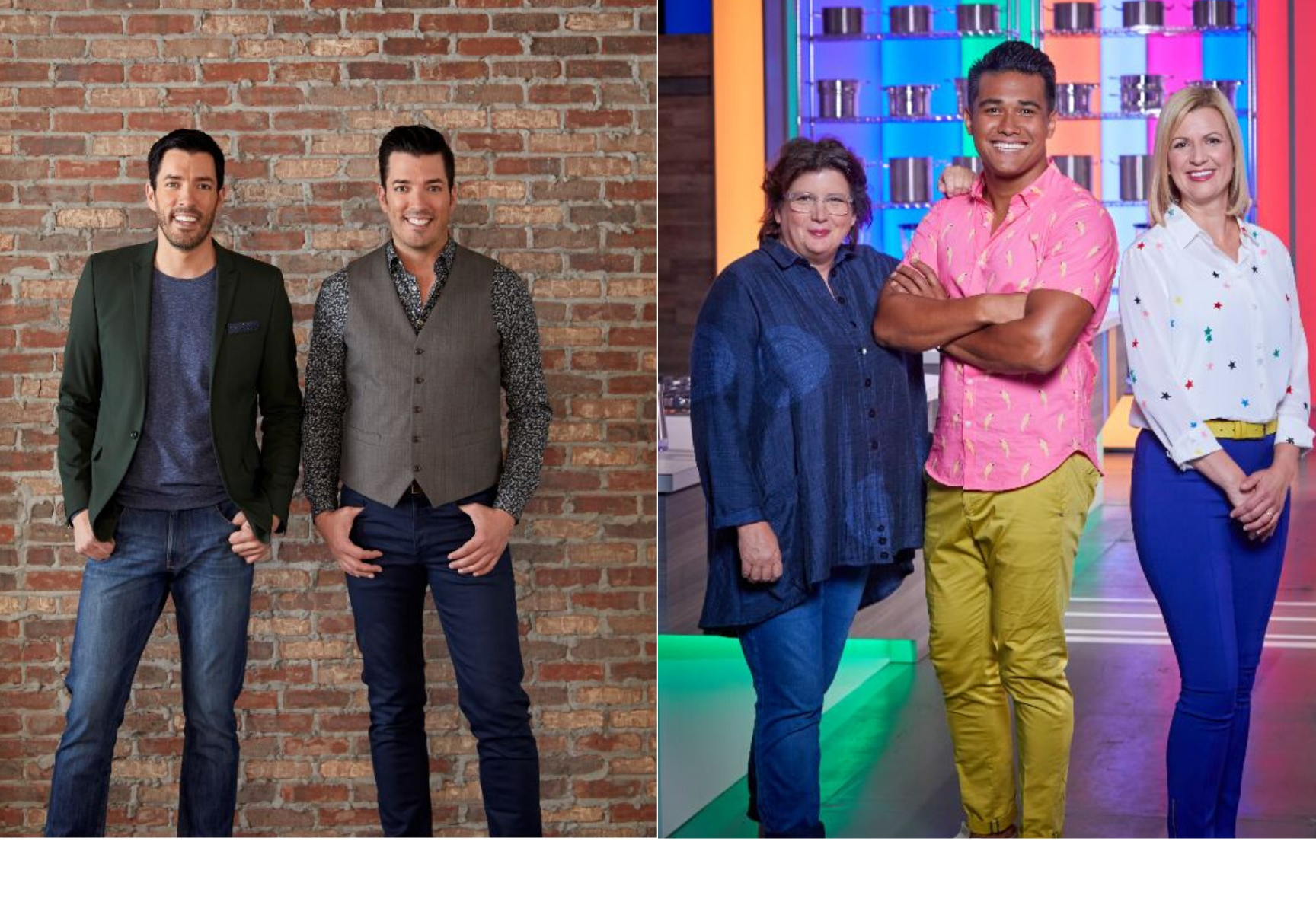 (Left-right: Property Brothers: Forever Home's Drew and Jonathan Scott and Junior Chef Showdown's, Lynn Crawford, Jordan Andino, and Anna Olson)
Photo courtesy of HGTV Canada and Food Network Canada
For additional photography and press kit material visit: www.corusent.com
To share this socially: bit.ly/2xioUFM
For Immediate Release
TORONTO, April 30, 2020 – While Canadians are staying home, HGTV Canada and Food Network Canada invite viewers to vote on their favourite binge-worthy series. Beginning Friday, May 1 and running for eight consecutive weeks, three fan-favourite series will compete for the #FanFavouriteFriday marathon spot. Voting will take place each weekend on the respective network's Twitter platforms @HGTVCanada and @FoodNetworkCA, and the winning series will air with back-to-back episodes the following Friday from 11 a.m. ET/PT until 7 p.m. ET/PT.
Kicking off the polls on May 1, HGTV Canada's Fixer Upper, Good Bones, and Property Brothers: Forever Home compete for the marathon title spot of "Favourite Duo." #FanFavouriteFriday runs on HGTV Canada until May 22 and then flips to Food Network Canada on May 29 where viewers have their first choice to vote for their "Favourite Kids in the Kitchen Series" with Kids Baking Championship, Junior Chef Showdown, and Chopped Junior competing for the binge-worthy slot.
A full rundown of #FanFavouriteFriday series to vote on include:
HGTV Canada's "Favourite Duo"
Voting opens May 1 for the marathon on Friday, May 8:
Fixer Upper
Fixer Upper pairs renovation, design and real estate pros Chip and Joanna Gaines work with Waco/Dallas, Texas-area buyers to renovate the wrong house that's in the right location.
Good Bones
Mother and daughter duo Karen E Laine and Mina Starsiak are setting out to revitalize their hometown of Indianapolis one property at a time. They're buying up run down homes and transforming them into stunning urban remodels.
Property Brothers: Forever Home
Drew and Jonathan Scott are on a mission to turn families' ordinary houses into their lifelong dream homes in the new series Property Brothers: Forever Home. The brothers help families whose current property needs a complete makeover in order to make it their forever home.
HGTV Canada's "Favourite Fierce Female"
Voting opens May 8 for the marathon on Friday, May 15:
Rehab Addict
Nicole Curtis is saving historic houses, one broken-down fireplace at a time. Working in Detroit and Minneapolis, Nicole takes ramshackle homes from the wrecking ball to their original stunning glory. Whether it's managing her rugged crew or wrangling city officials, this single mom wields her hammer with skill and returns condemned properties to their place as the pride of the neighborhood.
Hidden Potential
California builder and designer Jasmine Roth is on a mission to make sure not all suburban homes look the same. Jasmine transforms builder-basic houses into custom dream homes by giving them features that stand out from the crowd.
Christina on the Coast
Christina Anstead transforms clients' outdated properties into high-end showplaces as Christina searches for the perfect new home while balancing parenthood, career and a new relationship.

HGTV Canada's "Favourite Feel-Good Series"
Voting opens May 15 for the marathon on Friday, May 22:
Extreme Makeover: Home Edition
The series showcases great stories, inspired volunteers and mind-blowing home renovations for families who give back to their communities. The whole-home overhauls will include interior, exterior and landscaping—all completed within seven days while the family is sent away for the week.
Celebrity IOU
Celebrity IOU sees Hollywood A-listers express their deep gratitude to the individuals who have had a major impact on their lives by surprising them with big, heartwarming home renovations that bring everyone to tears.
Making It Home with Kortney & Dave
Kortney and Dave Wilson help homeowners make strategic moves with their money by using their flipping expertise to turn a fixer-upper into the home of their dreams – all while making smart investments into the biggest asset these families own.
HGTV Canada's "Favourite Escape Series"
Voting opens May 22 for the marathon on Friday, May 29:
You Live In What?
Each episode follows three different residences from construction to completion. These one-of-a-kind houses are conversions from places that include a former ice-cream factory, an old grain bin, and radio station.
Tiny House, Big Living
In Tiny House, Big Living, couples learn what it really means to downsize when they take the plunge into the tiny house real estate market.
Food Network Canada's "Favourite Kids in the Kitchen Series"
Voting opens May 29 for the marathon on Friday, June 5:
Kids Baking Championship
Hosts and judges Duff Goldman and Valerie Bertinelli put child prodigy bakers through challenges to find the most impressive and talented one of the baking bunch.
Junior Chef Showdown
Small cooks display extra-large talent on Junior Chef Showdown, a culinary competition series that showcases the abilities of extraordinary young chefs between the ages of nine and 13. Celebrity chefs Lynn Crawford, Anna Olson and Jordan Andino judge and mentor the participants as they tackle everything from fresh pasta to hand-whipped meringue to the perfect medium rare steak.
Chopped Junior
Little chefs with tremendous ambition are taking over the Chopped Kitchen! Each episode of Chopped Junior showcases the talents of children seeking to make unforgettable meals from mystery ingredients under a ticking clock.
Food Network Canada's "Favourite On the Go Series"
Voting opens June 5 for the marathon on Friday, June 12:
Big Food Bucket List
Host John Catucci (You Gotta Eat Here!) takes viewers on a one-of-a-kind food adventure across North America as he checks buzz-worthy, crazy, delicious food off his bucket list. We're talking sticky, saucy Missouri-style ribs, Nova Scotia's straight from the sea, succulent lobster, to Vancouver B.C.'s crispy, out of this world fried chicken.
The Best Thing I Ever Ate
Ever wonder what the biggest food stars and chefs eat in their free time – when they're paying? Find out on The Best Thing I Ever Ate. It's the ultimate guide to America's most amazing meals, eats and treats as told by the pros who spend their lives obsessing over food.
The Great Food Truck Race
Host Tyler Florence welcomes brand new food truck operators as they embark on the adventure of a lifetime. Each week, they'll race to a new town where they'll face new challenges, cook incredible dishes and, as always, try to outsell the competition. The team that earns the least will have to walk away from the competition, but the two teams that have the strength to make it to the end will compete for the $50,000 prize.
Food Network Canada's "Favourite Flashback Series"
Voting opens June 12 for the marathon on Friday, June 19:
Iron Chef America
Based upon the Japanese cult sensation, Iron Chef America carries on the legend of Kitchen Stadium and the famed "secret ingredient." Each week, world-class chefs battle the legendary Iron Chefs of America: Bobby Flay, Mario Batali, Masaharu Morimoto, Cat Cora, Jose Garces, Michael Symon, Marc Forgione and Geoffrey Zakarian. Alton Brown serves as Commentator and Mark Dacascos is Chairman.
Good Eats
Pop culture, comedy, and plain good eating: host Alton Brown explores the origins of ingredients, decodes culinary customs and presents food and equipment trends.
Food Network Star
Culinary icons Giada De Laurentiis and Bobby Flay lead the charge to discover the next promising Food Network Star. Competitors are put through the ringer, battling it out in challenges that not only test their kitchen skills but also their on-camera chops, to find out who has the talent and charisma to follow in Giada and Bobby's footsteps and win the ultimate prize: their own Food Network show.
Food Network Canada's "Favourite Baking Battle Series"
Voting opens June 19 for the marathon on Friday, June 26:
Cake Wars
While there are plenty of masterful cake makers out there, only a few have the skills to win Cake Wars. Jonathan Bennett hosts this grueling competition where four expert bakers go toe-to-toe to see whose mind-blowing cake creation will be the star of a major event, earning them the $10,000 prize.
Chopped Sweets
In a sweet spinoff of the ultimate culinary competition, host Scott Conant challenges four bold pastry artists to take on one of the toughest tests of their lives. Faced with baffling basket ingredients and an unrelenting clock, the sensational, sugar-savvy chefs must demonstrate their skill, concentration and imagination as they race to see who will claim the $10,000 prize.
Winner Cake All
Hosted by Food Network favourite, Giada De Laurentiis, as she oversees four bakers compete to create themed displays that will take the cake at some of the hottest openings and celebrity events. To succeed and score the whopping $10,000 prize, bakers must demonstrate their mastery of cake flavours and textures, as well as their ability to bring concepts to life in edible form.
For additional programs and air times, visit HGTV.ca and Foodnetwork.ca
– 30 –
SOCIAL MEDIA LINKS:
Twitter: @CorusPR, @HGTV Canada, @FoodNetworkCA
Facebook: facebook.com/HGTV.ca, facebook.com/foodnetworkcanada
Instagram: @hgtvcanada, @foodnetworkCA
HGTV Canada and Food Network Canada are Corus Entertainment Networks.

HGTV Canada and Food Network Canada can be streamed on the new Global TV App, available now on iOS, Android, Chromecast and at watch.globaltv.com, and via STACKTV, available on Amazon Prime Video Channels. The network is also available through all major TV distributors, including: Shaw, Shaw Direct, Rogers, Bell, Videotron, Telus, Cogeco, Eastlink and SaskTel.
About Corus Entertainment
Corus Entertainment Inc. (TSX: CJR.B) is a leading media and content company that develops and delivers high quality brands and content across platforms for audiences around the world. Engaging audiences since 1999, the company's portfolio of multimedia offerings encompass 34 specialty television services, 39 radio stations, 15 conventional television stations, a suite of digital assets, animation software, technology and media services. Corus is an established creator of globally distributed content through Nelvana animation studio, Corus Studios, and children's book publishing house Kids Can Press. The company also owns innovative full-service social digital agency so.da, and lifestyle entertainment company Kin Canada. Corus' roster of premium brands includes Global Television, W Network, HGTV Canada, Food Network Canada, HISTORY®, Showcase, Adult Swim, National Geographic, Disney Channel Canada, YTV and Nickelodeon Canada, Global News, Globalnews.ca, Q107, Country 105, and CFOX. Visit Corus at www.corusent.com.
For more information, please contact:
Laura Lourenco, Publicity Coordinator
Corus Entertainment
416.479.6730
Laura.Lourenco@corusent.com
Catrina Jaricot, Senior Publicity Manager
Corus Entertainment
416.479.6397
Catrina.Jaricot@corusent.com