Global News Radio 640 Toronto Announces New Programming AMidst Unprecedented Ratings Success
February 27, 2019
GLOBAL NEWS RADIO 640 TORONTO ANNOUNCES NEW PROGRAMMING AMIDST UNPRECEDENTED RATINGS SUCCESS
Simulcast of Global News at 6, New Shows Hosted by Veteran Broadcasters Alan Carter, Jeff McArthur to Premiere March 4, 2019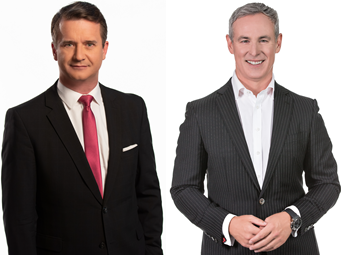 Alan Carter (L), Jeff McArthur (R)
For Immediate Release
TORONTO, February 27, 2019 – Global News Radio 640 Toronto today announced two new shows, and the debut of a simulcast of Global Toronto's Global News at 6, in a refreshed programming lineup. Amidst tremendous ratings success – outpacing rival Newstalk 1010 for the first time since 2009* – Global News Radio 640 Toronto will premiere shows hosted by Global News' Alan Carter and Jeff McArthur. Both Carter and McArthur will continue with their respective hosting roles on television.
As two of Global's most recognizable and respected broadcasters, they'll each bring their own provocative savvy to the airwaves every weekday, starting March 4, with Carter on air from 12-1 p.m. ET and McArthur on air from 1-3 p.m. ET; while for the first time in Toronto, listeners will be able to enjoy Global News at 6 – with anchors Alan Carter and Farah Nasser – on the radio from 6 p.m. – 6:30 p.m. ET.
Alan Carter is the host of Global Toronto's weekly political affairs show, Focus Ontario, and an anchor for the station's flagship newscast Global News at 5:30 & 6. Lauded for his political acumen and signature sharp levity, Carter brings 30 years of broadcasting experience to Global News Radio 640 Toronto.
A veteran in his own right, Jeff McArthur – co-host of Global's national morning program The Morning Show – returns to his roots, having started his career on talk radio. His career in radio and television spans more than 20 years, during which he's interviewed the biggest newsmakers from the world of politics, business and sports.
"We're very pleased to add two talented, experienced broadcasters to Global News Radio 640 Toronto," said Ward Smith, Senior Vice-President, Global News. "It's a great opportunity for both Jeff and Alan to showcase their versatility, wit, and wide-range of insights. Great questions, informed guests and razor sharp context is what our growing audience demands from our entire team throughout the day. The addition of Jeff and Alan truly rounds out a great line up."
As part of the lineup overhaul, Kelly Cutrara's show expands as she moves to the mid-morning timeslot (9 a.m. – 12 p.m. ET), John Oakley's show shifts one-hour earlier (3 p.m. – 6 p.m. ET), and Alex Pierson's show expands by 30 minutes (6:30 p.m. – 10 p.m. ET).
Global News Radio 640 Toronto's full refreshed lineup of programming is as follows: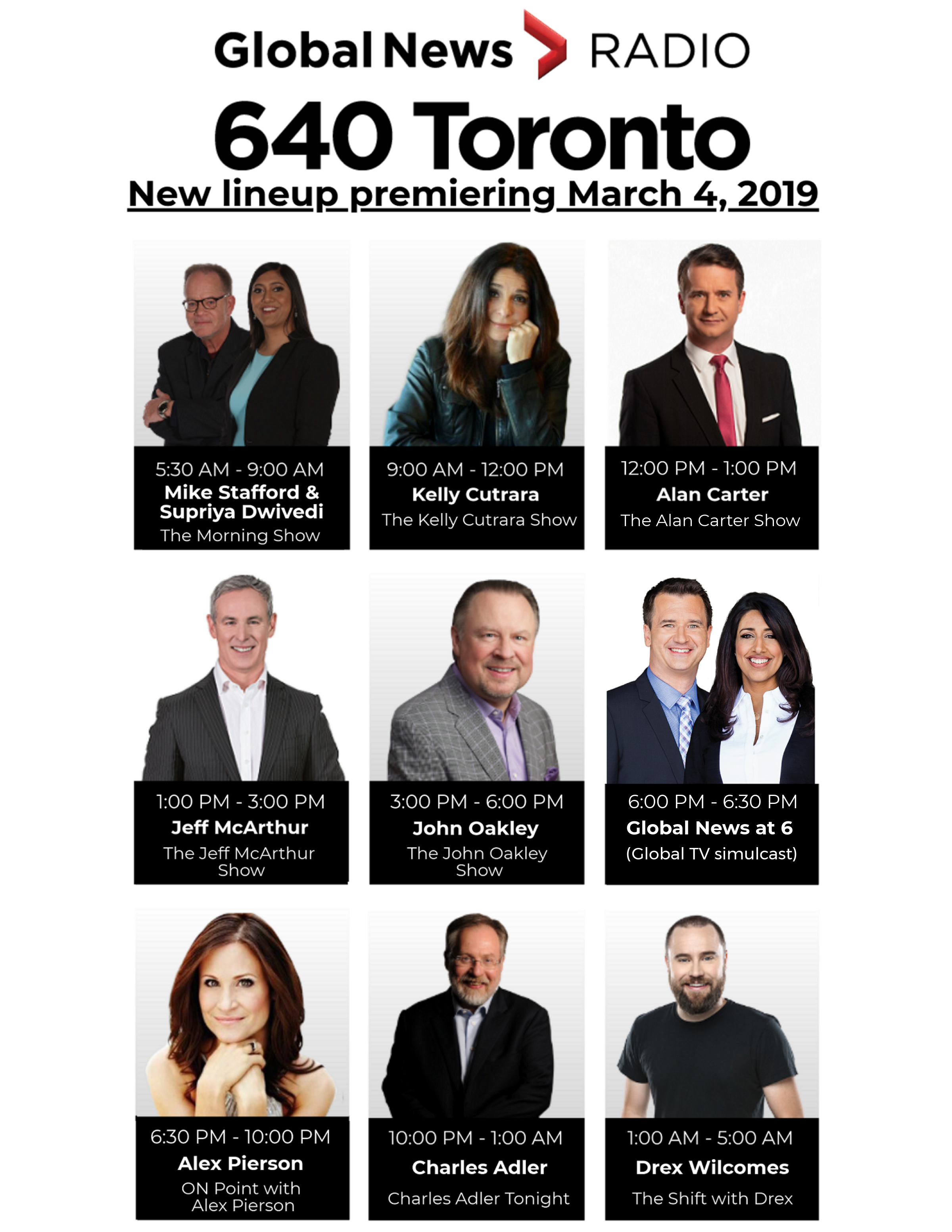 Global News Radio 640 Toronto's new programming lineup premieres March 4, 2019. For full programming information visit Globalnews.ca. Global News Radio 640 Toronto was the #2 ranked AM station in the Toronto market (A25-54) during the fall 2018 ratings period**.
*/**SOURCE: Numeris PPM Data: Toronto CTRL, Fall '18, A25-54, Mo-Fr, 5am-1am
-30-
SOCIAL MEDIA LINKS:
Twitter: @am640, @CorusPR
Facebook: @640toronto
Instagram: @am640
Global News Radio 640 Toronto is a Corus Entertainment Network.
Corus Entertainment
Corus Entertainment Inc. (TSX: CJR.B) is a leading media and content company that creates and delivers high-quality brands and content across platforms for audiences around the world. The company's portfolio of multimedia offerings encompasses 44 specialty television services, 39 radio stations, 15 conventional television stations, a global content business, digital assets, live events, children's book publishing, animation software, technology and media services. Corus' roster of premium brands includes Global Television, W Network, OWN: Oprah Winfrey Network Canada, HGTV Canada, Food Network Canada, HISTORY®, Showcase, National Geographic, Q107, CKNW, Fresh Radio, Disney Channel Canada, YTV and Nickelodeon Canada. Visit Corus at www.corusent.com.
For media inquiries, please contact:
Chris Sarpong
Communications, Global News & Corus Radio
416.446.5519
chris.sarpong@corusent.com
Rishma Govani
Senior Manager, Communications, Global News & Corus Radio
416.391.7361
rishma.govani@corusent.com