DEADMAN'S CURSE: SLUMACH'S GOLD PODCAST EXPLORES THE CURSE, MYSTERY, AND LEGEND OF LOST GOLD MINE
May 31, 2023
Join the Weekly Journey to Find Lost Gold with MMA Fighter and The HISTORY® Channel's Treasure Hunter, Kru Williams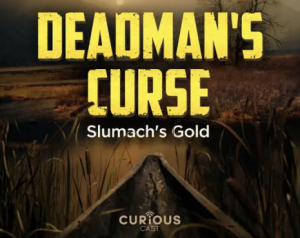 For Immediate Release
TORONTO, May 31, 2023 – Podcast listeners, get ready to strike gold with new show Deadman's Curse: Slumach's Gold – a follow-up to The HISTORY® Channel original hit television series, Deadman's Curse, produced by Great Pacific Media (GPM), Curiouscast and Corus Entertainment – coming to headphones and speakers on Tuesday, June 6.
The historical true crime podcast investigates the curse and legend surrounding the lost gold mine of Pitt Lake in British Columbia. Hosted by The HISTORY® Channel's Kru Williams, and featuring members of the the Stó:lō and Katzie First Nations, historians, and cultural experts, listeners will be taken on a journey through Slumach's past – an Indigenous prospector and accused murderer, who set a curse on his hidden gold.
Join the team of truth-seekers a century later, as they walk the same paths of those who went looking for Slumach's cursed gold and never returned.
"We are so excited for our listeners to experience Dead Man's Curse: Slumach's Gold," said Corus' Director of Streaming and Podcasting, Chris Duncombe. "Host Kru Williams does such an exceptional job taking us inside this 150-year-old legend like never before. From miscarried justice to cursed gold this podcast is a true adventure from beginning to end."
Join Kru and team every week as they sort fact from fiction, providing Slumach a voice from the other side of the veil.
"We could not be happier with the reaction we've had to Deadman's Curse on The History Channel," said GPM President David Way. "The podcast brings another dimension to the exploration of this incredible legend that began on screen, and Kru delivers an exciting and engaging listening experience week after week."
Follow Deadman's Curse: Slumach's Gold podcast here. Produced by GPM, Curiouscast and Corus Entertainment, new episodes will be available every Tuesday starting June 6 on Apple Podcast, Spotify, Amazon Music and wherever you find your favourite podcasts. Learn more at https://curiouscast.ca/.
– 30 –
SOCIAL MEDIA LINKS:
Twitter: @HistoryTVCanada, @CorusPR
Instagram: @historyca, @bcstandup
https://www.history.ca
Curiouscast is a Corus Entertainment Network.
About Corus Entertainment Inc.
Corus Entertainment Inc. (TSX: CJR.B) is a leading media and content company that develops and delivers high quality brands and content across platforms for audiences around the world. Engaging audiences since 1999, the company's portfolio of multimedia offerings encompass 33 specialty television services, 39 radio stations, 15 conventional television stations, digital and streaming services, animation software, technology and media services. Corus is an internationally-renowned content creator and distributor through Nelvana, a world class animation studio expert in all formats and Corus Studios, a globally recognized producer of hit scripted and unscripted content. The company also owns full-service social digital agency so.da, lifestyle entertainment company Kin Canada, leading 2D animation software supplier Toon Boom and children's book publishing house, Kids Can Press. Corus' roster of premium brands includes Global Television, W Network, HGTV Canada, Food Network Canada, Magnolia Network Canada, The HISTORY® Channel, Showcase, Adult Swim, National Geographic, Disney Channel Canada, YTV, Global News, Globalnews.ca, Q107, Country 105, and CFOX, along with streaming platforms STACKTV, TELETOON+, the Global TV App and Curiouscast. Corus is the domestic advertising representative and an original content partner for Pluto TV, a Paramount Company, which is the leading free ad-supported streaming television (FAST) service. For more information visit www.corusent.com.
About Great Pacific Media
Great Pacific Media ("GPM") programs are seen in more than 170 countries, and the Thunderbird Entertainment Group division specializes in the financing, development, production, and co-production of unscripted, documentary and reality television. Current productions at GPM include the highly rated Discovery Canada series Highway Thru Hell, now in its 12th season of production and available on The Weather Channel in the U.S. New series Deadman's Curse (The HISTORY® Channel, Hulu), Dr. Savannah: Wild Rose Vet, produced in association with Wapanatahk Media (APTN, Cottage Life) and Styled (HGTV Canada, Hulu) were renewed for second seasons in 2023.
For media inquiries, please contact:
Anna Arnone, Communications Specialist, Corus Radio
416 219 9273
anna.arnone@corusent.com
Rishma Govani, News and Radio Communications Director, Corus Radio
416 391 7361
rishma.govani@corusent.com