CURIOUSCAST PODCAST NETWORK PARTNERS WITH THE PEAK DAILY
January 13, 2022
CURIOUSCAST PODCAST NETWORK PARTNERS WITH THE PEAK DAILY
The Peak Daily Podcast Delivers Top Canadian and Global Business Stories
Partnership Also Introduces The Peak Daily Minute Airing Nationally Across Corus Talk Radio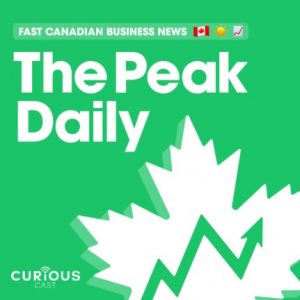 For Immediate Release
TORONTO, January 13, 2022 – Corus Entertainment's award-winning Curiouscast Podcast Network is excited to announce its latest partnership with The Peak Daily podcast. The Peak Daily delivers up-to-speed quick, fun and smart breakdowns of the biggest Canadian and global business stories in under 10 minutes. In addition to joining the Curiouscast lineup, the network is pleased to introduce The Peak Daily Minute, with brief business news that will be heard twice each weekday morning across Corus Radio's news stations starting Monday, January 17 including 980 CKNW (Vancouver), 630 CHED (Edmonton), Global News Radio 880 Edmonton, 770 CHQR (Calgary) 680 CJOB (Winnipeg), 640 Toronto, 900 CHML (Hamilton) and 980 CFPL (London).
"We are thrilled to be working with The Peak Daily to help to grow this smart, connected, entrepreneurial brand. This podcast is on top of the business stories that matter every single day. Best of all you get everything you need to know in 10 minutes or less and now you will also hear them nationally on our news talk radio stations. This is just the beginning of what we have planned with our new brand partnership," said Chris 'Dunner' Duncombe, Director of Podcasting and Streaming, Curiouscast/Corus Entertainment.
"The Peak Daily is thrilled to be joining the Curiouscast Podcast Network. With Curiouscast's support, we're excited to introduce new audiences to our fun and fast summaries of the biggest stories in Canadian and global business," said Brett Chang, Co-Host and Creator, The Peak Daily.
To listen to every episode of the podcast for free, subscribe on Apple Podcasts, Spotify, Google Podcasts, or wherever you get your favourite podcasts. For more information visit Curiouscast.ca.
The award-winning Curiouscast network launched in 2018 and is home to internationally recognized brands with diverse audio storytelling, including: the #1 music podcast in Canada, The Ongoing History of New Music*; Edward R. Murrow International Podcast Award Winners 13 Hours Inside the Nova Soctia Massacre and Crime Beat**; and 2020 Canadian Podcast Award winners Dark Poutine, History of the 90's, Nighttime, Escaping Denver, Marsfall and more.
-30-
SOCIAL MEDIA LINKS:
Twitter: @CorusPR, @Curiouscast
Instagram: @readthepeak
Curiouscast is a Corus Entertainment Network.

About Corus Entertainment Inc.
Corus Entertainment Inc. (TSX: CJR.B) is a leading media and content company that develops and delivers high quality brands and content across platforms for audiences around the world. Engaging audiences since 1999, the company's portfolio of multimedia offerings encompass 33 specialty television services, 39 radio stations, 15 conventional television stations, a suite of digital and streaming assets, animation software, technology and media services. Corus is an internationally-renowned content creator and distributor through Nelvana, a world class animation studio expert in all formats and Corus Studios, a globally recognized producer of hit scripted and unscripted content. The company also owns innovative full-service social digital agency so.da, lifestyle entertainment company Kin Canada, leading 2D animation software supplier Toon Boom and children's book publishing house, Kids Can Press. Corus' roster of premium brands includes Global Television, W Network, HGTV Canada, Food Network Canada, HISTORY®, Showcase, Adult Swim, National Geographic, Disney Channel Canada, YTV, Global News, Globalnews.ca, Q107, Country 105, and CFOX, along with broadly distributed Canadian streaming platforms STACKTV, Nick+, the Global TV App and Curiouscast. For more information visit www.corusent.com.

For media inquiries, please contact:
Michelle Brykman
Communications Specialist, Global News & Corus Radio
647.631.7135
michelle.brykman@corusent.com
Rishma Govani
Director, Communications, Global News & Corus Radio
416.391.7361
rishma.govani@corusent.com