Canadian Participant Wins Season 10 of The HISTORY® Channel's #1 Series, Alone
August 18, 2023
Canadian Participant Wins Season 10 of The HISTORY® Channel's #1 Series, Alone
Alan Tenta from Columbia Valley, B.C, Outlasted 9 Competitors in the Hit Survival Series
Stream the Complete Season on STACKTV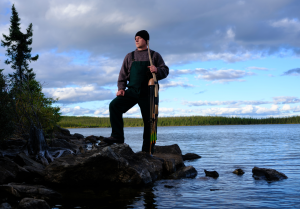 Alan Tenta, Winner of Alone Season 10
For additional photography, visit the Corus Media Centre here
To share this release socially visit: Alone Season 10 Winner Announcement
For Immediate Release
TORONTO, August 18, 2023 – Season 10 of The HISTORY® Channel's #1 series*, Alone, concluded last night with Alan Tenta from Columbia Valley, B.C. outlasting 9 competitors to take home the $500,000 USD cash prize. Alan's Canadian counterpart, Wyatt Black from Bracebridge Ontario, finished second in the season's final episode. Both participants tapped into their survival skills to withstand bone-chilling temperatures and face off against North America's largest animals, completely alone. In addition to being the #1 show on the network, Alone is the #2 overall specialty entertainment program this Summer* and has been the #1 ranked show on STACKTV** each day since the Season 10 premiere on June 8, engaging audiences across both linear and streaming platforms.
"It was an honour to be selected for Alone, Season 10 and experience the journey with this talented group of participants who I will always have a deep connection with," answered Alan when asked how he felt about his big win. "I'm grateful for the advice and support from my wife, family, friends, and students who allowed me to push through the difficult times. As a Canadian who spends time in the outdoors, I was fortunate to be familiar with the plants, animals, and climate of the area."
Alan faced a series of physical and spiritual hurdles while competing in Northern Saskatchewan. From unsuccessful hunting attempts to fighting his own inner battles as he reflected on his father's passing, Alan overcame each challenge stronger than before. Throughout the course of the season, he utilized his skills to build shelter, hunting traps, and multiple fishing lures; preserved his food by smoking it; and in his time alone, deepened his spiritual connection with his father. Alan's appreciation and understanding of the land, and its beauty, kept his spirits high and helped secure his spot as the last person standing.
Alone is produced for The HISTORY® Channel by Leftfield Pictures (an ITV America company). Shawn Witt, Ryan Pender and Rafael Monserrate serve as executive producers and Jeffrey Rodriguez serves as Supervising Producer for Leftfield Pictures. Zachary G. Behr serves as executive producer for The HISTORY® Channel.
The HISTORY® Channel, including Alone Season 10, can be streamed via STACKTV, available on Amazon Prime Video Channels, FuboTV, Rogers Ignite TV and Ignite SmartStream. The network is also available through all major TV distributors, including: Shaw, Shaw Direct, Rogers, Bell, Videotron, Telus, Cogeco, Eastlink and SaskTel.
* Source: Numeris PPM Data, Total Canada, SM'23 STD (May 29 – Aug 6/23) – confirmed data, 3+ airings, A2554, AMA(000), CDN SPEC COM ENG excluding sports
**Based on VOD minutes streamed. Source: Amazon via Power BI Dashboard, June 4, 2023 to August 5, 2023
– 30 –
SOCIAL MEDIA LINKS:
Corus PR on Twitter: @CorusPR
The HISTORY® Channel on Instagram: @historyca
The HISTORY® Channel on Facebook: facebook.com/HISTORYCanada
The HISTORY® Channel on X (formally Twitter): @HistoryTVCanada
The HISTORY® Channel on YouTube: @HISTORYCanada
The HISTORY Channel is a Corus Entertainment Network.
About Corus Entertainment Inc.
Corus Entertainment Inc. (TSX: CJR.B) is a leading media and content company that develops and delivers high quality brands and content across platforms for audiences around the world. Engaging audiences since 1999, the company's portfolio of multimedia offerings encompass 33 specialty television services, 39 radio stations, 15 conventional television stations, digital and streaming platforms, and technology and media services. Corus is an internationally-renowned content creator and distributor through Nelvana, a world class animation studio expert in all formats and Corus Studios, a globally recognized producer of hit scripted and unscripted content. The company also owns full-service social digital agency so.da, lifestyle entertainment company Kin Canada, and children's book publishing house, Kids Can Press. Corus' roster of premium brands includes Global Television, W Network, HGTV Canada, Food Network Canada, Magnolia Network Canada, The HISTORY® Channel, Showcase, Adult Swim, National Geographic, Disney Channel Canada, YTV, Global News, Globalnews.ca, Q107, Country 105, and CFOX, along with streaming platforms STACKTV, TELETOON+, the Global TV App and Curiouscast. Corus is the domestic advertising representative and an original content partner for Pluto TV, a Paramount Company, which is the leading free ad-supported streaming television (FAST) service. For more information visit www.corusent.com.
About STACKTV
STACKTV is Corus Entertainment's premium multi-channel television streaming service that offers thousands of hours of exclusive hit content from 16 of Canada's top TV networks, all on one platform. All series, movies and specials that air on Global Television, Food Network Canada, HGTV Canada, W Network, The HISTORY® Channel, Adult Swim, Slice, Showcase, National Geographic, Lifetime, TELETOON, Treehouse, YTV, Disney Channel, Disney XD and Disney Junior are available to stream on STACKTV live and on demand with new content added daily. STACKTV is available via Amazon Prime Video Channels, FuboTV, Rogers Ignite TV and Ignite Streaming. For more information, visit stacktv.ca.
For media inquiries, please contact:
Selma Trebincevic, Associate Publicist
Corus Entertainment
416.391.7367
Selma.Trebincevic@corusent.com
Devon Cavanagh, Senior Publicist
Corus Entertainment
416.479.6712
Devon.Cavanagh@corusent.com
Julie MacFarlane, Publicity Manager
Corus Entertainment
416.860.4876
Julie.Macfarlane@corusent.com