ARE YOU TOUGH ENOUGH? CALLING ALL CANADIANS FOR TOUGH AS NAILS SEASON 5 CASTING!
March 4, 2022
ARE YOU TOUGH ENOUGH? CALLING ALL CANADIANS FOR TOUGH AS NAILS SEASON 5 CASTING!
For the First Time, Canadians Are Now Invited to Apply for Tough As Nails at www.toughasnailscbscasting.com
Stream Past Seasons with the Global TV App and STACKTV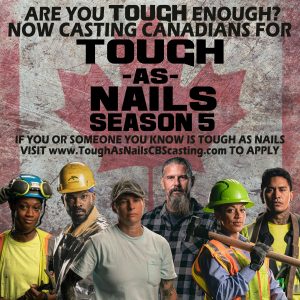 To share this release: bit.ly/3ttnAZK
REAL PEOPLE … REAL LIFE … REAL TOUGH. For the first time ever, Canadians are invited to submit their applications to compete on Tough As Nails Season 5! The search is on to find Canada's diamonds in the rough, and redefine what it means to be tough, proving beyond a shadow of a doubt that being tough comes in all shapes and sizes.
Hosted and produced by Emmy® Award-winner Phil Keoghan (The Amazing Race), Tough As Nails celebrates everyday people who roll up their sleeves and don't think twice about working long hard hours and getting their hands dirty. Competitors who consider the calluses on their hands a badge of honour will be tested for their strength, endurance, life skills and, most importantly, mental toughness in challenges that take place at real-world job sites.
Tough As Nails is produced by Raquel Productions Inc. in association with Tough House Productions Inc. for CBS in the U.S. and is distributed internationally by Paramount Global Content Distribution. The series is created by Phil Keoghan and Louise Keoghan, who are executive producers.
Apply in three simple steps:
Make a video (check out "video tips" here for some guidance).
Save a current picture and video of yourself to your computer, so it is ready when you apply online.
Fill out the online application and upload your video and picture. You will be contacted by phone or email by a member of the casting team if they are moving forward in the process with your submission.
MEDIA OPPORTUNITY: Phil Keoghan is available for interviews Monday, March 14, 2022. To request an interview and for all other media inquiries, please contact:
Nick Seliwoniuk
Senior Publicist, Global Television
647.461.1178
nick.seliwoniuk@corusent.com