It's Time! Food Network Canada Introduces The Next Generation Of Culinary Elite For Season Six Of Top Chef Canada
February 27, 2018
IT'S TIME!
FOOD NETWORK CANADA INTRODUCES THE NEXT GENERATION OF CULINARY ELITE FOR SEASON SIX OF
TOP CHEF CANADA
Eleven Chefs from Across the Country Fight for the Coveted Title of Canada's Top Chef
#TopChefCanada Premieres Sunday, April 8 at 10 p.m. ET/PT
Food Network Canada is Available on National Free Preview from March 1 to April 30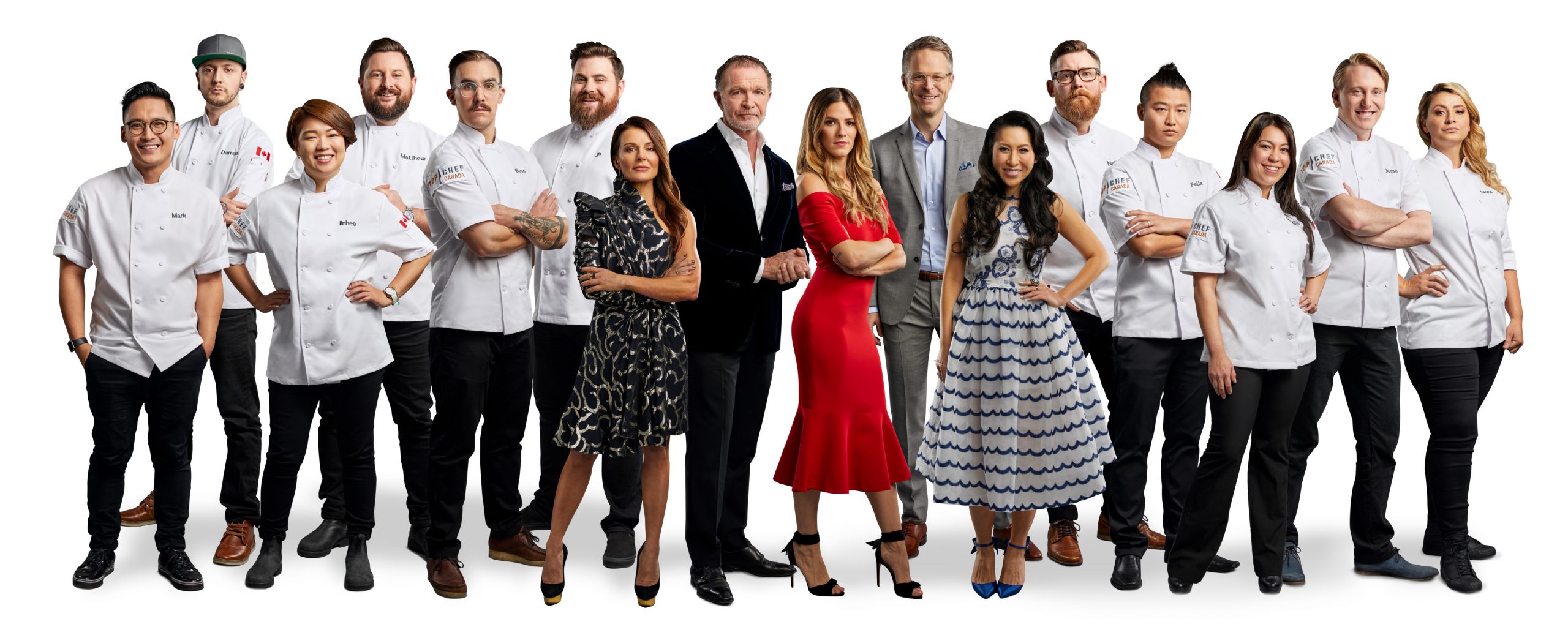 (L-R): Mark Singson, Darren Rogers, Jinhee Lee, Matt Sullivan, Ross Larkin, JP Miron, Janet Zuccarini, Mark McEwan,
Eden Grinshpan, Chris Nuttall-Smith, Mijune Pak, Nathan Guggenheimer, Felix Zhou, Elia Herrera,
Jesse Zuber, Ivana Raca. Image Courtesy of Food Network Canada.
Get a first look of season six with this year's competitors and returning judges

For images visit the Corus Media Centre
To share this release socially use: bit.ly/2EUp2Kg
For Immediate Release
TORONTO, February 27, 2018 – The knives are sharpened, the competition is cutthroat and the country's top culinary title is within reach – but only one will walk away as Canada's Top Chef. Food Network Canada's esteemed culinary competition Top Chef Canada (8×60) returns for its sixth high-stakes season on Sunday, April 8 at 10 p.m. ET/PT.
A new lineup of 11 extraordinary chefs battle it out for the coveted title and grand prize of $100,000 provided by Interac Corp., a luxurious Monogram kitchen valued at $25,000 and $5,000 worth of Cuisinart® products. Spanning from coast to coast, these professional chefs represent the next generation of Canada's culinary elite and now it's their time to showcase their creativity and culinary prowess to impress the judges' table. The expert panel returning this year includes Le Cordon Bleu-trained chef and television personality Eden Grinshpan as host, head judge chef Mark McEwan and resident judges: powerhouse restaurateur Janet Zuccarini, food blogger Mijune Pak and renowned food journalist and critic Chris Nuttall-Smith.
Following a nation-wide search, the competitors vying for the sought-after title of Canada's Top Chef are:
In each episode, the chefs will compete in demanding Quickfire and Elimination Challenges that push their skills to new limits. Serving their dishes weekly to the resident judging panel, they will also need to win over the palates of celebrated guest judges featured throughout the series. This season, guest judges include chef-owners of some of Toronto's best-known restaurants, such as Lynn Crawford (Ruby Watchco), Susur Lee (Fring's, Lee), Rob Gentile (Buca, Bar Buca) and Alexandra Feswick (Drake Devonshire). Top Chef Canada alum returning as guest judges include Steve Gonzales of Baro, Dustin Gallagher of 416 Snack Bar as well as Top Chef Canada: All-Stars winner, Nicole Gomes of Calgary's Cluck 'N' Cleaver. Additionally, Evan Funke, L.A.-based chef and co-owner (with Janet Zuccarini) of the acclaimed Felix restaurant, and Danny Bowien, chef-owner of New York's Mission Chinese Food, also join as guest judges.
Foodnetwork.ca is where the series' fierce competitors and cast offer fans extended content and exclusive access to the Top Chef Canada kitchen and more. Get an on-set sneak peek of a day in the life of host Eden Grinshpan, see what it is like to be a culinary producer and get behind-the-scenes secrets on how the ultimate food challenges come together. Plus, learn more about the chefs and get cooking tips with exclusive videos. Week-to-week, episode recaps will be available online featuring insights from the resident judges and photos of the completed dishes. Fans can also watch full episodes online after broadcast at foodnetwork.ca/topchefcanada.
Food Network Canada is available on a National Free Preview from March 1 to April 30. Please check local listings for additional details.
Top Chef Canada is the homegrown version of the hit Emmy Award-winning NBCUniversal Series Top Chef and is produced by Insight Production Company Ltd. in association with Food Network Canada.
Executive Producers are John Brunton and Mark Lysakowski, and Co-Executive Producer and Showrunner is Eric Abboud.
– 30 –
SOCIAL MEDIA LINKS:
Follow Corus PR on Twitter @CorusPR
Follow Food Network Canada on Twitter @FoodNetworkCA, Facebook Food Network Canada and Instagram @FoodNetworkCa and discuss using #TopChefCanada
Food Network Canada is a Corus Entertainment Network.
About Corus Entertainment Inc.
Corus Entertainment Inc. (TSX: CJR.B) is a leading media and content company that creates and delivers high quality brands and content across platforms for audiences around the world. The company's portfolio of multimedia offerings encompasses 45 specialty television services, 39 radio stations, 15 conventional television stations, a global content business, digital assets, live events, children's book publishing, animation software, technology and media services. Corus' roster of premium brands includes Global Television, W Network, OWN: Oprah Winfrey Network Canada, HGTV Canada, Food Network Canada, HISTORY®, Showcase, National Geographic Channel, Q107, CKNW, Fresh Radio, Disney Channel Canada, YTV and Nickelodeon Canada. Visit Corus at www.corusent.com.
About Insight Production Company, Ltd.
Insight Productions – known for its award-winning ratings juggernauts and many of the Country's biggest award shows, music series and variety specials, is Canada's most established content producer. Headed by John Brunton and Barbara Bowlby, Insight is an industry leader in the development, financing and production of hit programming, both scripted and unscripted, as well as digital content. John Brunton and Mark Lysakowski, Executive Producers of The Amazing Race Canada, serve as Executive Producers on Top Chef Canada along with Eric Abboud who is also the Showrunner. Insight collectively received 24 Canadian Screen Award nominations in 2018. Other 2017 Insight productions include Big Brother Canada, The Launch, The JUNO Awards 2017, Canada Day 150! From Coast to Coast to Coast, Canada's New Year's Eve – Countdown to 2017 and Intervention. Insight Productions was founded in 1979 and has since created thousands of hours of groundbreaking content.
For media inquiries, please contact:
Emily Crane
Associate Publicist
Corus Entertainment
416.860.4220
emily.crane@corusent.com
Ali Seller
Top Chef Canada Publicist
Gab Communications
647.825.8819
ali@gabcommunications.ca