Iconic Radio Station CKNW Celebrates Its 75th Anniversary On August 15
August 1, 2019
ICONIC RADIO STATION CKNW CELEBRATES ITS 75TH ANNIVERSARY ON AUGUST 15
Celebrations Begin on August 12 with Luncheon at Terminal City Club and Culminates in Day of Festivities in New Westminster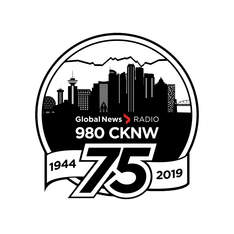 CKNW is proud to celebrate its 75th anniversary in the station's birthplace of New Westminster on August 15.
For Immediate Release
VANCOUVER, August 1, 2019 – 980 CKNW is proud to celebrate its 75th anniversary with a weeklong celebration that recognizes the radio station's storied past and its exciting future. Widely recognized as a listener-favourite and affectionately referred to as the "top dog" across the province, CKNW has set the news agenda in B.C. with its investigative journalism and compelling hosts.
The festivities kick off with a luncheon on Monday, August 12 at the Terminal City Club and culminates in a day-long celebration in New Westminster on Thursday, August 15. CKNW will feature an exciting line-up of special on-air programming all week long to commemorate the occasion.
On-air celebrations start on Monday, August 12 as CKNW takes a trip down memory lane to share great moments in the station's history with listeners. In addition to a two-hour special with Lynda Steele and Red Robinson listening back to the Beatles concert at Empire Stadium in 1964, which was broadcast live on CKNW, other highlights include Bill Rea's Open Line in 1946, CKNW's coverage of the Miracle Mile, the first-ever Vancouver Canucks game, Expo 86, the CKNW Orphan Fund's annual herring sale, the Man in Motion tour, as well as the undercover towing story that made George Garrett such an intrepid reporter.
"CKNW is an iconic news and talk radio station that continues to impress listeners with an evolving approach that both honours our notable history and incorporates compelling new content that reflects the realities of today's world," said Larry Gifford, National Director of AM Radio, Corus Entertainment. "We are proud to celebrate 75 years in CKNW's birthplace as we look forward to the station's bright future."
On Thursday, August 15, doors will be open to the public from 6:30 a.m. to 6 p.m. The free, family-friendly event allows guests to drop by the Anvil Centre, the state-of-the-art facility located in the historic cultural center of New Westminster, for entertainment, food sampling, and meet-and-greet sessions with former and current hosts of CKNW. Families will enjoy the opportunity to record their own reports at the CKNW promo booth and tour the 1957 vintage Translink bus.
Jonathan Coté, Mayor of the City of New Westminster, will also attend the event to officially proclaim August 15 as CKNW Day at 2:30 p.m.
In addition to local vendors who will be on-site showcasing their businesses to the visitors, the event offers a rare behind-the-scenes look into the world of radio and television broadcasting. CKNW hosts will be broadcasting live with Jon McComb from 5:30 a.m. to 10 a.m., Simi Sara from 10 a.m. to 2 p.m., and Lynda Steele from 2 to 6 p.m. Global BC will also be on-site with community reporter Michael Newman and meteorologist Kristi Gordon for live hits from the celebration throughout the day. For more information, please visit www.globalnews.ca/cknw/75thanniversary.
Originally broadcast from New Westminster's Windsor Hotel, CKNW launched in 1944 as a small radio station that would later become B.C.'s most listened-to station. The station is also known for being heavily involved in a variety of community initiatives and for establishing the CKNW Kids' Fund, originally known as the Orphan's Fund in 1945. CKNW Kids' Fund's mission today is to provide timely support to vulnerable kids with physical, mental and social challenges in communities throughout B.C.
More information regarding the Celebration of CKNW'S 75th Anniversary Luncheon can be found here. The event is hosted by current hosts Lynda Steele and Jon McComb with special appearance from CKNW alumni George Garrett. The event is organized and run by Canadian Club Vancouver with a portion of ticket sales supporting CKNW Kids' Fund. Registration will remain open until Friday, August 9 at 12:00 p.m. Tickets be purchased online or by phone at 604.688.8260.
– 30 –
SOCIAL MEDIA LINKS:
Follow Corus PR on Twitter @CorusPR
Follow 980 CKNW on Twitter @CKNW
Like 980 CKNW on Facebook www.facebook.com/cknw980/
Global News Radio 980 CKNW is a Corus Entertainment Network.
About Corus Entertainment Inc.
Corus Entertainment Inc. (TSX: CJR.B) is a leading media and content company that develops and delivers high quality brands and content across platforms for audiences around the world. The company's portfolio of multimedia offerings encompass 37 specialty television services, 39 radio stations, 15 conventional television stations, a suite of digital assets, animation software, technology and media services. Corus is an established creator of globally distributed content through Nelvana animation studio, Corus Studios, and children's book publishing house Kids Can Press. The company also owns innovative full-service social digital agency so.da, and lifestyle entertainment company Kin Canada. Corus' roster of premium brands includes Global Television, W Network, HGTV Canada, Food Network Canada, HISTORY®, Showcase, National Geographic, Disney Channel Canada, YTV and Nickelodeon Canada, Global News, Globalnews.ca, Q107, Country 105, and CFOX. Visit Corus at www.corusent.com.
For media inquiries, please contact:
Jamie Jensen
Communications, Global News & Corus Radio
902.219.3588.
jamie.jensen@corusent.com
Rishma Govani
Senior Manager, Communications, Global News & Corus Radio
416.391.7361.
rishma.govani@corusent.com