101.5 THE WOLF CELEBRATES 30 YEARS OF ROCK IN PETERBOROUGH AND THE KAWARTHAS
February 10, 2022
101.5 THE WOLF CELEBRATES 30 YEARS OF ROCK
IN PETERBOROUGH AND THE KAWARTHAS
Special 30th Birthday Festivities Begin February 14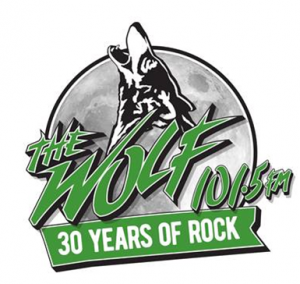 For Immediate Release
PETERBOROUGH, February 10, 2022 – Corus Radio's 101.5 The Wolf (CKWF-FM) is thrilled to ring in its 30th birthday on February 14, celebrating three decades as the #1 rated rock station in Central Ontario. To commemorate this historic moment, the station is launching an exciting 30th birthday campaign.
Beginning February 14, listeners will be invited to play The Wolf's 30th Birthday Elimination Game. For the first time in the show's history, Wolf listeners will get to choose the prize they want to win (or rather what they don't want to win). The Wolf will start with 31 grand prizes listed on TheWolf.ca, including $3,000 cash. Over the course of the contest, 30 contestants will each eliminate one prize from the board until just one remains. On Friday April 29, one contestant will be drawn as the winner of the remaining grand prize.
Audiences can also expect to see a collection of 30 exclusive interviews with past and present on-air hosts. One interview will be released each week and published on TheWolf.ca. The Wolf will also release a "30 Years of Rock" video commercial that will be viewable on Facebook, Instagram and Global Peterborough. Birthday wishes and interviews from popular music artists will be featured on The Wolf's Facebook page and Global Peterborough. And as with any notable birthday celebration, there will be some big surprises!
"We're proud to celebrate The Wolf's 30th birthday and recognize the station's past and exciting future," said Rob Seguin, Program Manager for 101.5 The Wolf and 100.5 Fresh Radio. "We're thrilled to have reached this milestone, which is a testament to the incredible team of people who work hard every day and continue bringing the best in rock music to Peterborough and the Kawarthas."
The Wolf is proud of its heritage and service to the community. Over the years, it has helped raise millions of dollars for numerous charities including more than $1.6 million for Kawartha Food Share. In 2018, 101.5 The Wolf, 100.5 Fresh Radio and Global Peterborough were presented with the Local Media Award by the Canadian Mental Health Association Ontario Division. This annual award recognizes journalists or media outlets that best exemplify the spirit of CMHA through their significant local coverage of the impact of mental illnesses or addictions.
– 30 –
SOCIAL MEDIA LINKS:
Twitter: @CorusPR, @thewolfca
Facebook: @thewolf1015
Instagram: @1015thewolf
101.5 The Wolf is a Corus Entertainment Network.
About Corus Entertainment
Corus Entertainment Inc. (TSX: CJR.B) is a leading media and content company that develops and delivers high quality brands and content across platforms for audiences around the world. Engaging audiences since 1999, the company's portfolio of multimedia offerings encompass 33 specialty television services, 39 radio stations, 15 conventional television stations, a suite of digital and streaming assets, animation software, technology and media services. Corus is an internationally-renowned content creator and distributor through Nelvana, a world class animation studio expert in all formats and Corus Studios, a globally recognized producer of hit scripted and unscripted content. The company also owns innovative full-service social digital agency so.da, lifestyle entertainment company Kin Canada, leading 2D animation software supplier Toon Boom and children's book publishing house, Kids Can Press. Corus' roster of premium brands includes Global Television, W Network, HGTV Canada, Food Network Canada, The HISTORY® Channel, Showcase, Adult Swim, National Geographic, Disney Channel Canada, YTV, Global News, Globalnews.ca, Q107, Country 105, and CFOX, along with broadly distributed Canadian streaming platforms STACKTV, Nick+, the Global TV App and Curiouscast. For more information visit www.corusent.com.
For media inquiries, please contact:
Michelle Brykman
Communications Specialist, Global News & Corus Radio
647.631.7135
michelle.brykman@corusent.com
Rishma Govani
Director, Communications, Global News & Corus Radio
416.391.7361
rishma.govani@corusent.com